It can be tough for the youth in a large production like Andrew Lloyd Webber's School of Rock The Musical, whose cast includes a significant number of kids. It means being on the road in different cities for weeks. It means days of rehearsing lines, songs and choreography over and over and over again before heading into performances. Toss in their tutors, media appearances and time to just be kids…well, it's jammed packed for weeks, if not months. But one thing is for sure — the kids in this show are having a lot of fun.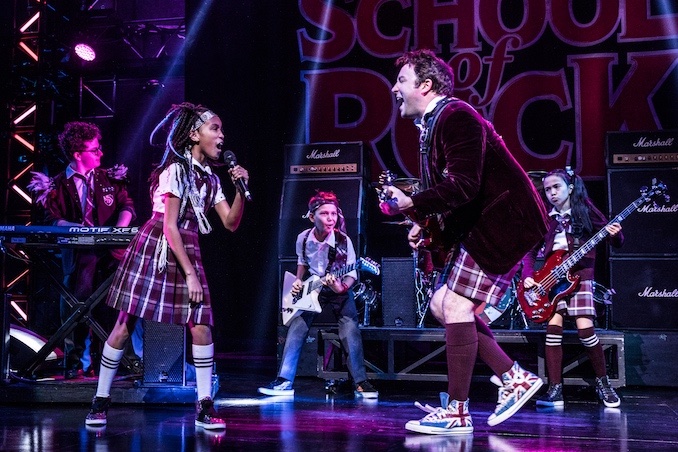 Based on the hit movie, this Broadway smash hit musical follows Dewey Finn, a guy who dreamt of becoming a rockstar but was unsuccessful. He never quite grows out of his teenage ways. Needing cash to pay rent Dewey takes on an unexpected position as a substitute teacher at a private school. With a class full of high achieving students, Dewey turns academia on its head. Students learn to think outside the box and parents discover what their kids are capable of even if it's through *gasps* rock and roll.
The show is full of funny fast-paced dialogue — good job keeping it relevant for today's fast moving younger generation. Yes, we caught those Kardashian and Kanye moments!  And we're still trying to catch our breathe from watching the actors — especially the kids who range from 10 to 14 years old. They've got so much energy, we're exhausted just thinking about it.
We had a chance to chat with a few of the kids in the show including Sami Bray (Summer), Arianna Pereira (Shonelle), Cameron Trueblood (Freddie), Julian Brescia (Mason), and Bella Fraker (female swing) to learn more about what it's like to be in this high octane show.
What do you love about your character and be honest, is it anything like the real you?
Sami: I love playing someone who's sassy yet gets to be part of a band at the same time. I don't know that I'd call myself, personally  as "sassy" but it's really fun to play Summer.
Arianna: My favourite part of my character is that she's joyful and likes to sing alot. That's me in real life! Getting to portray this character in the show and she's like me, that's pretty cool.
Bella: As a swing I get to perform most of the girl roles except for Tamika. My favourite thing about being in this show is I can go on as anybody. So in some way shape or form I can relate to all the characters I play. That's pretty cool and really, it's the best job ever! I can relate mostly to Katie because she's the quiet one but she can do alot.  I like playing Marcy too because she's super high energy through the entire show. It's alot of fun!
Cameron: I pretty much got into this because I play the drums. I had never really done any acting before so for me it feels really great to actually play drums on stage. I started playing drums when I was two years old. I thought'd I'd just audition for  this show. It was like a lottery ticket thinking I probably wouldn't get it but I thought it would be just cool to say I had auditioned for a Broadway show. Then I got it!
Julian: Me and Mason have much in common! We are both like computers. We're techie people and not that serious. We just do what we want.
How do you prepare for every show? 
Arianna: We do warm ups before the show and sometimes in our hotel rooms. But usually around five o'clock, I really begin to mentally prepare. Then, five minutes before a show we all do nothing. During that five minutes I think about how my character reacts to another on stage.
Bella: A half hour before the show we have to kinda conserve our energy because when we're on stage we have to give out so much. We have to jump around alot during the show so we have to stay calm before going on stage.
Is this the first time you're all in Toronto? What are you loving so far?
Cameron: I went to the Science Centre the other day and I want to go back every single day for the next five weeks. It's so awesome.
Julian: My favourite animator Domics (who has a YouTube channel) lives here in Toronto so I hope to meet him. My brother's birthday is coming up so we're hoping to go his gaming cafe so maybe there's a slight chance of meeting him. That would be pretty cool.
Arianna: We went to go see Charlie and the Chocolate Factory – it was so phenomenal!
Okay, I know you get asked this alot but what's your favourite song in the show?
Bella: Yah, this is the most asked question from the press BUT the funny thing is every time we're asked, we never know how to answer. I guess it's because we hear them every single night.
Arianna:  My favourite song to perform would have to be Stick it to the Man. But my favourite song to listen to is If Only You Would Listen.
Cameron: I have no idea.
If you could be in any Broadway show, what would it be?
Arianna: Oh no, don't ask me! It's so hard to answer! I think in the future, I would want to be in the Lion King.
Cameron: This one.
Bella: I would love to be in Matilda.
Julian: I would want to be in Charlie and the Chocolate Factory. I want to see what's behind the door. I'd want to play either Charlie or the kid who dives into the chocolate waterfall.
What would you want tell kids about this show?
Ariana: Be excited. Your energy is going to be very high. There's a lot going on. You'll see us jumping on stage all the time.
Bella: It's a full on Broadway musical with a full on rock concert. It's really cool and all the kids are playing live on the rock instruments.
Seriously?
Bella: Yes, seriously!
School of Rock The Musical is on stage at the Ed Mirvish Theatre in Toronto until January 6, 2019. For more information visit www.mirvish.com.