Meet TSO's New Concertmaster Jonathan Crow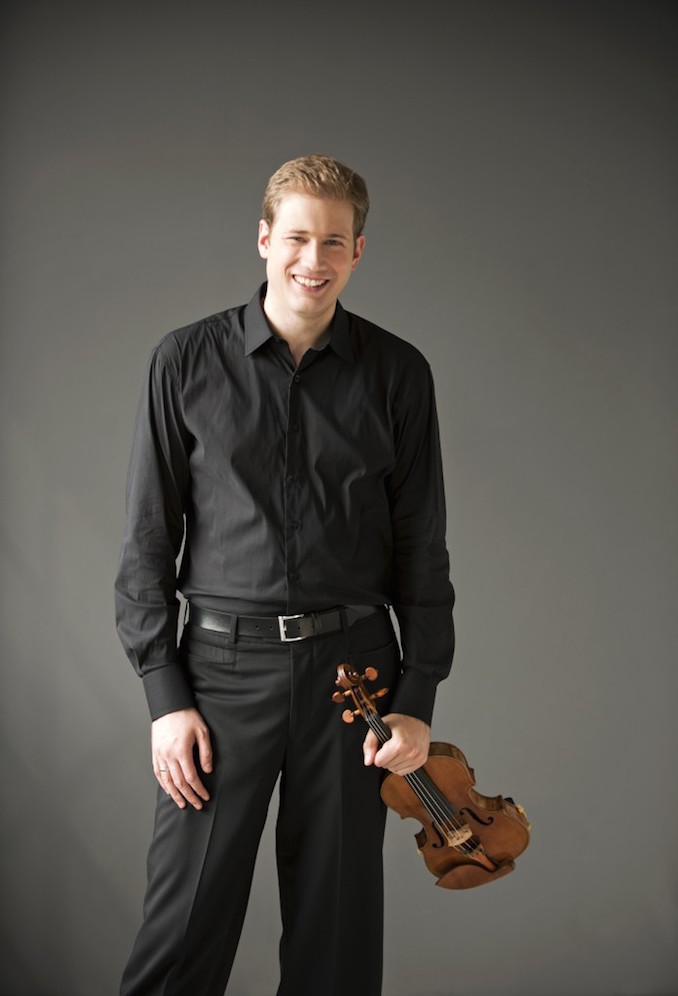 Did you happen to catch the TSO's Late Night Shostakovich last Saturday?
If you're a Tsoundcheck member, you probably did. Roy Thompson Hall, from where I sat, seemed to be at an impressive 90%ish capacity, with most of the audience being young couples or friends out for an evening. One friend went as far as to call it "Symphony Date Night."
I was curious how this young audience would receive the very weighty Shostakovich Symphony No.11 "The Year 1905," a symphonic essay of the Russian Revolution.
Maestro Peter Oundjian entered to a single spotlight, and gave a brief narration of the piece without the informal introduction we are so used to hearing at classical concerts nowadays. He set the stage much like an opening to a Shakespeare play, encouraging the symphony to unfold like one, too. The subtle dimming and brightening the stage in cue with the context of the piece added a fair bit of depth, but I was mostly awed by the young audience's hushed reception of the performance of the four movement work without pause, proving me wrong of my theory that classical music is old and dying.
And at the forefront of this performance?*
TSO's new Concertmaster** Jonathan Crow.
Leading with contained confidence, it's clear that Jonathan's been grooming for the job since he picked up the violin. I had the pleasure of chatting with him a few days prior to the concert. His first orchestral experience was the semi-professional orchestra of Prince George, BC, where he musingly reminisces being a ten year old getting lost then while playing some of the repertoire he's playing now. (Although I highly doubt his idea of being lost is anything near actually being lost) He then won the Associate Principal Second Violin position of the Montreal Symphony at the ripe old age of 19. You know what most violinists are doing when they're 19? They're entering their second year of undergrad, and realizing that there are THOUSANDS of other violinists in the world, and you should either a) give up on having a social life and lock yourself in a practice room or b) compose a 'plan b' to be sure to have a career once you've finished your performance degree.
Jonathan then went through a few promotions, eventually ending up at the Concertmaster chair, as there is no where up to go from there save kicking the conductor off the podium. Mind you, he held this position for five years and then left, and all of this happened before he was thirty.
Now at a mature 34 years old, Jonathan finds himself in Toronto with his family of four in the Roncesvalles village, where his two young daughters enjoy their Kindergarten class just down the street from home. It seems Jonathan also takes pleasure in exploring his new neighbourhood, as he names the local Keriwa as one of his favourite restaurants, describing it as "Authentic North American food, if that makes sense."
When I sat down with Jonathan, he immediately droned on the subject of how great Toronto is, how full of culture we are, how diverse we are.. yawn. We all know this. I asked him his opinion on Classical Music and its dwindling attendance.
He was quick to bring up Tsoundcheck, TSO's discount-ticket program for young people, and how the demographics of a TSO audience seems more varied than other classical audiences he's seen. He noted that this interaction and inclusion of young people was a huge draw for him for joining the TSO. Jonathan went as far as to say that most people enjoy orchestral music, whether they are aware of it or not. Even though you may not have sat through a symphony concert, "if you like movie scores, then you like orchestral music." The TSO's programming committee seems to agree with his point of view- their Pops series for the upcoming season includes several themed concerts with their first-ever Principal Pops Conductor, Steven Reineke. Most exciting of these (to me) include James Bond and West Side Story, both later in the season.
When asked which concert he was looking most forward to, Jonathan easily replied "The season opening concert with [James] Ehnes; he's a great friend, and I love how that guy plays Brahms concerto." So there you have it, you should go see it! Don't want to wait until September to see the TSO? There are still three more programs you can enjoy this season, including the free outdoor Grand Finale of Luminato Festival at David Pecaut Square on June 17, 7pm.
*I don't mean to slight the rest of the orchestra – the ensemble was brilliant. Toronto is blessed one of the meatiest viola section around and a razor-sharp scarily accurate brass section.
**I'm often asked what a Concertmaster is.
Each section of the orchestra has a Principal, who, in a wind/brass section, get the most solos, and in a string section are mostly in charge of leading their section to play together. All of the string Principals work together to keep the string sections in sync, and the Concertmaster generally has the default job of leading the other Principal strings. Historically, if a conductor were to spontaneously leave the stage, the Concertmaster would theoretically continue to lead the performance, although I've never actually seen that happen except in a dress rehearsal where the conductor wants to leap into the hall to get a sense of the sound balance.
The Concertmaster also has the formal role of taking a bow on behalf of the orchestra at the beginning of the concert, and cuing the oboist for an 'A,' to which the orchestra then tunes.