The Kale Goma-ae is one of chef Kazuki Uchigoshi's recommended dishes at TORA, which comes as no surprise! Sesame and soy help to enhance this savoury dish, making it a great option for a meal that's both healthy and flavourful. -TORA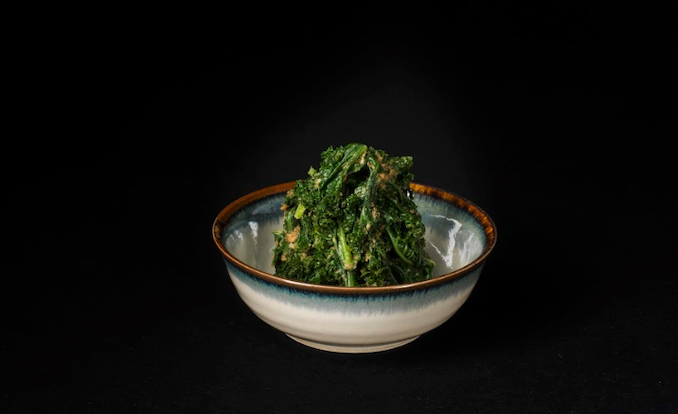 TORA's Kale Goma-ae Recipe from Chef Kazuki Uchigoshi
Time: Approximately 20 mins.
Ingredients
Kale Goma-ae
-6 Bunches of Kale
Goma-ae Sauce
-1kg Sesame Seeds
-600ml Gluten Free Soy
-500g Sugar
-500g Water
Directions
Preparing the Kale
1. Strip the kale of the stalk.
2. Bring a large pot of water to a rolling boil. Blanch the kale for 2 ½ minutes then quickly shock in ice water.
3. Remove the kale from the ice bath and squeeze as much excess moisture. Set aside.
Goma-ae Sauce
1. Place sesame seeds in a blender and ground to a coarse mixture. Do this step in batches so as to not overheat the blender.
2. In a large bowl place soy, sugar and water. Mix thoroughly dissolving the sugar completely before adding the ground sesame seeds.
3. Combine and Serve
4. Add goma-ae sauce to the cooked kale to taste.
TORA is the sister restaurant to MIKU and is also known for its Aburi Sushi that is seared with a torch. It is owned by Japanese restauranteur Seigo Nakamura.