Muscular Dystrophy Canada was recently awarded a global STRIVE Award (Strategies to Realize Innovation, Vision and Empowerment), an honour created by PTC Therapeutics Inc. to help fund non-profit organizations that work to serve the Duchenne muscular dystrophy (DMD) community, the most common and one of the most severe types of MD. The September 7th announcement coincided with World Duchenne Awareness Day (WDAD), a global effort to raise worldwide awareness of Duchenne.
The financial portion of the award will assist in the running of MDC programming that helps Canadian families who have been affected by DMD, by providing them with service specialists to meet all their non-medical needs – from navigating the diagnosis to outfitting a home for a handicapped child.
We got to chat with Barbara Stead-Coyle from Muscular Dystrophy Canada about the organization, the STRIVE award and how we can help.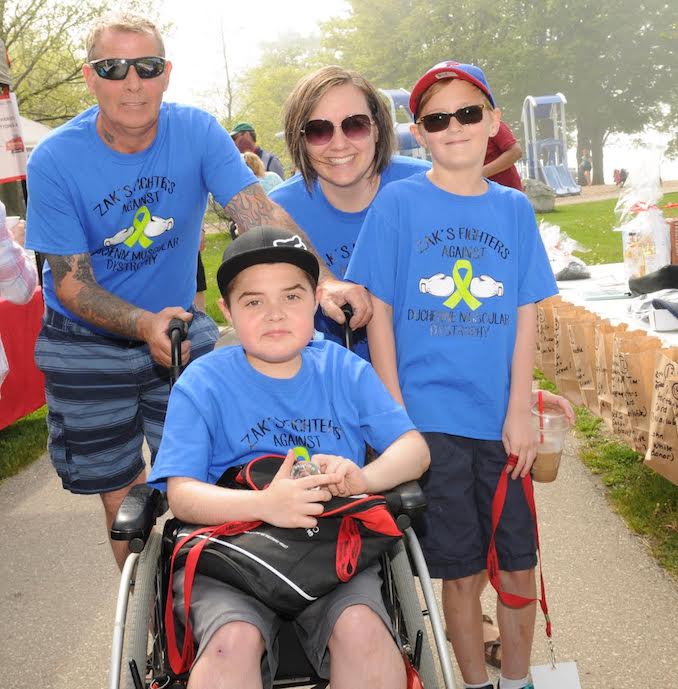 Describe your non-profit in a few sentences.
Founded in 1954 as Muscular Dystrophy Association of Canada, Muscular Dystrophy Canada is a national, non-profit organization dedicated to providing support and resources to clients who have been impacted by 1 of over 150 neuromuscular disorders.
What problem does it aim to solve?
Through well-funded research, Muscular Dystrophy Canada is on a mission striving to find a cure for neuromuscular disorders as soon as possible. One of the many neuromuscular disorders we are trying to find a cure for is Duchenne muscular dystrophy (Duchenne or DMD), a severe, progressive and rare childhood muscle wasting disease, characterized by a rapid decline in physical functioning.
Duchenne is the most common and one of the most severe types of muscular dystrophy, primarily affecting boys. It occurs when a genetic mutation prevents cells from making a functional form of a protein called dystrophin, which is critical to the stability of muscle tissue. It is estimated that DMD occurs in approximately 1 in 3,500 live male births.
When did you join the team?
I joined the team in May 2016.
What made you want to get involved?
I have been working in the not for profit sector for more than 12 years. When I was approached about leading MDC I had two main reasons to consider the opportunity – my sister who has Charcot Marie Tooth (CMT) and my step brother who has Beckers. Further to that, when I was learning about the organization what struck me most was the overwhelming sense of this being a "family" that truly cares for each other.
What was the situation like when you started, when the company started?
When it was started in 1954, the goal was to help families with their immediate needs and to invest money into research with the hope of finding a cure. Central to MDC's success is its relationship with Fire Fighters nationwide. To date, they have raised more that $85M for our cause and in their words, "Until there's a cure, there's us."
I was hired specifically to transform the organization into a more donor and client centred, high performing organization. MDC has a long and proud history but like anything else, it needed to evolve to becoming more responsive to the needs of those we serve. We have been able to do that. Our costs are down significantly and we are investing more money into our mission.
How has it changed since?
We have significantly lowered our costs while investing more money in our mission. Our Personal Empowerment Program (PEP) has completely revolutionized who our clients are serviced by, on an individual case by case basis. We are busy rolling this program out to every province and we are seeing remarkable results.
What more needs to be done?
We are doing all we can to help those who have been impacted by a neuromuscular disorder, whether it's themselves or a family member. Muscular Dystrophy Canada recently announced that it received one of the sought-after Strategies to Realize Innovation, Vision and Empowerment (STRIVE) Awards, created by PTC Therapeutics, Inc. to aid non-profit organizations committed to serving the Duchenne muscular dystrophy (DMD) community.
This STRIVE Award will help us make a real difference to the lives of people affected by Duchenne. The grant will help Muscular Dystrophy Canada to run Personal Empowerment Programs across Canada, which help people with Duchenne to live more independently, be more socially active and involved in the community, and better informed about managing their condition.
The STRIVE Awards recognize the vital role patient advocacy groups play in improving the lives of individuals affected by DMD, and grants are awarded to facilitate unique, inventive ideas or programs that support patients and families within the Duchenne community.
How can our readers help?
For anyone who wants to have a huge impact on the lives of those affected by a neuromuscular disorder, they can volunteer, donate or partner with Muscular Dystrophy Canada. If you want to learn more about the Personal Empowerment Programs, please contact 1-800-567-2873.
Do you have any events coming up?
All events are listed on our website.
Where can we follow you?
To learn more about Muscular Dystrophy Canada, please visit www.muscle.ca or call our toll-free number at 1-866-MUSCLE-8 (1-866-687-2538). You can also follow Muscular Dystrophy Canada through our social channels.
Facebook | Twitter | Instagram