You might say I've been a little obsessed with rock climbing lately. My last post featured Toronto's own porn theatre turned climbing gym, Basecamp Climbing, and this summer I've been trying my very shakey hand at Lead Climbing with fellow writer, Linda Luu. So it seemed an ideal time to speak with climbing experts about choosing the right climbing gear for beginner and intermediate. We tested out women's equipment specifically but the rules are the same for both men and women.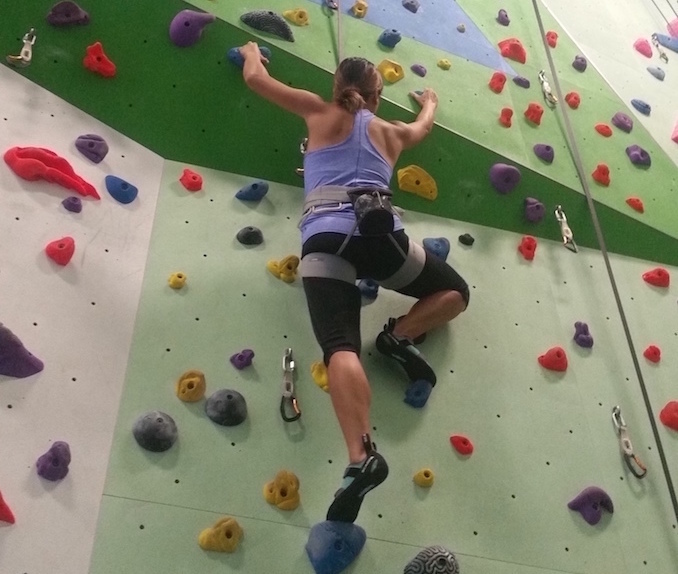 I met with Emma Dahan-Meyboom at Mountain Equipment Co-op (MEC) in downtown Toronto to learn about shoes and harnesses. As a (very humble) climbing expert, Emma spent a whopping 2 hours with me explaining what beginners should be looking for. For the record, MEC has amazingly knowledgeable friendly staff and I would highly highly HIGHLY recommend you make them your first (and only) stop for climbing equipment.
For a harness, there are slight differences if you want to use it for indoor or outdoor climbs but I'll stick with indoor for beginners. I learned that you should be retiring your harness every 3-5 years because the nylon degrades. Weather change is hard on the nylon so try not to leave it in your car all the time. Climbing gym staff should be able to check for wear if you're unsure. Emma pointed out that some harnesses help you spot the wear in the belay loop by hiding a different colour (usually red or yellow) beneath the top layer. Once it wears, the red or yellow will show through, and then it's time to replace your harness. Great tip, Emma!
The main thing for beginners is to find what's comfortable for you. Don't have the harness dig in to your hips, back, stomach or thighs. It should sit above your waist on the shelf of your hips. Once the harness is on and tight, you can check how secure it is by pulling the gear loops down. It is very important that the harness not pull down past your hips. Loops can't be twisted and the elastics on the back of the leg loops go up into the harness instead of hanging down (which means it's on upside down). Harnesses have different rises (the space between your waist and groin) and leg loops are adjustable to fit all sizes.
Top pick for harness: the Black Diamond Women's Solution Harness because it's super soft and the padding is comfortable, not to mention it looks sleek. The simplicity of it, lacking additional adjustments, actually makes it easier to get in and out of and the mesh lining works great to ventilate my sweaty back!
As for shoes, beginners need flat and comfortable ones. It's a bit of a misconception that the tighter the shoe the better. For those just starting out, if it's too tight, you're less likely to wear it which means you won't be doing as much climbing. Instead, start with something you can actually wear since you need your foot muscles to begin strengthening. Focus on matching a shoe to your foot shape. Look for a shoe that hugs your foot and your toes should touch the front with a gentle curl. "Discomfort is ok but pain is not," Emma advises.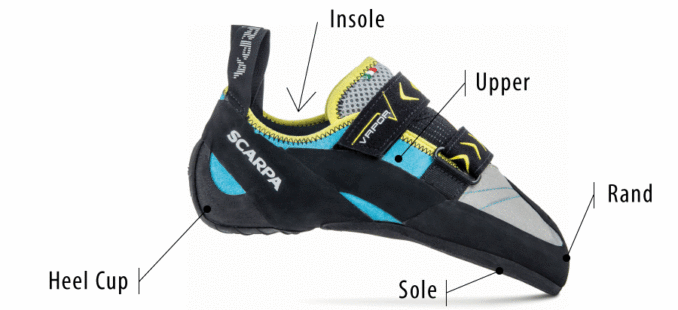 Above image is the anatomy of a climbing shoe, in case you're wondering what climbing shoe experts mean when they refer to the Rand or the Heel cup. In terms of materials, select between synthetic or leather – which will stretch in width but not in length. There are vegan leather shoes for those who prefer vegan. The type of rubber at the toe (rand) and beneath the shoe (sole) come in different levels of stiffness and stickiness. Beginners should look for mid-stiff, malleable and sticky grip.
Top pick for beginner shoes: the Scarpa Origin. This shoe is flat with a relaxed rand which is great on the new climber's toes (less jammed up). The top of the shoe is padded with plush leather for comfort. The supportive midsole of the shoe helps with edging and balance while developing strength and technique. As well, the Vision rubber sole provides good grip, ideal for a newb like me! My ankles are a little narrow for the shoe but I chose the Velcro closure instead of the shoelaces for ease of slipping them on and off quickly. FYI – I tend to pull off my shoes immediately after a climb to give my feet a break.
Once you become a more skilled at climbing and want to transition to a more technical shoe, intermediate climbers should look for a moderate shoe that is slightly downturned in shape. This downturn puts your feet in a stronger and more powerful position for smaller foot holds. Moderate shoes typically have thinner soles and stickier rubber to help you feel and grip the rocks. Linda, fellow Health & Wellness Writer spoke with Scarpa to help her choose an appropriate intermediate shoe.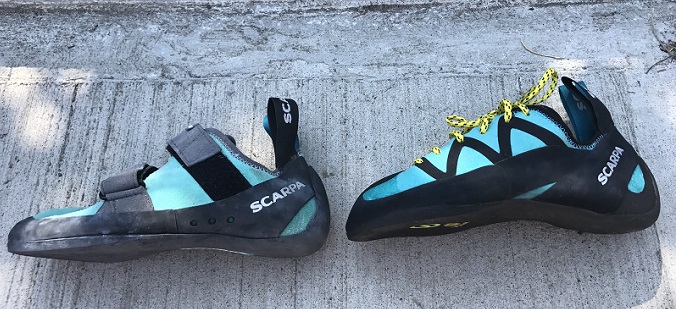 Top pick for intermediate shoes: Scarpa Vapor.  This shoe is slightly downturned (as you can see in the photo below) with Bi-Tension randing. The rand is a rubber that wraps around the shoe, designed to support climbers' feet in the movements critical to climbing, according to Scarpa. The Bi-Tension rand connects beneath the toes and pulls backwards to the heel cup (Scarpa calls this the reverse slingshot). It means maximum toe power and precision. Linda tried the Vapor shoes and it made such a difference. Primarily, it handled smaller foot holds with more accuracy and grip which increased the trust factor dramatically (trusting your shoes and feet is key). Furthermore, the Vibram® XS Edge rubber sole is a harder rubber made for edging yet durable to keep its shape. The Scarpa Vapor offers the most supportive lace up shoe in the entire climbing collection.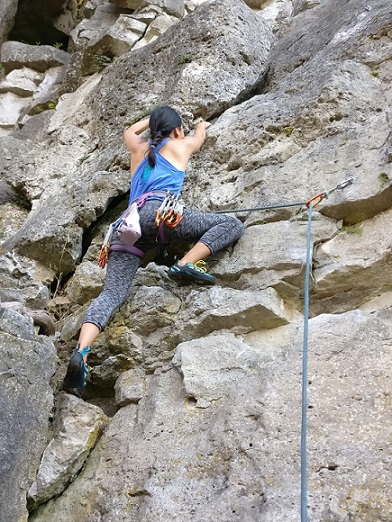 Lastly, chalk bags are not too technical. Climbers chalk up their hands to combat sweaty hands and improve grip. Choose a chalk bag based on personal preference. I'm a simple girl and chose the MEC chalk bag in black because the design is clean, I like the colour black and it's half the price of other chalk bags.
Happy Climbing!