Verso Surgery Centre offers a diverse range of cosmetic surgery procedures, and the top three most requested are genuinely life-changing.
Hair Transplant, Blepharoplasty and Rhinoplasty, Toronto's leading surgical treatments, are in-demand at our centre. Our team consists of dedicated experts, sought-after for the unparalleled care and results they deliver. Each procedure requires unique knowledge and skill to provide stunning outcomes. Let's take a closer look at why Verso is known for Blepharoplasty, Rhinoplasty and Hair Transplant in Toronto.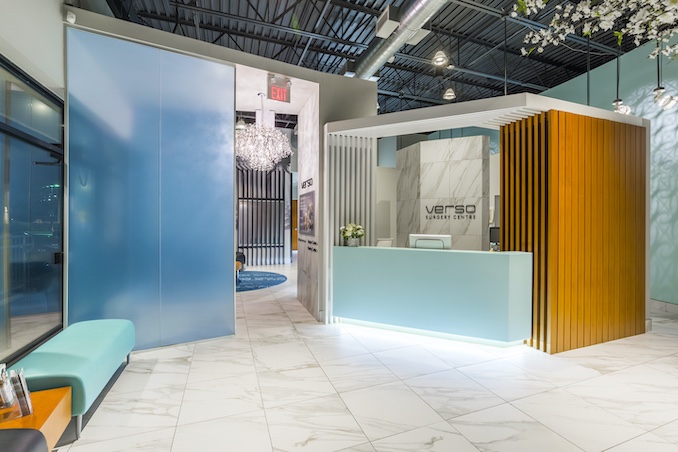 Rhinoplasty- Toronto patients choose Verso Surgery Centre
One of our most requested facial cosmetic surgeries by far is the ever-popular "nose job." Medically known as Rhinoplasty, this procedure is in-demand with men and women of all ages and backgrounds, making it one of the most versatile surgeries we offer.
It's also highly specialized and requires an incredible depth of knowledge and experience to perform well. Your nose is probably more complicated than you realize. Changes made in mere millimetres can have a significant impact on appearance, so you'll want to ensure you seek out a top Rhinoplasty surgeon and work with them to plan exactly what you want.
Rhinoplasty in Toronto is often performed by facial plastic surgeons and Otolaryngologists. Dr. Kolenda is a leader in this field. He's renowned for advanced reconstructive skills beyond cosmetic techniques and is one of the few facial plastic surgeons to complete the fellowship program of Rhinology and Skull Base Surgery.
Dr. Kolenda is double board-certified, trained in facial plastic surgery, reconstruction and otolaryngology (head and neck surgery). Only an expert who dedicates extensive practice time to this procedure should be trusted with your nose. Patients choose Verso Surgery Centre for Rhinoplasty because of Dr. Kolenda's reputation for natural-looking results and as a pioneer for new techniques.
We're honoured that patients choose Dr. Kolenda for Rhinoplasty, consistently.
What are the variations for Rhinoplasty in Toronto?
Breathing problems and snoring are often related to a deviated septum. When the focus of nose surgery is correcting function over form, septoplasty is the corrective procedure. People born with structural anomalies or who injure their noses are often candidates.
Nasal surgery also allows our patients to change the size and shape of their nose. Popular improvements include tip refinement, narrowing the span of the nostrils (Alarplasty), changing the angle between the nose and upper lip, smoothing a bump on the bridge, or decreasing overall size and projection.
Of course, some patients choose to build up the bridge and increase nasal prominence to balance proportions. The diversity of nasal characteristics and the myriad ways people decide to enhance them can all be accommodated in the hands of a skilled expert.
Dr. Kolenda is known for expertise in delivering subtle but impactful results that improve one's appearance, without creating an unmistakable "nose job" appearance.
People choose Verso Surgery Centre for Rhinoplasty in Toronto due to excellent and consistent before and after photos of Rhinoplasty. Take a look, and feel free to contact us for more information.
Your Rhinoplasty consultation is free of charge, so you can relax and gather information without any pressure. We're happy to assess and advise you, helping you envision all the beautiful possibilities for changes you seek.
Facial cosmetic surgery consultations with Dr. Kolenda include a morphing tool used to show patients what alterations are possible to suit their goals.
Toronto Rhinoplasty patients choose Verso for high-level service
Many of our patients opt to stay overnight in our luxurious suites. Our level 3 OHP surgical Centre is brand new and fully equipped with the industry's best technology, but it's a beautiful, welcoming space you'll be sure to enjoy as well. Our patients appreciate fast, accommodating booking times thanks to our own private facility.
We can change what you know about hospitals and show you that undergoing nose surgery with us can be a luxurious and rewarding experience. Call today and find out why Verso is the right choice for your Rhinoplasty.
Blepharoplasty- Toronto's in-demand eyelid surgery
Verso's second most popular cosmetic surgery is Blepharoplasty. Toronto patients seek out our highly experienced facial plastic surgeons to perform intricate eyelid surgery that delivers powerful results.
The demand for eyelid surgery is growing, and we see men and women of various ages and backgrounds for this treatment.
Upper, lower or both lids can be enhanced to help- a  person appear younger, rested, or to change the shape and form of the eyelids. Eyelid surgery can be performed in a variety of ways for different reasons.
Why do patients choose Blepharoplasty in Toronto?
The delicate, thin skin around the eyes is the first to show lines (Crow's Feet) and sagging for many people. As young as their 30's, some people develop loose, lax eye muscles and protruding fat pads that impart a tired, weary appearance.
Our patients tell us how frustrating it is to be told they look tired or unwell when they actually feel great. The eyes are attention-grabbing, and for better or worse, often the first feature people notice about you.
Ethnic Blepharoplasty for Toronto patients involves transforming a Mono-Eyelid into a Double Eyelid, and/or removing prominent fat pads. The surgical work to change eyelid folds will usually be done on the top lid alone.
Conversely, Blepharoplasty for anti-ageing usually involves improving hooded or puffy eyes. Upper and lower eyelids can show loose skin, an overhang, protruding fat pads, and shadows.
Some people are prone to pronounced under-eye bags simply due to genetics, so there's no ideal age to make the change if you want to reduce eye bags with Blepharoplasty. Your surgeon will customize the approach just for you. They may use hidden, inner eyelid incisions and no skin removal, or a thin incision under the lashline and extraction of fat along with an ellipse of skin.
Your Blepharoplasty surgeon should be experienced and possess natural artistic skills. As you can imagine, meticulous changes around the eyes and cautious tissue removal are required for a satisfying result.
Blepharoplasty – It's for more than just eyes
Verso Surgery Centre offers extended lower lid Blepharoplasty for midface rejuvenation. When you book your free consultation, Dr. Kolenda will examine you and listen to your goals. He'll also explain the possibilities for correcting deep tear troughs, festoons and hollows at the midface with advanced techniques. The extended lower Blepharoplasty approach can substantially smooth and rejuvenate mid-face contours without visible incisions and scars.
People choose Verso Surgery Centre for Blepharoplasty in Toronto again and again because our skilled surgeons provide dramatic changes with minimal trauma, recovery time, or scarring. This procedure is often considered "simple," yet it's technically demanding. Therefore, you can count on a straightforward recovery and result, only by choosing the right expert.
Hair transplant- Toronto's leading robotic restoration
Robotic FUE with the ARTAS® iX Robotic System, means our patients count on faster, precision hair graft harvesting and implantation. Limitations of time and technician fatigue mean Toronto Hair Transplant patients often have restrictions on the volume of units they can transfer in a session.
Instead, the advanced technology of ARTAS eliminates risk of human error and the fatigue related to relocating thousands of grafts.
For those requiring more extensive sessions, this is welcome news, and Verso Surgery Centre is one of only a few locations in the province to offer it.
What does Robotic FUE precision mean for hair transplants in Toronto?
The ability to sense ideal follicles and strategize their removal according to a practitioner-set algorithm ensures consistently uniform incisions, minimal scalp trauma, and protection of follicles. This robot has a three-dimensional guidance system and dual punch mechanism, combining precision with ultimate efficiency.
You have a finite number of growing follicles on your head. Like most of our patients, you'll want to protect and maximize each precious one during your Hair Transplant surgery. With ARTAS and the experts at Verso, you can count on intelligent technology and an optimal result.
Dr. Jack Kolenda and our Hair Transplant team rely on advanced equipment to combine extensive practice experience with capabilities far beyond what the human hand can achieve.

Are you ready to take control of hair loss?
Permanent, FUE restoration means you can enjoy real, growing hair again and say goodbye to receding hairlines or bald spots. Those who are tired of wigs and hairpieces, medications or high-maintenance products love the lasting, carefree results of hair restoration.
We welcome you to schedule your free personal consultation for a hair transplant in Toronto with Verso Surgery Centre and learn about your options for this exciting transformation technique.
Schedule your consultation today and find out what all the buzz is about
We're leaders in cosmetic surgery and advanced aesthetic medicine. At Verso, we know that choosing to enhance your appearance surgically can feel intimidating, and there's often some anxiety mixed with the excitement.
We make it our priority to not only walk with you every step of the way and provide extensive, detailed information, but to ensure top of the line safety and rigorous protocols that assure patients they're in good hands.
We deliver safety above hospital standards in a warm, luxurious and inviting environment. We'd like to meet you. If you're considering a Hair Transplant, Blepharoplasty or Rhinoplasty, come find out why we're known as the best choice. And, if you want more information about any other treatment, we're here to help. Call today.