I recently got to try these NERGI berries that originated from the Actinida arguta species. They have actually grown naturally in small quantities without the use of GMOs and are cultivated in the orchards of small farms in France, Portugal, Italy and Spain.
They contain high amounts of vitamin C and E as well as having a 3 grams of fibre per 100 grams. A handful of NERGI berries contains 52 kcal per 100 grams.
I thought it would be great to share a recipe with this kiwi-like fruit so our readers can try them out. So try this Fish Ceviche Recipe using the NERGI berries and let us know what you think.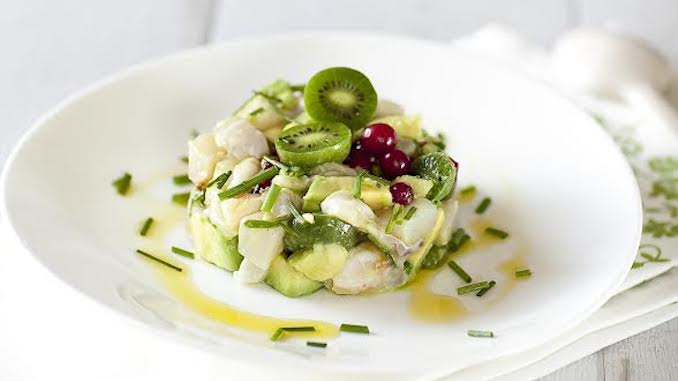 Fish Ceviche Recipe with NERGI Berries
15 minutes to make
Serves 4
Ingredients
-1 pack of NERGI®
-2 sea bream or white fish filets
-150 g de-shelled prawns
-4 bunches of red currants (or gooseberries or raspberries)
-1 avocado
-1 small bunch of chives
-1 table spoon of olive oil
-1 lime
-Salt, white pepper
Recipe
-Squeeze the lime. Cut the fish and prawns into small cubes.
-Cut the avocado in half, throw away the stone, scoop out the flesh with a spoon. Cut the avocado into small cubes.
-Drizzle the avocado, fish and prawns with the lime juice.
-Seed the redcurrants, cut the NERGI® in half. Chop up the chives.
-Mix all the salad ingredients, add salt and pepper, and leave to marinate for half an hour. Sprinkle some olive oil over before serving.