We can pretty much eat any type of cuisine in the city and willing to discover new ones but if you're interested in delving a little deeper into the culture behind the dishes, you may be interested in Table to Share.
Carla Ramos has always had a passion for food and travel. Born and raised in a traditional Portuguese family in the village of Sintra, food has always been a focal point in every occasion of life. Toronto presented itself with so many incredible options. Always curious, she explained of having wonderful conversations with chefs who were more than happy to reminisce and share their stories of cooking with her. The stories of the cultures enhance the restaurant experience. She had the idea of creating dinner parties that bring more of this kind of conversation to the table. So, she quit her busy day job as an analyst to pursue her dream to host these intimate dinner events and created Table to Share.
Each dinner event would feature one country. Think Portugal, Spain, Brazil, and Philippines for example. The menu is created with traditional and authentic dishes from the regions. Since we actually didn't know too much about  Portuguese food other than Piri Piri Chicken and those delicious Pasteis de Nata (custard tarts), we asked Carla if we could experience this. We joined her at Lisbon By Night a restaurant she considers to be one of the best in the city for offering authentic "just like home" cooking.
The second story restaurant is a favourite amongst Portuguese families who frequent often on the weekends to savour dishes from back home. Windows bring in the natural light from outside and the decor is traditional. A large rod-iron chandelier is the focal point in the centre of the room. Off to the side, there's a small stage set up for musical entertainment. Along the wall are photos of celebrities who have visited, yes, even from Portugal.
Carla greets us warmly at our table. She is the host of the meal who helps guide through each dish as they come out family style. Here the menu is lengthy and full. It's a set price with wine pairing options. She tells us she often hosts dinner clubs, corporate events, and private parties. She also injects memories of  her own childhood growing up in Portugal into the conversation and how she savours these dishes. Depending on the date and time, Chef also comes out to chat.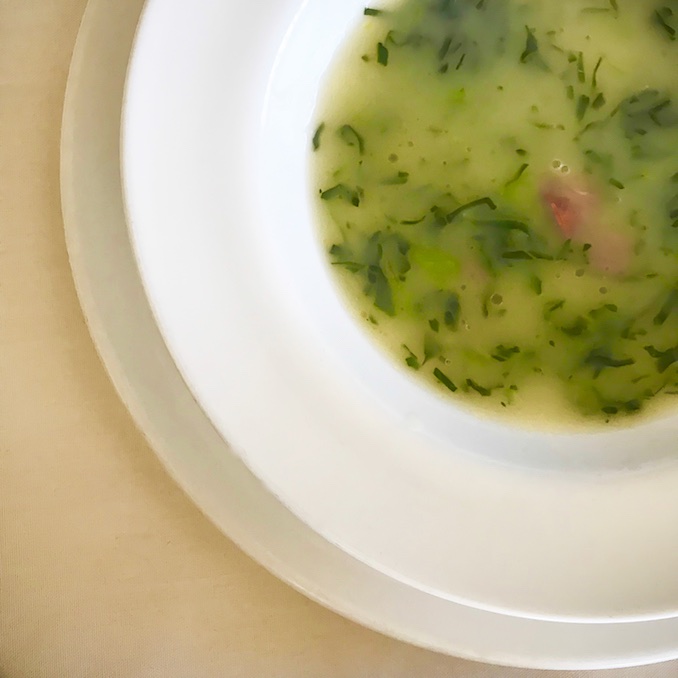 If you've been to Portugal you'll quickly learn that they eat a lot of salted cod in various forms. Carla tells us there's a funny saying amongst the Portuguese that there have 365 ways to cook cod. Although cod is not farmed there, she tells us that at sometime in history, cod was something that northern european countries weren't interested in but the Portuguese loved. So, it was happily brought into the country. Pasteis de Bacalau (codfish cakes) are enjoyed a glass of "green wine" and often served along side other dumplings especially during celebrations.  We quickly learned that green wine is not because of colour but because of the time of maturity the grapes are harvested. This is made from a young grape and let's say the wine is very easy to drink with a hint of effervescence. Like many European cultures, Portuguese generally eat their dinner later in the evening. Often after work, people will slowly unwind with green wine in hand and an assortment of little plates.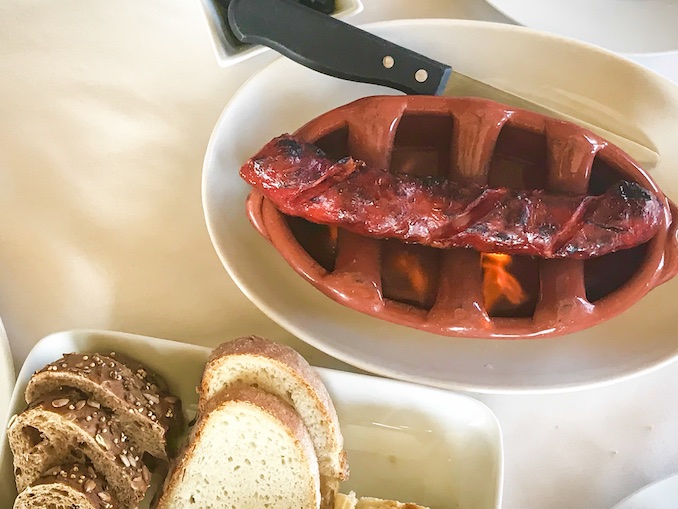 A Chourico Assado (flaming chorizo) came to the table that is a staple of the cuisine as well. It slowly and delicately burned the skin of the chorizo and gave way to a sharable appetizer. A stand out comfort soup, Caldo Verde, we're told is one of the those dishes that every family has a recipe for. With a glisten in her eye, she tells us that she grew up with this soup like most families. It's a simple soup made with potatoes, collard greens, olive oil, garlic and here they've included a few pieces of chorizo. It's a soup that is consumed by all Portuguese from farmers to city workers.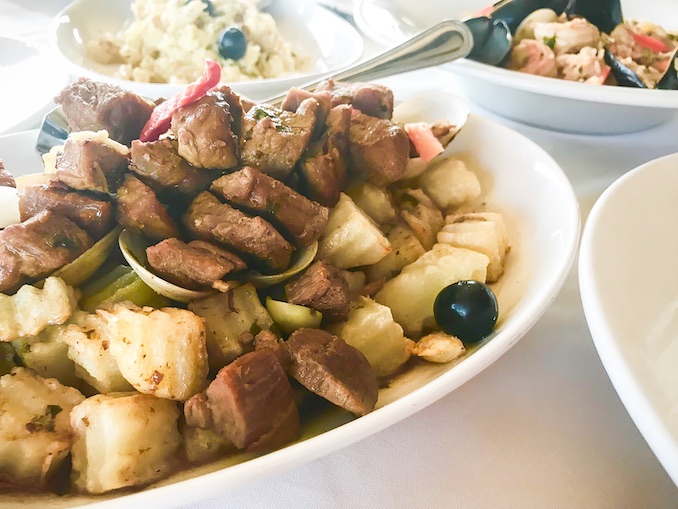 What about the regions? An interesting dish made of marinated pork with clams over potatoes (Carne de Porco a Alentejana) came to the table. Carla explained that this popular dish is served often in the Algarve region and possibly the reason why it's references Alentejana (a northern region) is because they consume more meat in the north. The Algarve is more known for their fresh seafood.
When the Bacalhau a Bras arrived it was explained as a very common dish that is served at home. Made with cod, potatoes, onions, garlic, and olive oil. It's a humble dish that I thought I could eat with plain rice (the asian side of me comes out). The only rice dish that arrives is the Arroz de Marisco that most people will automatically think of it as Paella. The only difference here, as explained, is they do not include any meat. Just seafood.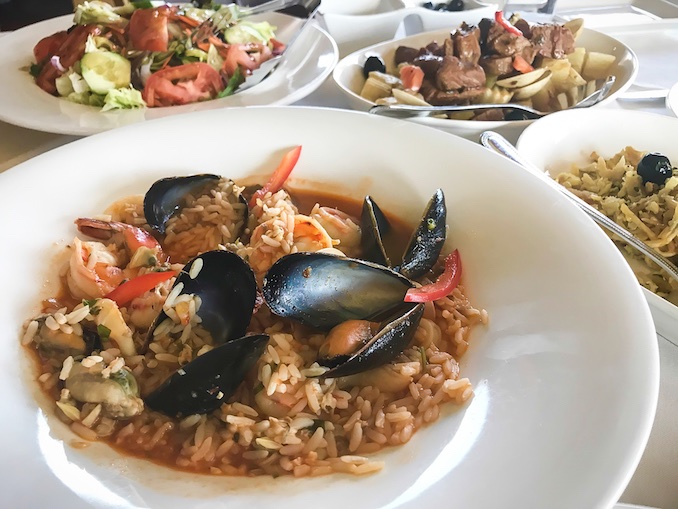 More dishes arrived and we had to pause to take a break. This is the typical menu for the Table to Share events.
Then the desserts arrived. Three in fact. The famous Pasteis de Nata is served along side a chocolate mousse and caramel flan pudding and paired with a Moscatel.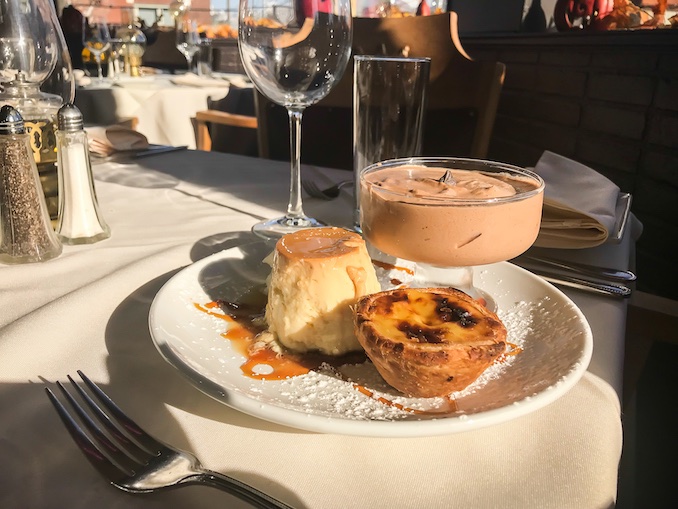 It was a very informative meal and certainly plenty of food to share. I'm thinking about Brazil for my next outing.
Table to Share is ideal for up to 12 people and maybe an interesting way to gather family, friends, and co-workers for the upcoming Holiday season. Fun way to explore Toronto's culinary scene too for tourists. Visit tabletoshare.com for more info.