How often do we think about what's "in" our beauty and skincare products? Many of us are interested in learning the benefits of natural ingredients and after all what we put on our body is absorbed by our thirsty skin so we need to continue to understand the beauty industry much more.  We've been learning more about toxins and chemicals that are  found in more common day-to-day skin care and beauty products. We've also met with people who have made a commitment to switching their products for the good of their own health and, in some cases, have created their own skin-care lines. There are many Canadian green beauty brands that have been popping up that are worth paying attention to.
Recently, a collective of green beauty companies, mostly artisan and small batch, got together to showcase their goods at the Mindful Beauty Pop-Up at Creeds Coffee Bar in Toronto. We were pretty mind-blown at the number of brands represented! Here are some of the Canadian brands that were involved and we should be turning more attention to not just because they are "green" but because they are better for us and they're damn good!
Graydon Skincare is a plant-powered line created for the entire family. The Toronto-based company nutrient-dense line is based on the company's philosophy of feeding your skin as you would feed your body. You won't need a science degree to read their labels. Most ingredients are organic plant based from Canadian growers such as broccoli and berry seed oil. Any ingredients sourced outside of Canada are with fair trade farmers. MUST TRY:  new Graydon Matcha Mint Shampoo. Matcha is a natural source of panthenol which softens, strengthens hair and prevents split ends. Also includes chia extract, hemp oil and sunflower seed extract. Pairs well with the brand's Hair Smoothie.
Stark Skincare was created for the urban lifestyle. This plant-based vegan line is high in antioxidants to help combat the city's air pollution, daily stresses and late night debauchery. Jessica uses 100% botanical ingredients in her line and it smells amazing! MUST TRY: Aurora Cleans + Hydrate Balm is a busy city dweller's dream product. Just a wee bit of this balm mixed with a couple drops off water and it becomes a liquid cleanser or it can be left on the skin to moisturize. Also, if you're looking for a plant-based dry shampoo, the Sahara Dry Shampoo is it and it won't mess with your pH balance on your scalp. Hoard worthy.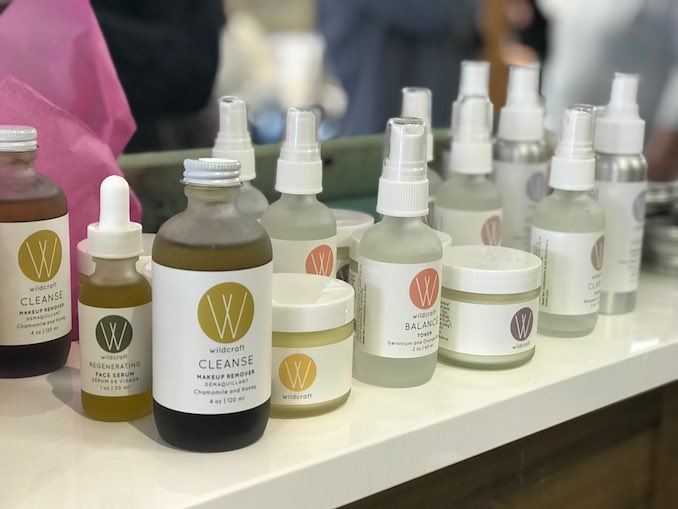 Wildcraft Care is all about creating beautiful products in small-batches. In their Toronto studio, they use local Ontario raw ingredients and are 99% organic. MUST TRY: Chamomile Honey Makeup Remover that can is a wonderful cleanser even if you wear no makeup! Products are lightly and naturally scented.
LoveFresh  is a Toronto-based all natural luxury beauty line founded by Stacey Davis. Dubbed as "easy luxury" the line of body care products was inspired right from her own kitchen. From lotions to washes, each product in the line is beautiful and jammed with naturally fresh scents. There is also a baby line under the same name! MUST TRY: Coffee Sugar Scrub in Vanilla Bean wakes up your skin and sloughs off unwanted blah. Sister brand Fresh Batch has the most amazing bath bombs that even your hockey loving teen would enjoy soaking away in!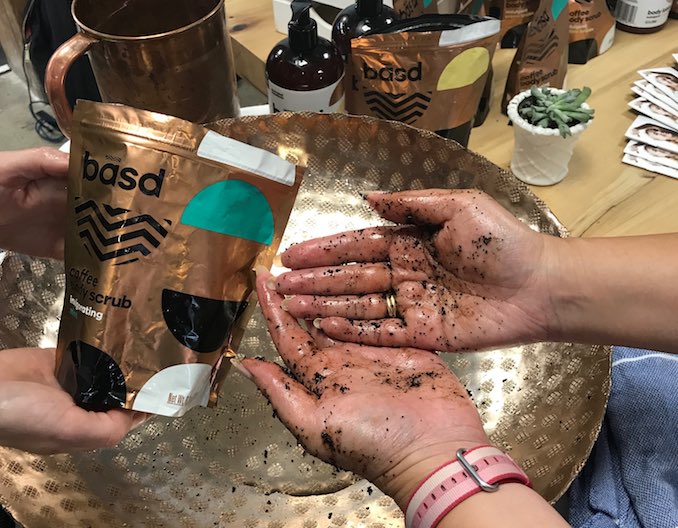 Basd Body Care is all about confidence and working with "what your mama already gave you." Founders Ashely and Phil are very transparent with their plant-based line and tell us they only test on consenting adults. We love their energy! The product line carries two scents: invigorating mint and indulgent creme brûlée. MUST TRY: the bundle pack of either scents are great (and great gifts too!) includes a body scrub, body wash and body lotion.
Christine Chanter is a green beauty perfumer, botanical archaeologist, and aromacologist. Her studio produces small batch custom blends for her customers including boutique hotels. MUST TRY: she calls it Bush Country and it's exactly where you should put it. This nourishing and healing jojoba oil based product is full of good benefits for skin and hair "there" with a sultry wild and soft scent.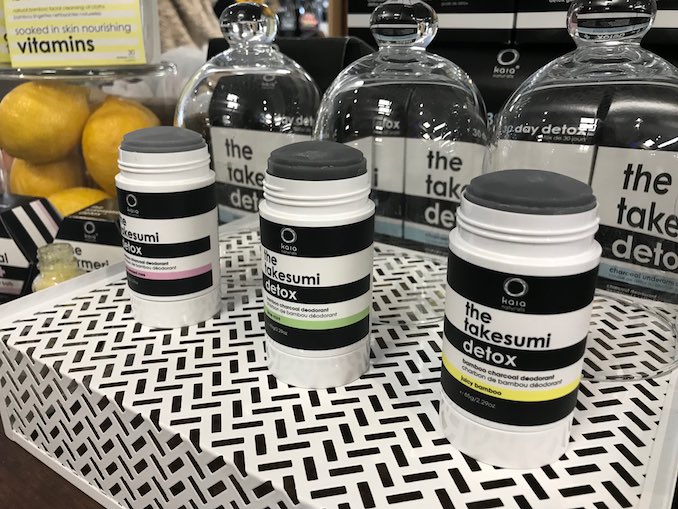 Kaia Naturals is made with non-toxic ingredient that aid sensitive skin and also helps remove existing toxins and impurities. Consider it part of your overall "wellness" plan as the company's philosophy is that health and wellness goes beyond just eating healthy food. This is brand is also available through beauty retail giant Sephora. MUST TRY: The Takesumi Detox Charcoal Underarm Detox Kit helps your body transition from chemical laden antiperspirant (that actually blocks sweat glands) to natural deodorant. Takesumi, is known as bamboo charcoal, and is a time-honoured Japanese secret for door control and detoxification.
Sudsatorium natural vegan body products that are fair trade organic, vegan, and cruelty free. Hi-5 to the team for the creative names! As winter approaches and our skin and hair begins to dry out in the colder months we need to take extra care. MUST TRY: Black Out Shampoo to help treat troubled scalps with detoxifying charcoal. Tough guys might be interested in also trying the Beeronimo Shampoo. The collection of artisan soaps would make great gifts for friends and colleagues in the office. We're all over the Mac Daddy and the Bamboozled soaps.
Schaf Skincare created by Peter and Gina Schafrick says the lines started with a WTF moment. A revelation after realizing that the products they were using were filled with synthetic preservatives, parabens, sulphates and other stuff that aren't good particularly for sensitive skin. They decided to do something about it and began working experts to create a line that was just as good, if not better, than those "other brands" for both men and women. MUST TRY: Schaf Moisturizer that takes the best from the outdoors and from the lab. The daily lotion includes organic plant extracts, coconut oil, African shea butter and more.
Matter Company's slogan is "the ingredients are the product". Pure ingredients are used in the line and they believe in conscientious environmental practices. MUST TRY: If you're a mom to be (or know one) the Pregnancy Essentials kit is an ideal gift set that includes the Substance Belly Jelly to help minimize stretch marks rich with vitamin E and rich shea butter. Oats in the recipe also helps with itching associated with growing bellies.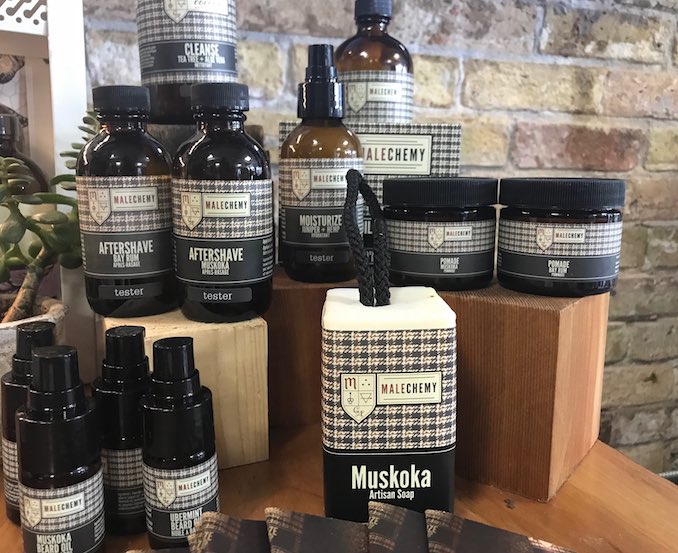 Cocoon Apothecary is based out of Kitchener. Products are plant-based, vegan, biodegradable and made with ethically-sourced ingredients and ideal for sensitive and aging skin. Many of the products are "naturally pro-aging" to help minimize free radical damage, as well as heal and soothe the skin. MUST TRY: Eyewaken eye cream delicately soothes tired eyes and moisturizes to help keep the area firm and protected. And hey, guys check out the Malechemy line designed for you. Your skin will thank you for using the Juniper+Hemp Moisture.
Way of Will was created especially for those who hit the gym. The aromatherapy-based  line is professionally designed formulas with each ingredient that serves  practical purpose. For those who don't like overpowering scents often associated with essential oils this is for you. All the oils are extracted from natural resources like barks, stems, leaves, roots, fruits and more. You can learn the benefits of using essential oils on their site. MUST TRY: we know the power of scent can change any mood. There are three Olfactic Inhalers that will help your breathing, stimulate your mind and give you focused energy when you need it the most.
Province Apothecary founded by Julie Clark after she struggled with allergies and eczema all her life. She was initially drawn to holistic skincare and spent much time experimenting with oils, waxes and herbs. Julie studied Aromatheray, Holistic Health and Esthetics. The company sources high quality ingredients from each Canadian province and hand blends the ingredients in the skin care line. Think seaweed from Nova Scotia, glacial clay from BC, and maple syrup from Quebec. MUST TRY:  the new Daily Glow Facial Dry Brush is something your skin will thank you for. The soft dry brushes helps with pore congestion and creates a brighter complexion.
Lovacado inspired by grandma's beauty routine, Claudia Murillo created the line of all-natural beauty "recipes"  to nourish your body leveraging on the restorative powers of natural oils including extra virgin avocado oil. MUST TRY:  Avocado Powder Face & Body Mask. The powder is mixed with a small amount of water and then massaged on the skin to help brighten dull skin gently and effectively.
Living Libations is a line of serums, elixirs and essential oil not just for beauty but also to enhance immune systems. Nadine Artemis first opened up North America's first full concept aromatherapy store in 1994. She received much attention for her formations in publications like Vogue, New York Times and Flare among others. All Libations' botanicals are pure and distilled only from the named plant matter. She calls her essential oils Hi-Fi oils and her wild crafted plant matter is collected from the plants' natural habitat in lieu of a farm. MUST TRY:  Best Skin Ever Seabuckthorn is an all-in-one cleanser, exfoliator, and moisturizer that can be used on your skin and face. This best-selling elixir helps restore and revive skin.
Pure Anada sources ingredients from around the world. Founder and formulator, Candace Grenier does extensive research to ensure they only support fair trade. Products are then made in their own certified organic lab and manufacturing facility in Manitoba. Their formulas are clean avoiding the "dirty dozen" often found in mass produced cosmetics. We also love their vintage graphics on the line that reminds us of simpler times and nature's gifts that weren't modified. MUST TRY: Beauties will be interested in the Pure Anada Mascara! Yes, it's natural, vegan, gluten-free, paraben-free and mercury-free. but wait for it… it's also water resistant!
Evelyn Iona Cosmetics was created to fill the gap for hard to find, high end products that stand up to the performance of their synthetic counterparts. These are products that women use every day but with a more conscious approach to skin, planet and community. The products are created in small batches. MUST TRY: their Natural & Organic Gel Liner is a favourite among green beauty bloggers and editors. This liner is made with grape seed oil, candelilla wax, oregano and vitamin E for long lasting wear.
Fitglow Beauty was created by Anna who, as a lifelong fitness and health fanatic with sensitive rosacea skin needed to do something about her skin beyond covering up with makeup. She spend over a decade researching plant-based ingredients and meeting with experts to refine her formulas. MUST TRY: Redness Rescue Cream helps calm red skin naturally. It also helps repair skin while stimulating cell growth.
Helena Lane Skincare 's founder was motivated by her own battle with chronic eczema that began in her teenage years. She has spent over 10 years working with some of the world's leaders in natural and organic products in the UK and in Canada. Her company hand-makes the products in Squamish, BC. MUST TRY:  Argan & Neroli Moisturizer is a rich and healing moisturizer for your skin. Neroli essential oil repairs sun damaged skin. A little goes a long way.
Skin Essence Organics products are designed to nourish, heal, and hydrate the skin without the use of fillers, preservatives, and synthetic chemicals. Ingredients are extracted from their natural form with the least amount of processing possible. MUST TRY: Facial In A Jar is great for all skin types. It helps you get that smooth, vibrant skin and improve skin's elasticity.
Age Quencher didn't begin as a beauty line. It came from an idea by a Canadian Naturopathic Doctor that began as a formula to help people with their energy levels. Not only did people feel better but they noticed that their skin became more youthful and radiant. They also had visible improvements to their hair and nails. Then Canadian business woman Belinda Stronach became involved after trying the line herself. We're curious to try the system ourselves that includes a Rejuvenate Beauty Collagen Protein Powder that is mixed in with water or other liquids.
Other Brands that we've come across…
Subtle Green: Montreal-based  is known for their custom serums and lotions. Through their made to order process, they allow you to choose what's right for your skin with the flexibility to change your formula in the future as well. MUST TRY: Champagne Mist that harnesses the benefits of the grape in a luxurious way.
Diane Lai for soft skin began as a need for her own son to relieve his itching. She quickly discovered that most baby lotions and cream on the market contained harsh chemicals and then took it upon herself to do the research to create a line that is focused on all natural ingredients for the family and anyone with highly sensitive skin. MUST TRY: The line includes a gentle Fresh Body Wash that also moisturizes.
Crawford Street was founded after the owner had a severe allergic reaction to a commercial face moisturizer. As a result she began experimenting with natural ingredients and eventually creating a moisturizer that worked for her. Soon after, she extended her line to include a few more handcrafted skin care products. And yes, there really is a Crawford Street in Toronto. MUST TRY: Lemon Cream Deodorant is packed with essential oils that are anti-fungal, anti-bacterial and deodorizing. And it smells great!
ONEKA Elements created by Philippe Choiniere and Stacey Lecuyer mission is to leave things better than when we found them. They wanted to have a positive impact on people's health and the water ecosystem. The line of natural personal care products considers the environment and they are sensitive to the land's needs. The way they operate their farm and how they harvest their botanicals also add to the quality of the land rather than harm them. MUST TRY: Eucalyptus + Grapefruit bath salts to help destress and soak your tired muscles as well as giving you clarity.
Consonant Skincare products are all 100% natural and made with organic botanical ingredients but as their site says, "they are still skin care, not salad dressing." This skin care line is serious about products being just as effective as the most commonly known brands out on the market today. MUST TRY: Natural Foaming Face Wash has received several accolades isn't drying. Teens like this one too.
Leaves of Trees is a modern day apothecary with an artisanal approach that's based in Toronto. Everything is made in-house and by hand.  MUST TRY: Headache Balm is a great little companion that should go everywhere with you. In fact, leave one at the office, at home and in your gym bag. Apply just a wee bit to your temples, nape of your neck and below your nose and gently rub your headache away. Also helps you focus when you need it.
Saje Wellness was founded by a husband and wife team back in 1992 with a mission to introduce the healing power of 100% natural, plant derived alternatives. Jean-Pierre's background in chemistry led to his first essential oil remedy to aid in his own recovery after a car accident. Today, Saje can be found across Canada in their own stand alone boutiques and their headquarters are in British Columbia. MUST TRY: Essential oils can be used to help cleanse the air in the home as well and we're big fans of Saje's aromatic diffusers. The latest to the collection is the aromaTime Ultrasonic Diffuser that holds two water tanks (you can even fill with two different blends) and the ability to pre-set to start automatically as you wish.