Knitters are social creatures, and they look for other knitters and places to meetup and talk about their creations. But not every cafe or store owner is keen to make space for knitting groups. It takes a special business model to want customers to drop in and knit.
Knitting in public is catching on again as more young people get hooked on weaving colourful yarn into sweaters, scarves, socks, baby blankets and knitwear for their pets. There are friendly groups for knitters and crochet enthusiasts popping up all over the city. Here is a list of knitting groups in Toronto, in no particular order, where anyone armed with knitting needles and a bag of yarn can sit down and be welcomed as a friend.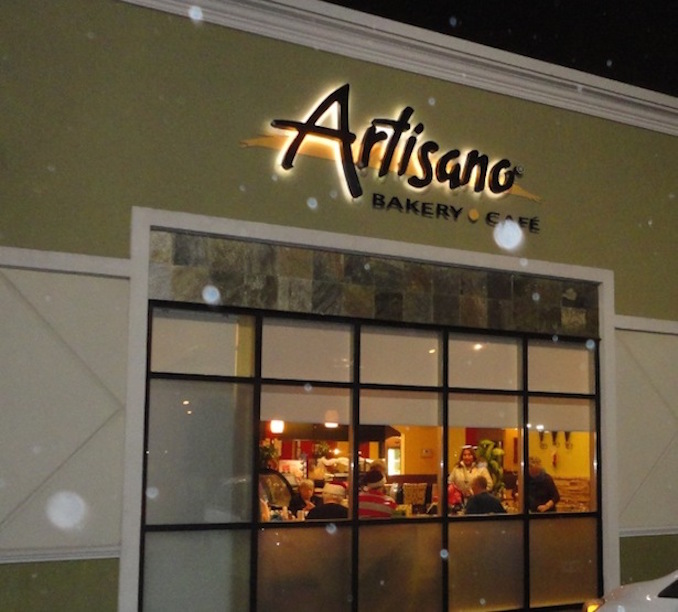 Artisano Bakery in Etobicoke
There's a group of knitters that gather at Artisano Bakery in Etobicoke Ontario every second Tuesday of the month. Located at 1020 Islington Ave, these fun loving textile workers congregate here to share knitting tips, techniques, patterns and their passion for the craft. On rare occasions they'll even share yarns from their stash bags.
Each with different skills and abilities, these ladies are really just gathering here to swap stories and notes on the subject of knitting. This group is what's left of the West Toronto Knitter's Guild which started in 1986 and went until 2004 when the internet finally changed their hobby and crafters found easier ways to connect online.
Today even these dyed-in-the-wool social knitters go online to scour websites like Ravelry and Yarnspirations for free knitting patterns for their next projects and to purchase hard-to-find accessories. Artisano Bakery offers free wireless, and more than one knitter in the group will have a device open on the table.
LadeeBee Supplies in the Junction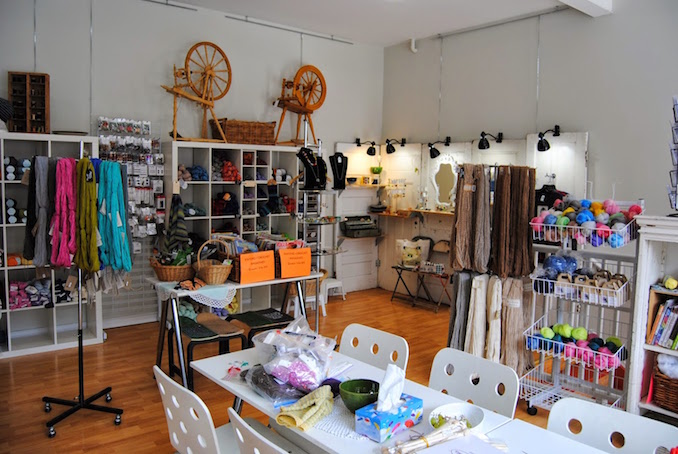 LadeeBee Supplies gets lots of buzz. Located at 3079 B Dundas Street W this shop is one of the gems in the Junction, and Melissa McColl is a media darling in the trendy area's hip retail community. LadeeBee Supplies is a unique shop filled with common and hard-to-find knitting supplies including luxurious yarns, handspun fibers, beads and crafting supplies.
In describing LadeeBee's Tuesday Evening Stitching Bee at 3079b Dundas Street West (entrance on Quebec Avenue) Melissa McColl writes 'bring your knitting, crochet, hand sewing, spinning, jewelry making or other portable craft project and work on it in the company of other like-minded individuals. The weekly Stitching Bee attracts mainly knitters, but we welcome everyone for an evening of relaxing, socializing, and crafting in a welcoming atmosphere. The Stitching Bee runs from 7-10pm every Tuesday night." Call 416 605-0811 with questions.
The Knit Cafe in Toronto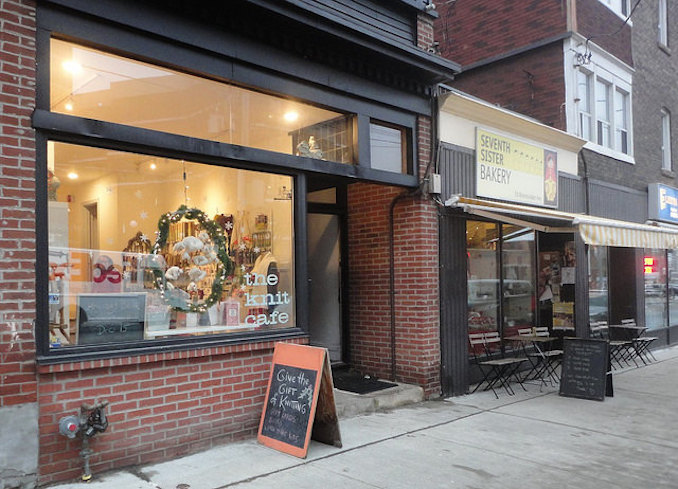 The Knit Café at 55 Roncesvalles Ave, is a popular west end venue for public knitting in Toronto.  Iwona has programmed a comprehensive training regime that begins with Absolute Beginner Knitting 101, and Knitters Crash Course (scarf workshop), and Kids Knitting Classes.  Beginners knit headbands until they're ready for the Baby Blanket Workshop, Knit Slipper Workshop, Cable Cowl, Hat Class and Holiday Bear. Her Intermediate knitting classes set students up knitting sweaters, and there is also a sock class to learn the art of making custom fitted socks, and Advanced Knitting with Lace.
Of particular interest to crocheters, The Knit Cafe offers Crochet Classes that feature instruction on Amigurumi which is the art of crocheting cute cuddly creatures made of yarn. Arigurumi is a Japanese style of crocheting stuffed animals and the workshop imparts crochet shaping and modeling techniques and seaming to create 3D forms. Students work on an owl in class.
Also at The Knit Café has rug hooking workshops, needlepoint, drop spindle, embroidery, and felting. The shop is home to a very popular Stitch & Bitch every Tuesday night. Call Iwona at 416 533 5648 or email her theknitcafe at hotmail.
Knitomatic on Bathurst at St Clair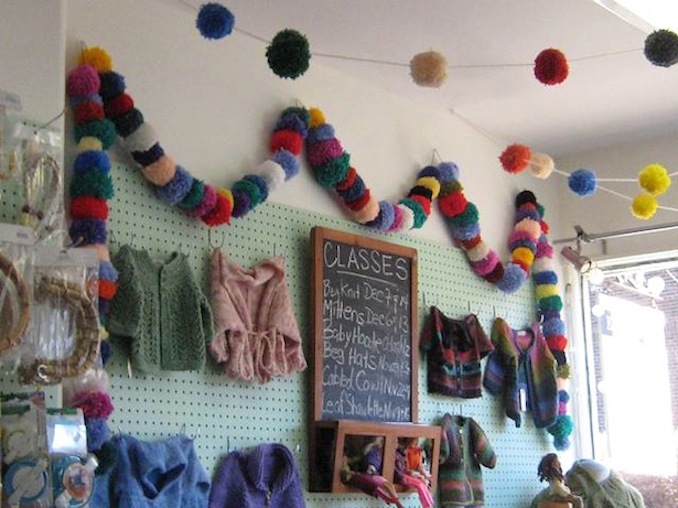 Toronto Area Knitaholics is a knitting group on Yahoo with over three thousand members, but the messages on their board are mostly spam.  The creators describe themselves as, 'Young… funky knitters, creative knitters, artsy knitters, kitschy knitters, yarnaholics, crochetomatics, cerebral knitters, urban knitters, retro knitters, sexy knitters, wannabe knitters who get together to swap yarn and patterns."  The first email message that came to my inbox was for the Scarberia Stitchsky Bitchsky which is held Weds nights at the Starbucks at 401 and McCowan. Some of the messages on the board are for events and sales at Knitomatic, a store on Bathurst st, which also hosts a Stich & Bitch.
Knitomatic is at 1378 Bathurst St, in Toronto which is two blocks south of St. Clair Ave on the west side of Bathurst St. There's one hour parking on the side streets North & South of the store, (Helena Ave. & Alcina Ave.) They list a reoccurring Stitch 'n Bitch on their events page. They write, "A Stitch 'n Bitch is a social knitting group. We gather and chat while we knit and/or crochet. Stitch 'n Bitch is FREE and you can just drop in and join us. You don't have to bring anything other than yourself and your knitting/crochet (or you can purchase a project here)." Tuesdays 12pm to 4pm (shifts to Mondays from June to August). Wednesdays 5pm to 8 pm, and Sundays from 1pm to 5pm (which shifts to Saturdays in the summer, from June to August). Please note, they advise, Stitch 'n Bitch is strictly a social event, and NO teaching is conducted during these hours by staff or other attendees.
Knitomatic offers Knitting Classes to teach folks how to knit scarves, hats, socks, mitts, sweaters, shawls, blankets, pillows, baby clothes. They teach all skill levels and claim to especially love absolute beginners. Instructors can be booked for private lessons by calling (416) 653-7849., or 416-653-7849 or e-mail info at knitomatic.com
The Purple Purl in Leslieville
Located at 1162 Queen St. E. The Purple Purl has been open to the public and adored by knitting bloggers for seven years. Jennifer and Miko write in the About Us " We love to support Canadian content so we feature Canadian independent dyers regularly amongst our cellar of fine yarns".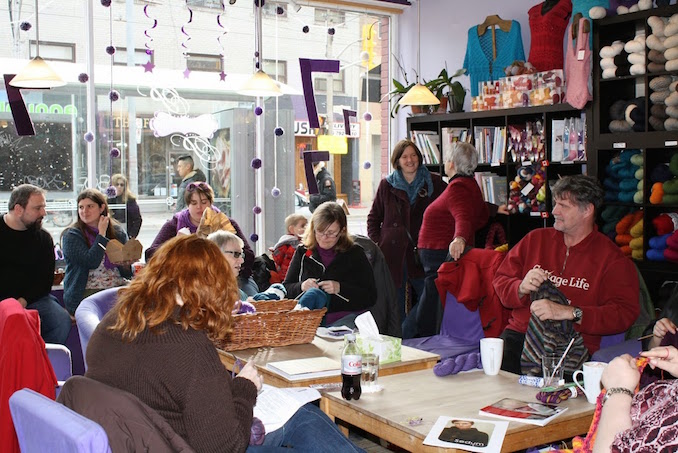 Their knitting classes are divided up into four groups, Knitting, Crochet, Needle Felting and Spinning. Instructors will do private lessons for $30 an hour. Sign up with a friend and get private instruction for $16 hr each. This plan is popular for mother daughter combo classes.. Private Lessons are by appointment only.  Call 416 463 1162
Is there an underground knitting group in the Beaches? On the east end of Toronto the scene is even more underground. There are rumours of a knitting group associated with a store called Village Yarns that calls themselves Toronto Yarn Knitting and still meets each Wednesday from 7:00pm to 9:00pm at Timothy's World on the Danforth, a fully accessible venue at 320 Danforth, in the Carrot Common.
The mother of all knitting group meet-ups in Toronto is the Knitters Frolic which is usually held at the Japanese Cultural Center at 6 Garamond Court. The Knitters Frolic is Toronto's premiere spring fibre festival. This event is held annually on the last weekend in April and this year, 2015, will mark the 17th Annual Knitter's Frolic . The Toronto Knitters Guild hosts this premier event, knitting, crochet and spinning enthusiasts can participate in amazing workshops with wonderful instructors on both Saturday, April 25 and Sunday, April 26. Two days with special guest instructor, Sivia Harding. Admission to meetings is free with membership, $8 for visitors.
Surrounded by an enthusiastic support group, knitting in public in a social atmosphere is pure pleasure shared by all people with passion for their craft.