Croatia has solidified itself as a picture-perfect summertime hot spot for travellers in recent years. While the country's stunning coastal regions typically get most of the attention – and tourists – Croatia's capital city Zagreb and its surrounding countryside in the north is emerging from the shadows as a memorable vacation spot in its own right.
Helping the cause, Air Transat offers direct flights from Toronto to Zagreb now through October. On a recent trip hosted by Air Transat and Croatia Full of Life (the country's tourism board), I fell in love with both the north and the south of the country – and for more than just their captivating looks.
Starting the trip off on a comfortable note, I enjoyed Air Transat's Options Plus on the flight, an upgrade that comes with perks like free first-checked baggage, seat selection, priority check-in, an exclusive check-in centre, priority boarding and baggage delivery, a blanket, sleep mask, headphones, and an alcoholic beverage on board.
About eight hours after departing from Toronto, I arrived in Zagreb. But exploring the storied city would have to wait for a few days. Fresh off the plane, we headed straight for the soul-soothing countryside.
KRAPINA-ZAGORJE COUNTY
With its rolling hills and varying shades of green, the peaceful Krapina-Zagorje County – located about 45 minutes north of Zagreb – resembles somewhat of a hybrid between countryside of Ireland and villages of Switzerland and offers a crowd-free option for a scenic summertime European vacation. Backed by the towering Medvednica Mountain, the region houses charming villages, medieval castles, peaceful forests, vineyards, and thermal springs. It's the type of landscape that naturally evokes a sense of calm and even reflection.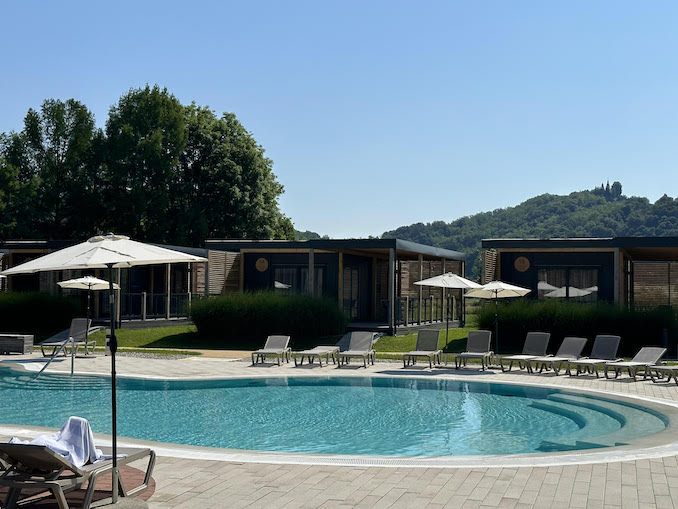 Krapina-Zagorje County is known for its wellness offerings, destination spas, and bathing pools, thanks largely to its thermal springs. Terme Tuhelj is one such destination spa. The sprawling, activity-packed property offers a variety of accommodation types. Guests can choose from rooms at the wellness-focused hotel, glamping tents, a collection of modern mini homes, or even drive in their personal RVs and park them for a few days. Catering to the whole family, the property features everything from a gourmet restaurant and full-service spa and wellness centre with an extensive water therapies program (be warned clothing — even bathing suits – is not permitted), to a large indoor/outdoor water park, tennis, and mini golf – and more.
For a memorable history lesson, a scenic drive through the countryside away, Staro Selo (Old Village) Museum offers a chance to immerse oneself in the history of daily life in Croatia in the late 19th and early 20th centuries. Functioning as an open-air museum, the storybook-like preserved village features traditional wooden and stone houses and farm facilities and was the childhood home of Josip Broz Tito. Inviting guests to literally step back in time, it depicts everything from historic Croatian weddings and daily life and chores, to the traditional workshops of weavers, blacksmiths, and toymakers.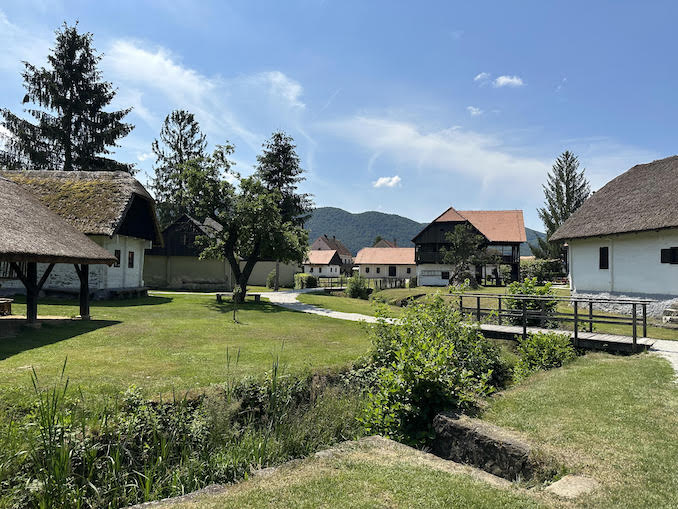 A beautiful 20-minute drive from the museum, you'll find Vuglec Breg. The scenic property houses a Michelin-starred restaurant, which serves traditional and homemade dishes – including forgotten old recipes from 'Grandma's kitchen' – made with products from the surrounding region. Outside, its thatched roof terrace overlooks peaceful rolling hills, offering a perfect backdrop to enjoy a glass of the property's wine from its onsite winery. Here, I savoured a comforting mushroom soup, perfectly done escargots, and a roasted turkey dish – a specialty in the region. Vuglec Breg also offers overnight accommodations, complete with a tennis court and view-filled infinity pool for guests to enjoy.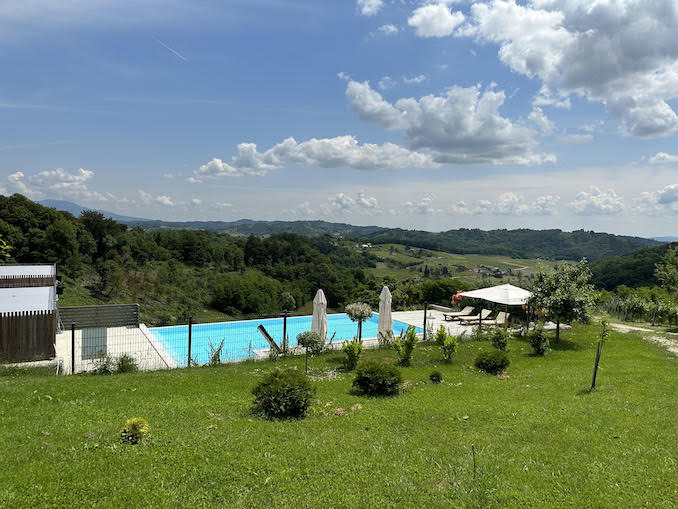 Another attraction of the region is the Krapina Neanderthal Museum. Located on the site of the world-famous Krapina Neanderthals, where some nine hundred human fossil bones were found in 1899, the museum – which, aside from its façade, is embedded into the landscape – takes guests through the evolution of humanity in an interactive experience through the origin of life on earth. After, guests are welcome to explore the renowned site.
ZAGREB
Vibrant and full of life, Zagreb is full of spots to wine, dine, and explore, making it a must-do for foodies looking to savour Croatia's traditional dishes straight from the source. Lovers of architecture will also appreciate the history-rich buildings found in both the Lower and Upper Town.
During a food tour, the Zagreb Gourmet Experience Tour – which can be booked through the tourist centre – I got up close and personal with traditional dishes like kremšnita (a beloved custard cream cake), local cheeses, stuffed peppers, and, my favourite, štrukli – a famous dish of the Zagorje region. Strukli is essentially a comforting, bubbling, cheese-filled pastry dish. If you're in the market for a curated, food-focused experience that's packed with information and culinary delights, this tour is for you.
For traditional fare for lunch, Stari Fijaker  is a long-time restaurant that attracts both loyal regulars and repeat travellers. The spot is well known for its traditional north Croatian specialties, like cabbage rolls, sausages, schnitzel-style cuts of meat, venison goulash, and roast turkey with mlinci (baked pasta sheets). Later on, Theatrium by Filho, a celebrated spot tucked away in a courtyard, offered modern Croatian fare for dinner. Straying slightly from convention, here, Chef Filip Horvat deconstructs traditional standards of Croatian cuisine and reconstructs them in unexpected ways. The menu features everything from tartar (beef and salmon) to risotto, gnocchi, and meat dishes.
Throughout the city, you'll find everything from dive bars and Irish pubs – like my personal favourite, Harat's Pub (a reliable Irish pub chain) – to high-end cocktail-sipping spots and refined sidewalk cafes. The central square, Ban Jelačić, is the city gathering spot and, on a hot June night, was complete with a massive screen for sports fans to cheer on the Croatia soccer team in the finals.
The city is full of museums of all varieties, from the Museum of Contemporary Art or the Nikola Tesla Technical Museum, to the Zagreb 80's Museum and the famed (but slightly depressing) Museum of Broken Relationships.
DUBROVNIK
Of course, once you're in Zagreb, it's simple to take a quick flight to the southern part of the country to coastal destinations like Split and Dubrovnik. Once the plane descended through the clouds and Dubrovnik's stunning landscape was revealed, I literally gasped. The piercing shades of turquoise in the sea backed by the dramatic mountains offered a glimpse into the visual feast that awaited in the breathtaking part of the country.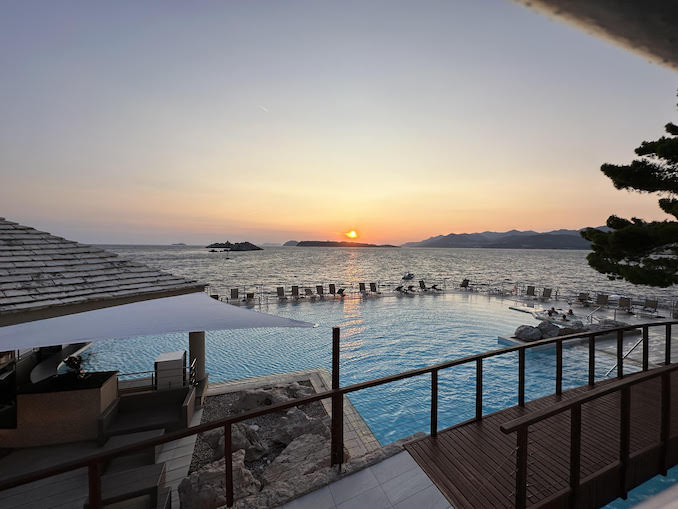 Upon entry to the Hotel Dubrovnik Palace, guests are greeted by a pristine lobby backed by a wall of windows, with stunning views of the endless Adriatic Sea. This view sets the stage for what's in store at the luxury property. These breathtaking views are also found from the terrace of the immaculate Energy Clinic spa, from the outdoor infinity pool, and from the hotel suites. Trust me when I say this hotel is worth the splurge (especially if you're a fan of White Lotus vibes).
From the hotel, the famed Dubrovnik Old Town – one of the world's most perfectly preserved medieval cities – is about a 10-minute drive away. Just outside its lobby doors, a public bus travels frequently into the Old Town. Alternatively, it's about a $15 CAD Uber ride into town (tip: opt for an Uber over a cab; the latter could cost three times as much).
The captivating town is surrounded by its famous walls, which fill with photo-snapping tourists – all of whom are equally in awe of the postcard-worthy views. Though it's definitely right up there on the more tourist-y things to do (let's be honest), with its incredible vantage points offered throughout, walking the wall really isn't something to miss.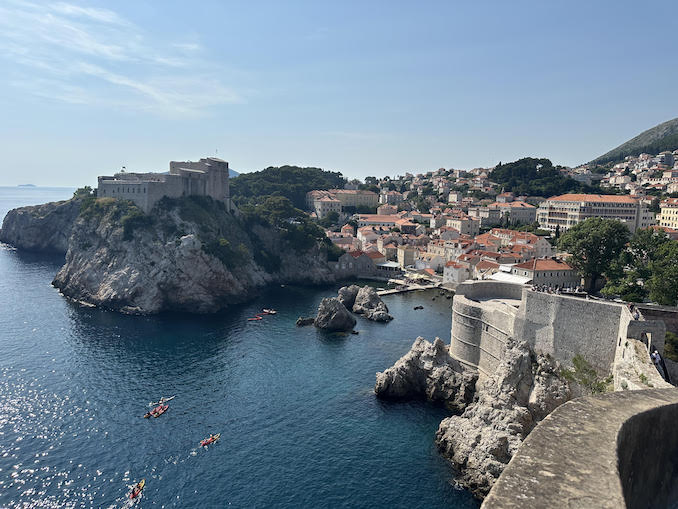 Like in Zagreb, a food tour with a local guide is the best way to learn about both the history of the Old Town, but also its beloved local dishes at Michelin Star-worthy and other celebrated spots. The Dubrovnik on a Plate Tour included highlights like fresh cheeses and prosciutto from Bistro Tavulin; a selection of small bites from Kopun restaurant (like shrimp paté with black truffle, marinated bell peppers, seabass, and sausages); and "Viška pogača" (stuffed bread/pie with sardines and anchovies, onions and tomatoes), and "Dalmatinska pašticada" (a slow cooked veal dish), along with local wines from street food go-to Moskar restaurant.
Lokrum Island is a quick and scenic boat ride away, with boats arriving and departing from the Old City port every half hour. Here, the summertime crowds that fill Old Town are juxtaposed by peaceful pine-filled forests and botanical gardens. The island also features bathing areas (including a nude beach), the remains of a monastery, a tree-covered outdoor bar, and a handful of restaurants. At Lacroma, the fresh panko-crusted octopus is a must, as is the creamy burrata and tomato salad.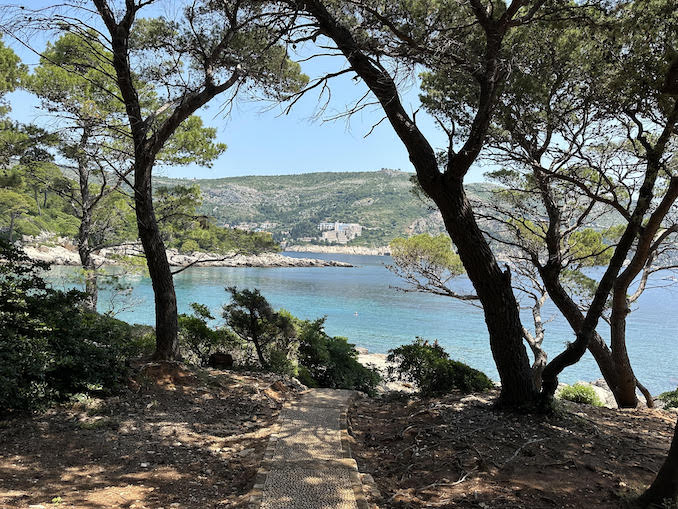 Later on, if you're in the market for dinner with a side of sweeping sunset views, take the cable car up the Srđ Mountain just before sunset. At the top, you'll find the celebrated Panorama Restaurant (make a reservation as soon as you can and request a table with a view), which features a breezy terrace that towers over the Old City below. If you're going to dine here, you may as well go all out (you're on vacation, after all) with all of the extras to complement its well-rounded menu. Things like a cheese board and colourful cocktails make for photo-worthy subject matter against the dreamy backdrop.
STON
About an hour from Dubrovnik, Ston is worth a day trip – especially if you have a soft spot for wine and oysters. The town is known for its famous salt pans, massive fortification wall (the longest in Europe), and its scenic oyster farms. The core can be explored in about an hour and visitors are encouraged to climb the wall (so appropriate footwear is a must).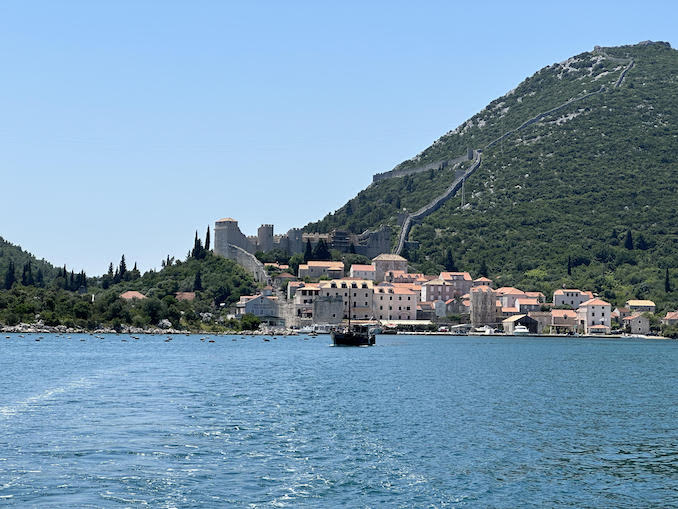 I definitely suggest hitting one of the region's oyster farms, which float on the turquoise sea a short boat ride from the town's small, but charming, harbour. Here, we enjoyed flowing white wine and dozens – upon dozens – of fresher-than-fresh oysters and mussels. After a seafood-filled lunch at Bakus Konoba – where we filled up on a full lobster and grilled prawns – we hit the Winery Milos. Here, we sampled the winery's selection of hand-processed and ecologically produced wines and got to know the friendly producers behind it.
It's safe to say that I left a piece of my heart in this amazing country. One thing that will stick with me is the true beauty of the landscape, but also the people I met along the way as I explored Croatia. I will definitely be back.