The City of Toronto has been eagerly anticipating Taylor Swift's Eras Tour, and after much speculation, the pop sensation has finally announced that she will be performing six shows at the Rogers Centre in November. This news has brought joy and excitement to her Canadian fans, who have been eagerly waiting for the opportunity to experience her musical journey through time.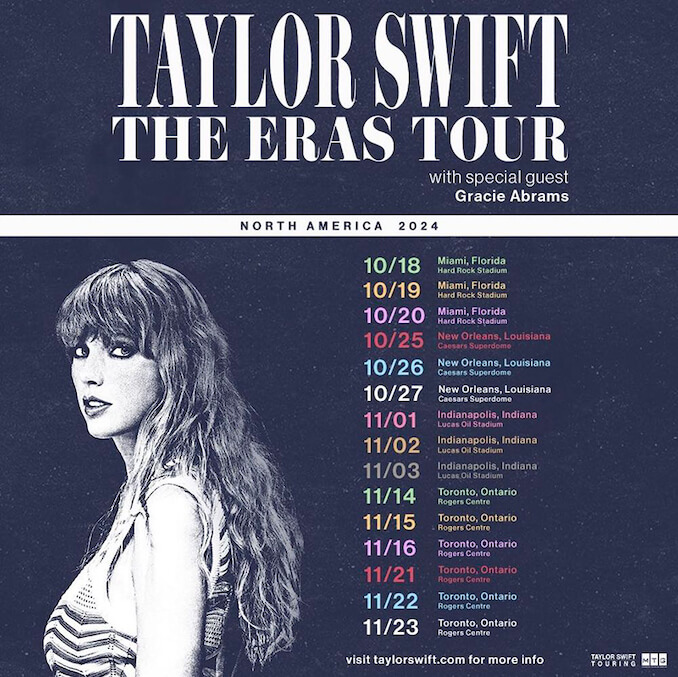 The Eras Tour has been a massive success worldwide, and Toronto is ready for their turn to enjoy the show. Fans will finally get the chance to witness Taylor's growth and evolution as an artist, exploring her musical journey through each of her iconic eras – from her country-inspired debut album to her most recent introspective works.
With six shows scheduled from November 14-16 and November 21-23, Toronto fans will have plenty of opportunities to witness this musical spectacle. The Rogers Centre is a massive venue, and Taylor's team has gone above and beyond with the staging, lighting, and overall production, creating an immersive experience that will leave fans awestruck.
Fans can expect to hear a diverse mix of Taylor's hits from throughout her career and perhaps some surprises along the way. The Eras Tour is known for its visually stunning production, and Taylor has spared no expense in creating an unforgettable show. From the mesmerizing costumes to the intricate choreography, every detail has been meticulously curated to transport fans to each respective era.
But the Eras Tour isn't just about the music and the visuals. It's about the connection between Taylor and her fans. Taylor Swift is known for her deep appreciation and love for her fans, and the Eras Tour is a testament to this. During the show, fans can expect Taylor's heartfelt words, personal anecdotes, and intimate moments that make the concert feel like a personal experience.
As we near the end of a tumultuous year, the Eras Tour is exactly what we need to rejuvenate our spirits and remind us of the power of music to unite people from all walks of life. Taylor Swift's six shows in Toronto promise to be a once-in-a-lifetime experience, and fans across Canada will be counting down the days until the first opening notes of "Love Story" fill the arena.
We cannot wait to see Taylor Swift's Eras Tour unfold in this spellbinding city that has been eagerly waiting to experience her magic. So, if you haven't already, add your name to the presale registration and join the rest of us as we embark on a musical journey through time with the one and only Taylor Swift.