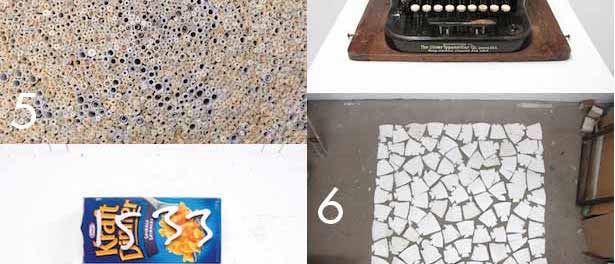 I'm an artist.
I draw pictures, I make things, collect things, count things… and I swear, a lot.
In some circles I'm known as "the fuck off guy" (which i kinda like) so, if you are offended by foul language, you're probably not going to like a lot of my work and you're probably not going to like me and… you're probably not going to like this article.
I've lived and worked in Toronto for about 20 years.
I spend most of my time in the queen and Bathurst area, which is still a pretty nice neighbourhood though it can get pretty hipster heavy. we have four great galleries on Tecumseth: Susan Hobbs, Georgia Sherman projects, birch contemporary, Diaz contemporary and we still have a real live book store on queen: Type Books.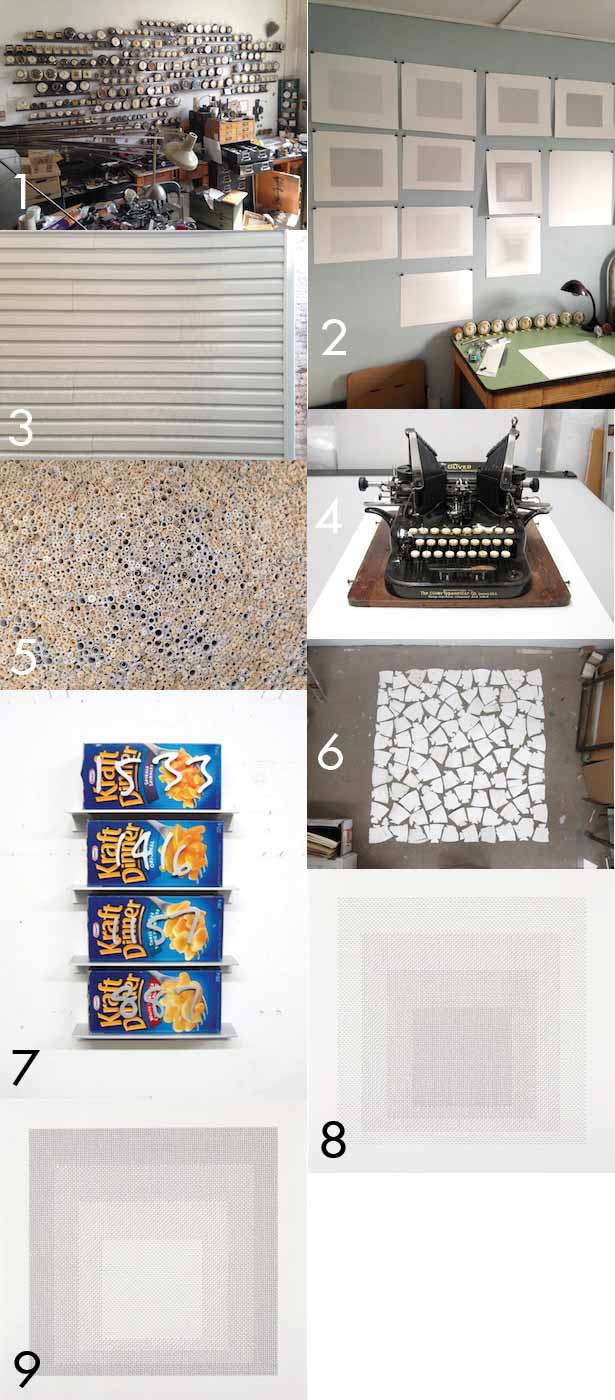 1. This is my studio, i sometimes try to tidy but it never really works out.
2. This is my bed room where i also work, mostly on small drawings. these are little "fuck" and "fuck off" grids.
3. The view from my studio is nice in a "dirty wall of the building beside me" kind of way.
4. I often work with typewriters and i kinda collect them. this is an oliver number five, it's over 100 years old and i think it's one of the coolest things on the planet.
5. I have a drawer full of rolled up street car transfers, for some reason.
6. On my ride or walk to and from work, i collect things. this is "100 of my flat coffee cups that have a little bit of the bottom still attached."
7. I still eat kraft dinner (and it's still not very good) but first i count the pasta and cut the number from aluminum and bolt it to the side of the box. i think the current re-branding of kraft dinner is a horrible idea and it really really bugs me.
8. On october 6, Casey House is having their annual "Art With Heart" auction and they have included my "clusterfuck 36,000: homage to the fuckin' square."
it's for a good cause and it's at the carlu at yonge and college.
***
What neighbourhood do you live in?
Chinatown.
What do you do and where?
I'm an artist and my studio is in the Queen/Bathurst area.
What are you working on?
I'm usually working on a bunch of things.
right now i'm getting ready to install "… and it's ending one minute at a time." at Olga Korper gallery opening October 3.
my blog: every3point65.blogspot.ca is my ongoing report of what i'm working on. i update it every 3.65 days so each year has exactly 100 entries. i'm on my third year.
Where can we find you work?
The Art With Heart Fundraiser for Casey House.
http://www.olgakorpergallery.com/
http://k-nicol.com/
http://every3point65.blogspot.ca/
http://www.galerieantoineertaskiran.com/