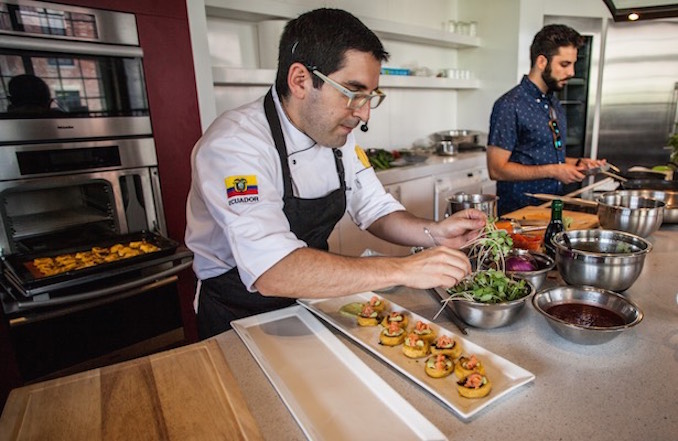 Executive Chef, Andrés Dávila from Casa Gangotena in Ecuador was in town recently to promote his country's food during the Pan Am games. Using the 2nd floor kitchen, we were introduced to some great tastes. One of those was bonitisimas, which are a corn based flour patty that you can top with ingredients and dip in hot sauces.
Here is the recipe for the bonitisimas and the preferable hot sauce so you can try this at home.
Bonitisimas
-500 gr. Toasted corn flour
-200 gr. potato puree
-170 gr. unsalted butter
-330 gr. water
-10 gr. salt
-250 gr. Goat cheese
-250 gr. fresh cow's cheese (grated)
Instructions:
-Mix all the ingredients except the cheeses and form a dough
-Make small balls with the dough to form small patties (3 cm.)
-Stuff each patty with the cheeses
-Cook in a hot nonstick frying pan without any kind of grease, until toast each side
-You can serve the bonitisimas with avocado cream (blend 2 pealed avocados with salt, pepper and the juice of 1 lemon) and smoked salmon tartar.
The best hot sauce for this patty is the Quiteño style tamarillo sauce.
Quiteño Style Tamarillo Hot Sauce
-2 tamarillo (tree tomato) (Usually available in Loblaws, No Frills and Whole Foods)
-1 red onion
-1 tomato
-1 carrot
-1 leek
-2 red hot chili peppers
-2 branches of cilantro
-1 spoon of sugar
-3/4 lt. Of water
-10 gr. salt
-2 extra leeks finely chopped
-2 gr. of cilantro leaves finely chopped
Instructions:
-Cook all the ingredients except the chopped leeks and cilantro leaves in the water
-Blend it all, chill and preserve
-When is time to serve, add to the sauce the chopped leeks and cilantro leaves.