The internet offers a magical platform for creatives to freely show their work to the world without the heavy oversite of a distributor. Jason Rayner and Alexander Ketnis of Peach Emoji Productions have done just that with their limited web series adaptation of the stage play La Ronde by Arthur Schnitzer.
La Ronde is a Toronto set, all queer anthology of 10 two-person encounters, exploring themes of sex, love, monogamy, sex work, and sexual identity. Shot in a black box theatre, the episodes have an intimate theatrical feel that only small stage performances can give you. Each conversation is connected by a character from the previous, delivering a glimpse into their lives and different sides containing needs and desires they may otherwise keep hidden.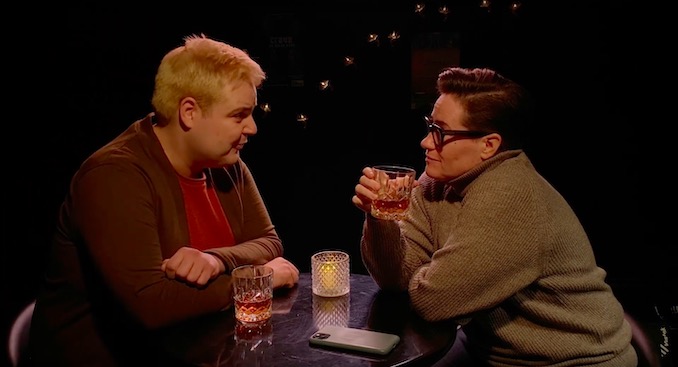 With delicate performances and intimate conversations; Peach Emoji Productions' La Ronde portrays a queer interpretation of Arthur Schnitzer's original meaning by integrating healthy sexual boundaries, kinks, gender identity and more. In the span of each 10-minute episode, characters unravel to form a circle of intimate expression.
Jason Raynor and Alexandra Ketnis started Peach Emoji Productions in 2019 to create a place dedicated to showcasing queer stories and uplifting queer voices through unique perspectives and intersectionality. They show initiative and ambition in their work and appear to be quite resourceful in their productions.
Arthur Schnitzer wrote the original La Ronde (Reigen) in 1897, and when it first premiered on stage between 1912-1920, the audience's reactions ranged from vexed to outright violent. The original play critiqued the restrictive morality of sex in the 1890s and the intersectionality of class, sex, and transmission of sexual diseases. In today's context, most reproductions of La Ronde focus on the character studies within each conversation.
La Ronde has been adapted by Hollywood plenty of times but never queer. After watching Jason Raynor and Alexandra Ketnis's interpretation, it's clear that the format and themes lend themselves perfectly to queer culture and forms of intimacy.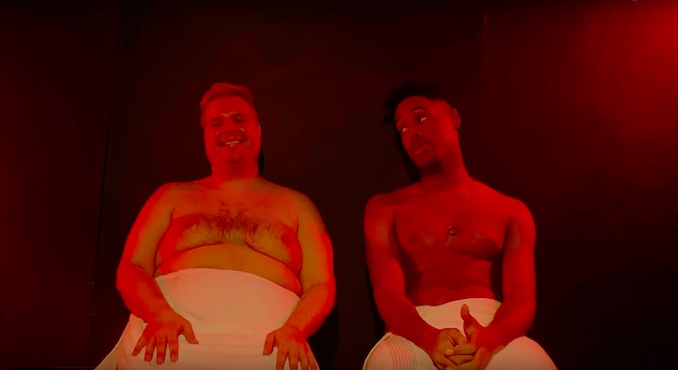 The first two episodes are out on June 21st on Youtube and larondeseries.com explore love and lust but also the fragility of ego in an intimate setting and the romanticism of monogamy. We follow The Actor from one conversation to the next, showing a vague emotional growth from the conversation he had before. It will be interesting to see The Writer from episode one reappears in episode 10 and how this circle of love and sex will tight itself together.
Otherwise, the black box theatre gives each episode a dark and intimate mood. There's something about a stage-lit conversation that makes it seem all the more awkward, vulnerable, and honest. Jason Raynor and Alexandra Ketnis know how to use a blank canvas and create warmth.
Peach Emoji Productions' La Ronde is also being released as a podcast to listen to while on the go. They'll be releasing the series in five parts, two at a time on Tuesdays. Be sure to take a look or listen.