ARDO Restaurant shared with us this delicious Fennel Panna Cotta recipe, perfect to show off with your guests at dessert time. Enjoy!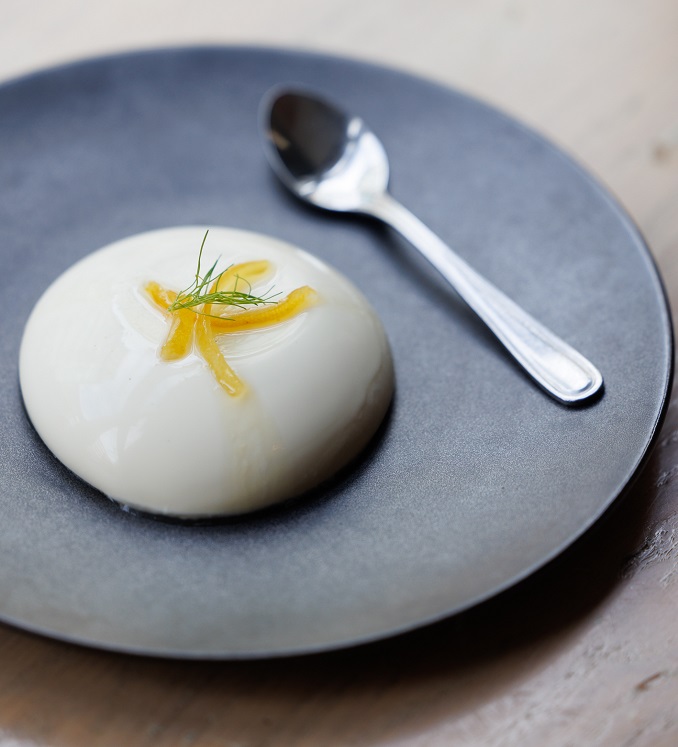 Fennel Panna Cotta
Makes 4/5 portions
Ingredients:
1 1/2 pouches of unflavoured gelatin
1/3 cup of sugar
2 cups of 35% cream
1 cup of half and half cream
2 tbsp of fennel seeds
1 lemon
150 gr of sugar
150 gr of water
Directions:
Candied Lemon Peel:
1. In a small pot boiling water, blanch the peel of the lemon for 5 minutes. Drain and set aside. Empty pot of remaining water.
2. In the same small pot, put in the sugar and water together and bring to a soft boil until the sugar and water are completely mixed together. Let cool completely.
3. Slice up your lemon peels into thin strips. Then add them to the cooled sugar/water mixture. Mix to coat and place onto cooling rack to let remaining liquid drain off.
Fennel Panna Cotta:
1. In a large sauce pan, add cream, half and half, sugar and fennel seeds to a boil over moderate heat. Keep stirring the entire time until its starts to softly boil. Then remove from the heat. Add in gelatin and stir for 10 minutes. Let sit for 10 minutes.
2. Using a fine mesh strainer, pour into 5oz moulds and let sit in the fringe for 8-12 hours.
3. Move from the fridge and moulds to plate, add the candied lemon on top and serve.