Winter Stations 2018 is the third instalment of The Beaches neighbourhood's public art display. Seven new installations will line Kew, Scarborough and Balmy Beaches in Toronto, all created by international artists whose designs were chosen today by a jury.
The jury this year included Jury Chair Lisa Rochon, Senior Fellow, Global Cities Institute and Co-Founder, Friends of the Beach Parks; Councillor Mary-Margaret McMahon; Film-maker Joseph Clement; Larissa Roque, Intern Architect with Brook McIlroy and a member of Wahnapitae First Nation; Paul Raff, Paul Raff Studio and Rob Shostak, Creative Director – Marketing, Kasian, and a former Winter Stations competition winner.
Here are the winning designs that will go on display to the public February 19, 2018, and will stay open to the public until April 1, 2018.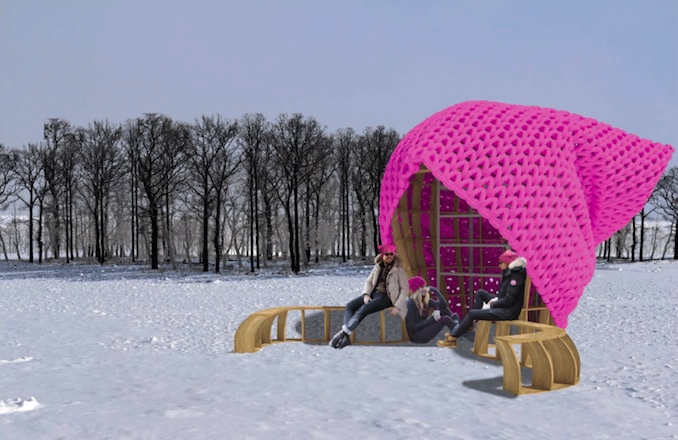 Pussy Hut by Martin Miller and Mo Zheng (USA)
Inspired by the Women's March movement, this vivid installation recreates the powerful, knitted symbol that captured the spirit of the protests around the world on January 21, 2017. The design is simple, yet powerful, a symbol that gains strength through participation and unity. As winter approaches it is a reminder to wear your hat, stand up for what's right, and stay warm.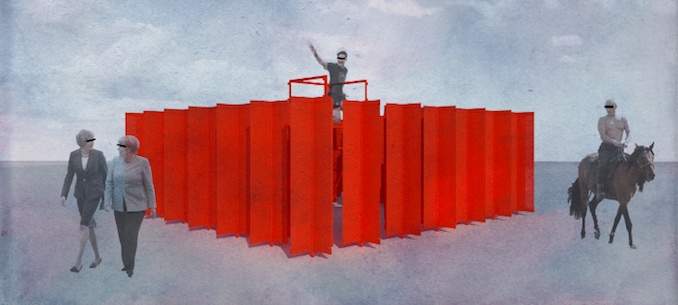 Obstacle by Kien Pham (UK)
Obstacle is a metaphor for overcoming the problems in the world. Although at first, it seems like an impenetrable barrier, the columns rotate allowing visitors to enter and interact with the obstacle, and other visitors. In order to confront the obstacle, visitors have to work together, rotating the columns in sequence to overcome the adversity.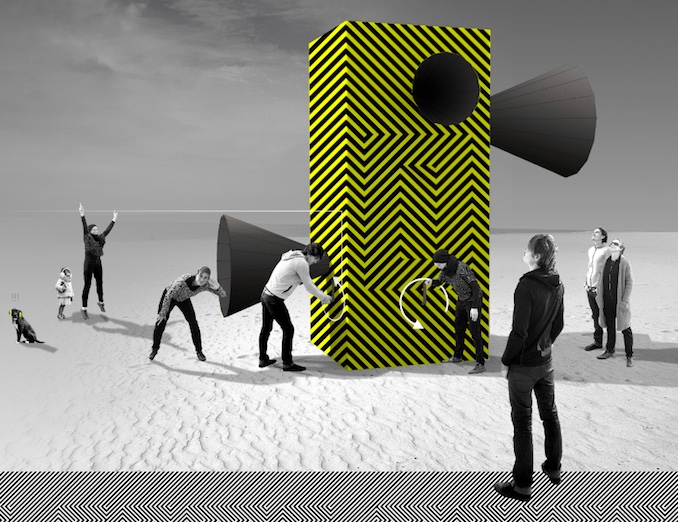 Make Some Noise!!! by Alexandra Grieß and Jorel Heid (Germany)
Italian Futurism comes to Toronto with this over-sized noisebox, based on Luigi Rusollo's "intonarumori" which caused an uproar in the classical music scene when he introduced it in the Milan Opera House in 1914. The installation is intended as a playful instrument to 'ring the alarm'.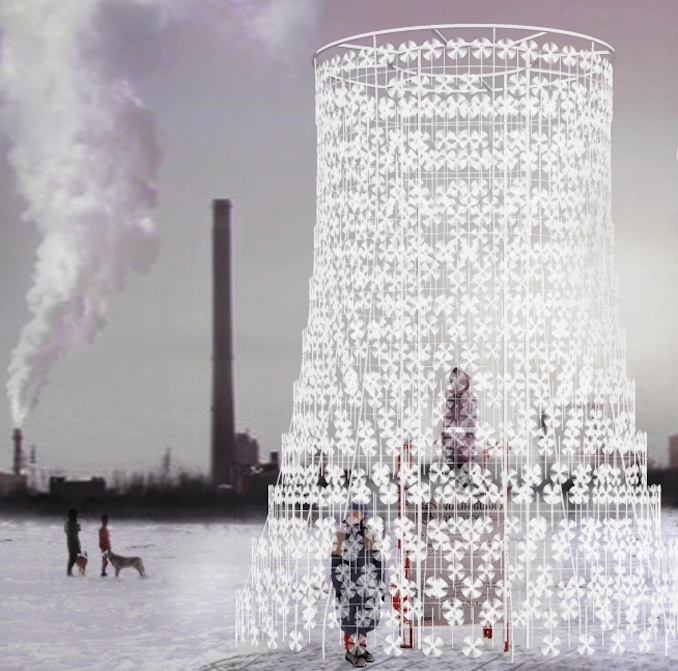 Wind Station by Paul van den Berg and Joyce de Grauw (Netherlands)
Wind Station is a call for nuclear phase-out that brings together hundreds of tiny pin-wheels, to symbolize renewable wind energy, in the shape of a nuclear cooling tower. A playful protest that asks why countries continue to rely on dangerous and un-sustainable technology to provide energy when safer, cleaner alternatives are available.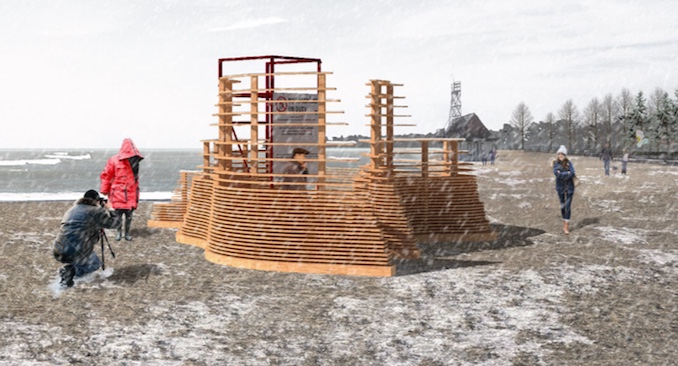 Rising Up by the University of Guelph, School of Environmental Design and Rural Development
Project Team: Alexander Good, Austin Huang, Kevin Sadlemyer, Marc Cote, Stephan Stelliga, Zixiang Chen, BLA students, University of Guelph, School of Environmental Design and Rural Development and Nadia Amoroso, PhD, ASLA, Faculty Representative, University of Guelph, School of Environmental Design and Rural Development
Inspired by the topography of Toronto's Don Valley, Rising Up invites visitors to experience nature's uprising against increasing urbanisation. The elevating tension between humans and the environment is articulated through deconstructed topographical layers and increasing negative space within the sculpture which exposes visitors to the elements.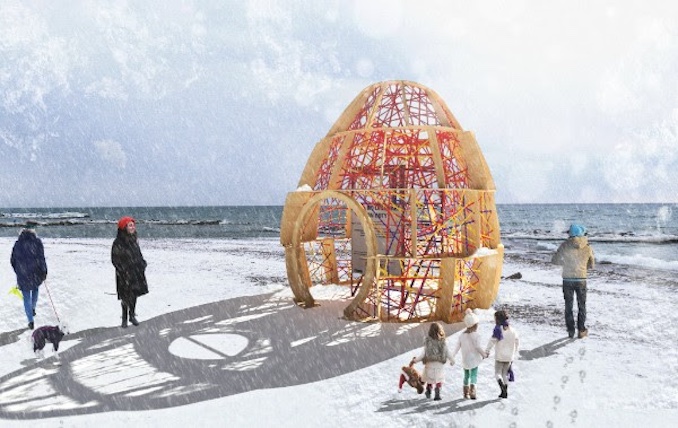 NEST by Ryerson University, Toronto, Ontario
Project Team: Adrian Chiu, Arnel Espanol, Henry Mai
NEST is an installation that embodies ideas of comfort within a system of disorder and complexity. The structure is composed of modular cells that contain a weave of colourful webs, providing both shelter and playful moments of light and shadow within the space.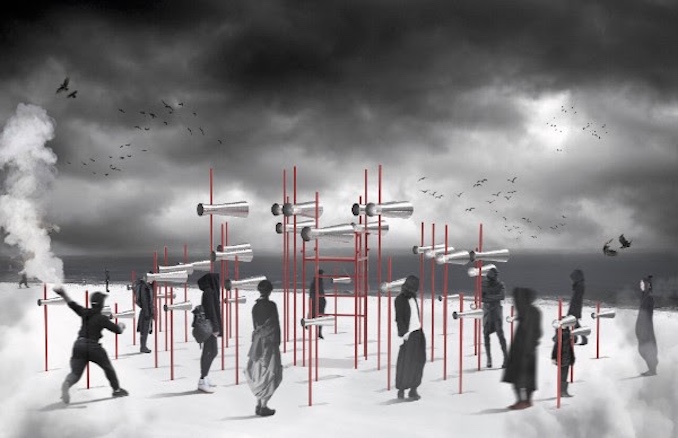 Revolution by OCAD, Toronto, Ontario
Creative Team: Ben Chang, Anna Pogossyan, Amr Alzahabi, Carlos Chin, Iris Ho, Tracee Jia, Krystal Lum, Adria Maynard, Purvangi Patel and Judiette Vu
Revolution is composed of 36 vertical modules of different height, enabling visitors to express their opinions through the air. As one projects their voice into the horn, they also amplify the conviction of their words. As the wind blows through the installation, it carries these sounds and ideas into the atmosphere to form a collective message.