Jay Feelbender (alias of Toronto-based musician Jacob Switzer) is the alt-pop glow-up of your dreams. Though newly flying solo as Jay Feelbender, he has been sharpening his skills since he was 16 in bands such as Goodbye Honolulu, Luna Li, Creep Creep Beach and HeadSpace.
Jay Feelbender himself is an amalgamation of many influences. First, growing up in the Toronto alt-folk scene as the child of musician (John Switzer) with Shirley Temples at the bar and naps behind the drum kit. Then entering high school and forming rock band Creep Creep Beach with a group of high school friends (practicing in the garage and shows at DIY venues). With some of those same people, creating what is now the alt-rock band Goodbye Honolulu (performing for thousands opening for Spanish rock band Hinds on U.S tours and touring Canada alongside Luna Li). Jay Feelbender draws on all the influences, from childhood to now, that have shaped his musical and personal identity.
Jay's music paints a portrait of the journey through an artist's young life. From the fun to the fragile, the introspective to the explosive, Jay Feelbender feels it all.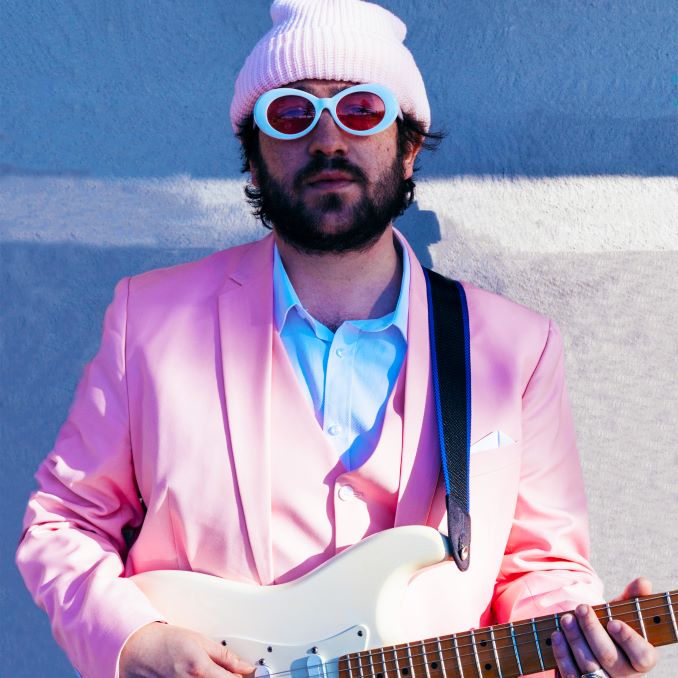 Name:
Jay Feelbender
Genre:
Alternative Pop
Founded:
2019
# of Albums:
I have two releases out already on Bandcamp, but what I consider to be my first official EP is coming out March 2022!
Latest Single:
Dirty' Lovin
Latest Video:
Favourite musician growing up:
The Killers was the first band I bought a ticket to see. (Well I got my dad to buy the ticket…)
Favourite musician now:
I've been loving the artist Dijon recently.
Guilty pleasure song:
Shake It Up – Trippie Redd
Live show ritual:
Shouting my favourite songs backstage, and a shot of whiskey.
Favourite local musician:
I'll pick three…Hooded Fang, Monsune, Luna Li.
EP or LP?
Although I'm dropping an EP soon… as a consumer I enjoy a full LP. When I really like an artist an EP never feels like enough. Maybe that's the point though, keep us wanting more.
Early bird or night owl?
Big time night owl.
Road or studio?
I've always enjoyed creating in the studio more than some of the stresses of touring. I do really enjoy performing though.
Where can we follow you?
Instagram | Website | Spotify | YouTube | Twitter
***
Rapid Fire Toronto Qs
Favourite local restaurant:
Soos on Ossington. The "Feed Me" Multi-course shared meal is wildly good.
Favourite street in your city:
Dundas Street West. Good food, good bars, nice stores, I always see someone I know!
Favourite park in your city:
Ramsden park near where I grew up, or High Park cause I always find something new to explore there, and new inspiration.
Favourite music venue in your city:
The Danforth Music Hall was a fun one to play.
Favourite music store in your city:
Paul's Boutique in Kensington. I have a few friends who work there, there's a great selection, and it always feels comfortable to sit down and try instruments, which is rare in music stores.