Rosalind is the princess in the ivory tower. You, human, must bow down to her excellency. Pay homage with face and neck pets, scratches and brushes! Do not even THINK about coming to her empty-handed. Her subjects must present treats, brushes, and soft voices. Ugh! Get that string toy out of her face! She is no silly kitty. She is Rosalind, Queen of Room Q.
Like many blue-blooded royals, Rosalind is the type who needs a little bit of time and space before she opens herself up to the world. With some gentle petting and stroking on the back of her neck, soft voices and short brushes, she will come out of her shell and show you how much of a sweetheart she is. She LOVES being groomed and getting the pets behind the ears. Her favourite circular motion massages. Oh geez she's getting excited just thinking about it!
But more than anything else, she loves her tower. That's her spot. Her throne. She expects her future subjects to provide her with her own tower throne at her new home!
As a Queen, she naturally does not approve of some things. For example, she will not be picked up or held by anybody! Not even her pet parents! She will not be carried around like some commoner kitty with no title to her name. Ugh! This is Rosalind! No picking her up puh-lease!
Once Rosalind gets to know you, she really does become such a sweet girl. Though she is definitely not the touchy-touchy, huggy-huggy type, she will come to her humans when she thinks a nap cuddle is in order. She loves small bits of attention and will adore you when you bring out the brush.
Rosalind is definitely looking for a more mature and quiet home where her royal name and title will be held and where her loving subjects will swear fealty (love) to her forever and ever!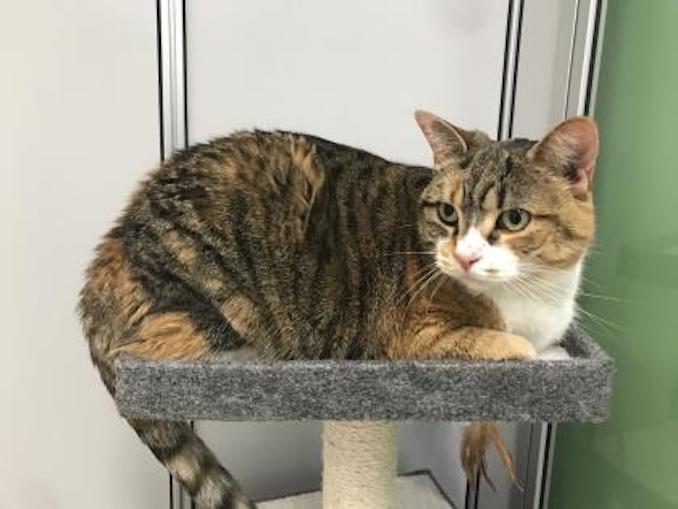 Rosalind
Age: 5 years 1 months
Sex: Female
Size: Small
Colour: Red/White
Spayed/Neutered: Yes
Declawed: No
In order to ensure a smooth and successful adoption, please remember to check all the basic requirements for adopting before coming in to the shelter.
About this column:
Each week we feature animals available for adoption from local shelters in the Toronto area with the hopes that our readers will assist in finding good homes for them. If you, or someone you know, has the resources to take care of one of these animals, please do get in touch with the appropriate shelter via the links provided.