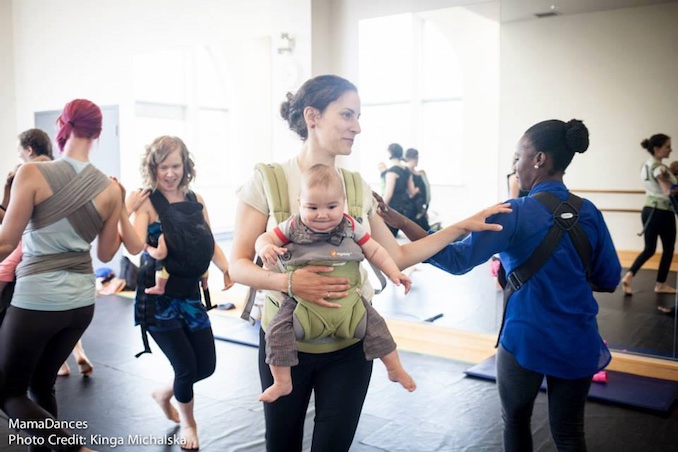 In this big city, we're fortunate to have many places where new families can take their young babies especially now that the cooler weather is here. These places are not only baby friendly but offers moms (and dads) opportunities to bond with others in the same stage in life. Don't overlook the importance of this social interaction. It definitely can save our days even for an hour.
Here are some wonderful places in our city for some mommy & me time…
In partnership with IAM Yoga, the Royal Ontario Museum (ROM) offers Mom & Me Yoga program on Mondays at 9:00 am for adults with infants, 8 week to almost walking. Its a great time to connect with your body, play with your baby in an inspirational space. This special yoga class is designed for new moms and infants specifically for the ROM. Certified Yoga Instructors from Iam Yoga lead the classes and are trained in mom and infant yoga. Check scheduled at rom.on.ca as registration is required.
The ROM also offers Mom & Me Strolling guided walks through different galleries for adults with children up to 2 years old. Explore and discover different objects while you take your baby in stroller or carrier. Caregivers and dads also welcome. Check schedule at rom.on.ca as registration is required.
The Art Gallery of Ontario has family-friendly activities even for babies and toddlers. The Dr. Mariano Elia Hands-on Centre located on the concourse level of the Gallery in the Weston Family Learning Centre is where all the fun happens. Friday Play Dates and Creative Story Time is perfect for little ones. Art activities also available for tots. Parents are welcome to bring in their own baby food and snacks to this area. The Centre is open Tuesday-Friday from 10:30 am to 2:00 pm. Weekends open from 10:30 am to 4:00 pm. More info at ago.net
The Children's Discovery Centre is Toronto's only children's museum designed by early childhood development professionals and consultants in the field of design and arts. Discover zones are created for children ages 0 to 6 years old with plenty of room to explore, play and create. Moms, dads and caregivers welcome to explore right along side their darlings.  Located down near Liberty Village this space is in pilot project stage and hopes to find a permanent home in the core. Drop-ins welcome, details at  childrensdiscoverycentre.com
Get Rockin' in an exciting musical adventure where you and your child become passengers on the Rockin' Railroad – the newest addition to Kidville's roster of fun programs for parents and babies. Designed to take your baby on a journey through tempo, rhythm, word recognition, and sound identification exploring different instruments and musical genres. If playing is your thing, then join in Wee Wiggle to play and share cool toys and books. Sign-language segments in this program are very popular as they introduce language development. Located uptown in the Yonge Lawrence area an offers valet parking service. Registration required at kidville.com
MamaDances created by dance artist, choreographer and Juilliard graduate Eryn Dace Trudell, is a program dedicated to promoting holistic health of parents and children through music and movement. Mom and Baby Dance is for children from 2 months to walking bringing together a sense of community through  playful exercise, creative dance expression, exploration and connection. Babies dance in the arms of mom or baby carriers. Various locations across the city. Registration required at mamadances.com
Toronto Public Library hosts Ready for Reading and Storytime classes at various locations. A few examples include: Love, Laugh and Learn at Barbara Frum Library presented by the Macaulay Child Development Centre runs for 5 weeks with a free language and literacy program for parents/caregivers and babies up to 12 months old; Ready for Reading Baby Storytime at Riverdale Library includes songs, rhymes and stories for babies from birth to 18 months with their caregivers. Full listing of class descriptions and locations can be found at torontopubliclibrary.ca
Explore and expose your baby to art with some exciting learning at the ArtBarn. Mini-Mini Art classes are designed for 1 and 2 year-olds to have a little fun with tactile creative activities. Registration is required. Series of 9 or 10 week classes offered. Located at 250 Eglinton Ave. West. Check www.artbarnschool.wordpress.com for details.