Traditions over the holidays are made with experiences. The sights, sounds, and  smells all form the memories that we hold onto. As a parent, I can tell you that while certain traditions occur naturally – like "hey, mom don't replace those old wooden ornaments on the tree" or "don't change that sweet potato recipe that's laden with butter and brown sugar", there are other traditions that are made by being together. Ross Petty's annual stage productions this time of year have become a tradition in our family and many others. This year's Wizard of Oz is nothing like you've seen. It's a bit "twistered".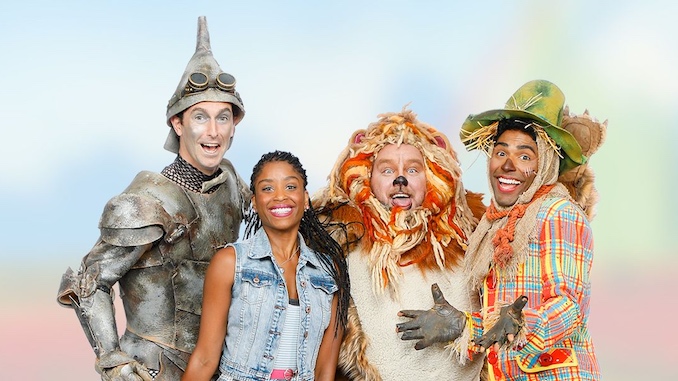 If you're familiar with Ross Petty Productions, you'll know each year the company takes a classic children's story and shakes it up, turns it upside down and serves it on a platter oozing in big LOLs for every family member. Young kids will love the loveable characters, teens will catch onto the zingy one-liners and the clever way the story is modernized, and adults will be keeping ears perked for how current issues are woven into the fast-paced show. 
The "Panto" productions have been entertaining families in Toronto for 23 seasons. To quickly explain, "Panto is a type of musical comedy stage production designed for family entertainment. It was developed in England and is still performed throughout the United Kingdom and (to a lesser extent) in other English-speaking countries, especially during the Christmas and New Year season. Modern pantomime includes songs, gags, slapstick comedy and dancing. It employs gender-crossing actors and combines topical humour with a story more or less based on a well-known fairy tale, fable or folk tale. It is a participatory form of theatre, in which the audience is expected to sing along with certain parts of the music and shout out phrases to the performers," as explained on Wikipedia.
This production of Wizard of Oz takes place in Toronto — on Ossington Avenue, get it? This is where we meet a street-smart Dorothy (Camille Eanga-Selenge, The Book of Mormon/Broadway), a recent university graduate who's is trying to find her way in the urban setting. Along with Toto, who completely melts your heart, they set take you on a journey to visit the Wizard of Oz in a set of Ruby Red High Tops (RHTs). That's all I will say without giving anything else away, hopefully. 
For those who are familiar with Ross Petty Productions in the past would know that the man himself took on the role of the villain each season. He engaged the audience like no one else encouraging boos and hisses whenever his character entered the stage. However, gradually stepped back from being in the cast itself but still active in the production, the audience were left wondering if the tradition could, or would, continue. Well, yes we're happy to see that indeed the show must go on…and so must the booing. 
Enter Sara-Jeanne Hosie, who plays a deliciously wicked Miss Gulch/Sulphura, The Wicked Witch of the West. Her strong and sinister presence was immediately recognized by both young and old in the audience without missing a beat. Boos earned. 
One familiar face in the cast is Eddie Glen who is back this time to take on the role as Sulphura's side kick, Randy. He also plays Mr. Green and The Wizard. Glen is the glue in this production with his natural ability to consistently deliver some of the best lines in the show. 
In every Ross Petty production we have a huggable character that is  "I'm not that innocent". Think Fairy Godmother (in drag) and – the one that has a solution for every question – whether it be the right one or not. Her heart is in the right place but her mind…wanders. Sugarbum, the Good Witch of the North (who comes from a long line of Bums including Plumbum, Tinkerbum amongst others) in this production is played by Michael De Rose who has a fanny pack full of surprises, you know, to keep the parents who are in the audience on their toes. 
Okay, there are underlining key messages woven in about bullying, being true to yourself, and global warming. But there's also lots of authentic giggles thanks to moments of smooth deliverance that even the cast themselves seem impressed. From familiar tunes from eras past to present it's a highly energy and entertaining show even if you don't have kids. 
Ross Petty Productions The Wizard of Oz – a Toto-ly Twistered Family Musical is now on stage in Toronto at the Elgin Theatre until January 5, 2019.  More info at rosspetty.com.