The Cha$e Group Inc. is a corporation that was created to remind people that 'they can achieve whatever goal they set out for themselves, as long as they Chase It!". The Cha$e Group Inc. aspires to revolutionize the car rental industry by offering the average person affordable and accessible transportation options without compromising on quality or comfort. We spoke with Myles Dayes, Owner and Operator of the Cha$e Group Inc. to learn more about how he plans to continue to use his business as a motivation for others to reach their dreams.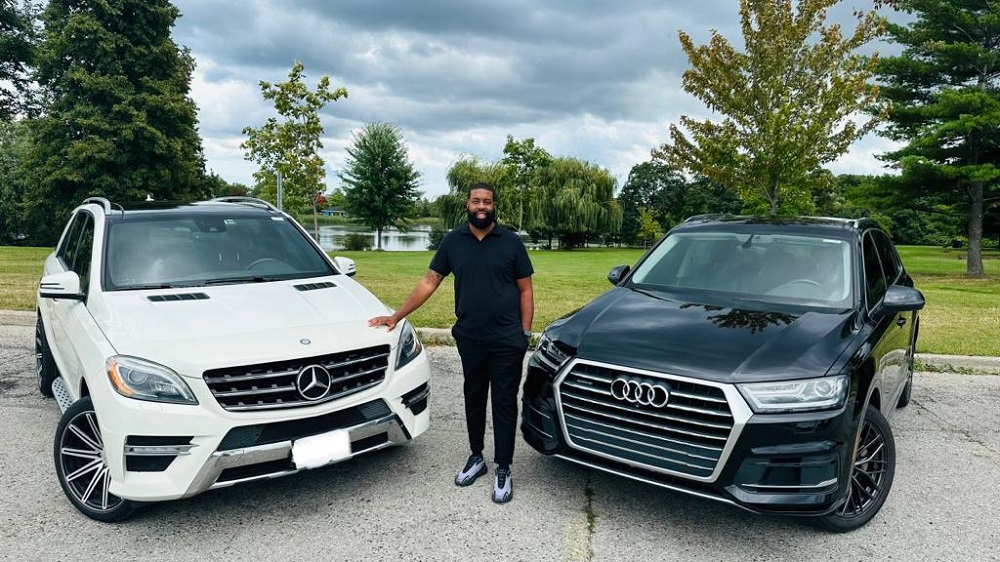 What is your business called and what does it do?
Established in 2016, The Cha$e Group Inc. is a unique player in the rental car industry, offering a service that combines the affordability of economy vehicles with the luxury and convenience of a high-end experience. At its core, The Cha$e Group Inc. recognizes that modern travellers seek more than just basic transportation, they desire a touch of sophistication and personalization during their journeys. To ensure needs are met, The Cha$e Group Inc. partners with Turo, a pioneering peer-to-peer car-sharing platform often likened to Airbnb for cars.
Through this innovative collaboration, The Cha$e Group Inc. taps into a vast network of car owners who are willing to rent out their vehicles when they're not in use. This partnership enables The Cha$e Group Inc. to offer a diverse fleet of vehicles, ranging from economical options ideal for daily commutes to luxurious models for those seeking a more upscale experience. Clients can easily browse through an array of cars via the Turo app or website, choose the one that suits their needs and preferences, and enjoy a rental experience that blends affordability with lavishness.
What made you want to do this work?
The Cha$e Group Inc. was developed out of a profound passion for cars and a steadfast commitment to making travel more accessible and affordable. I have a genuine love for cars and a belief that everyone deserves to experience the joy and convenience of driving without breaking the bank. Recognizing that traditional car rental services often come with hefty price tags, I created The Cha$e Group Inc. and set out with a mission to revolutionize the industry. My goal is simple: to provide people with a means of saving money on rentals without having to compromise on the comfort and quality of their transportation. My dedication to offering budget-friendly options without sacrificing the enjoyment of the ride is what sets The Cha$e Group Inc. apart, making it a brand that truly understands and cares for the needs of its customers.
What problem did you want to solve with the business?
The Cha$e Group Inc. emerged as a solution to the pressing issues infiltrating the car rental industry. We currently live in an era where inflation seems to be driving up the costs of virtually everything consumers need, and I recognized the necessity for a more cost-efficient and accessible rental service that the average person could rely on regularly. However, the true factor for the brand's rampant growth came with the onset of the COVID-19 pandemic, which had a profound impact on the rental car market. It became evident that there was an opportunity to address this challenge head-on. I saw an opening to expand the business by providing vehicles at a reasonable and transparent price, catering to the evolving needs of travellers and positioning themselves as a reliable and customer-centric alternative in the car rental industry.
Who are your clientele/demographics?
The Cha$e Group takes pride in its ability to offer our services to a diverse clientele and demographic. Our services are designed to meet the varied needs of our customers, ranging from those who require a temporary vehicle while their own undergoes mechanical repairs or bodywork to individuals seeking a convenient mode of transportation for their day-to-day errands. Additionally, we're here to serve those in search of a vehicle for a refreshing getaway or a special occasion. Our wide target audience reflects our commitment to inclusivity, ensuring that anyone, regardless of their specific circumstance or requirement, can find a cost-effective and comfortable solution within The Cha$e Group Inc.'s range of vehicles and services. We understand that life's demands are multifaceted, and our mission is to offer a reliable and flexible transportation option for all.
How does your business make money? How does it work?
At The Cha$e Group Inc., our business model revolves around utilizing the Turo platform, often likened to "Airbnb for cars". We supply a fleet of accurately maintained and fuel-efficient economy vehicles, all available at affordable rates. The process is simple and convenient: guests browse and book their preferred vehicle directly through the Turo app. What sets us apart from traditional rental car companies is that our guests get precisely what they see on the app—a specific vehicle, not just something "similar" to the image or class listed. This transparency fosters trust and ensures a seamless rental experience. Furthermore, guests benefit from the added protection of Turo's insurance and roadside assistance, providing peace of mind throughout their journey. Through this collaborative approach with Turo, we generate revenue by offering a wide range of vehicles and a straightforward booking process, providing travellers with an economical and reliable transportation solution.
Where in the city can we find your profession?
The Cha$e Group Inc. operates out of two strategically located locations to better serve our valued customers. Our first location is situated relatively close to the renowned Yorkdale Shopping Centre. This central location offers utmost convenience to travellers and locals alike, as well as providing easy access to our vehicles. Our second location is strategically positioned in Mississauga, just minutes away from Pearson International Airport, providing convenience for travellers arriving in or departing from Toronto, as well as a hassle-free solution for their transportation needs.
What is the best question a prospective customer could ask a member of your profession when comparing services? Give the answer as well.
One of the most critical questions a potential customer can ask when comparing rental services is about the allowed daily mileage. It's a crucial factor that can significantly impact your rental experience. At The Cha$e Group Inc., we understand the importance of transparency in this regard. We offer a generous allowance of 300 kilometres per day for our vehicles, ensuring that you have ample mileage to meet your travel needs without any surprises upon return. Additionally, for extended rentals lasting longer than one week, we provide attractive discounts, allowing you to enjoy our cost-effective services even more. We believe that clear and fair mileage policies are essential for a stress-free rental experience, and we strive to provide our customers with the best value and flexibility for their journeys.
What is the best part about what you do? What is the worst part?
The best part of running The Cha$e Group Inc. is undoubtedly the connections forged with people from all walks of life, both locals and guests from around the world. There's a genuine joy in being a part of their travel experiences and helping them save money while ensuring they have reliable transportation. What's even more rewarding is the opportunity to inspire some individuals to pursue their own entrepreneurial dreams. I take pride in reminding them that they possess the God-given ability to achieve anything they put their mind to.
On the flip side, the most challenging aspect of this business undoubtedly comes in the form of damage claims. Accidents, while unfortunate, are an inevitable part of the industry. When they occur, it can be a major setback for the business, as it often takes considerable time and effort to get the vehicle repaired or replaced. This can disrupt operations and create financial stress. Nevertheless, it's a reminder that challenges are a part of any venture, and it's how we navigate and learn from them that truly defines our success in the long run.
What is your favourite joke about your own profession?
I don't have a specific joke but there's never a dull moment running a rental car business. A week won't go by without meeting an interesting individual that leaves us scratching our heads.
Where can we follow you?
You can follow The Cha$e Group on Turo.
PAY IT FORWARD: What is another local business that you love?
I love some Grumpy's Smokehouse in Brampton.