Have you ever wanted to go on a trip but none of your friends were available or interested? I'm certain we've all been there, and that is precisely the position I found myself in when I was looking for a mid-winter getaway at the start of 2023. I'm in my early thirties, and many of my friends are busy with starting a family (kudos to them, really), or demanding work schedules, and booking a trip has to be planned far in advance. Gathering a group of friends and planning a trip isn't as easy as it once was! A friend had previously suggested Tryps – a Toronto-based boutique travel company focused on curating memorable travel experiences for solo travelers. She'd gone on their ice plunge trip (I know, as if we don't get enough cold exposure in this country) and had nothing but positive things to say about the experience!
I was happy to discover that there was a four-day ski trip in Mont-Tremblant, Québec coming up in the next few weeks. The cost of the trip included three nights of accommodation, one full day ski pass, a half day pass to the Scandinave Spa, and other fun activities like ice skating, and bonfires.
From the get-go my interaction with Tryps leader, Kimo, was warm, friendly, and he got me really excited about the possibilities of the getaway. There was only one caveat – the trip would be with total strangers.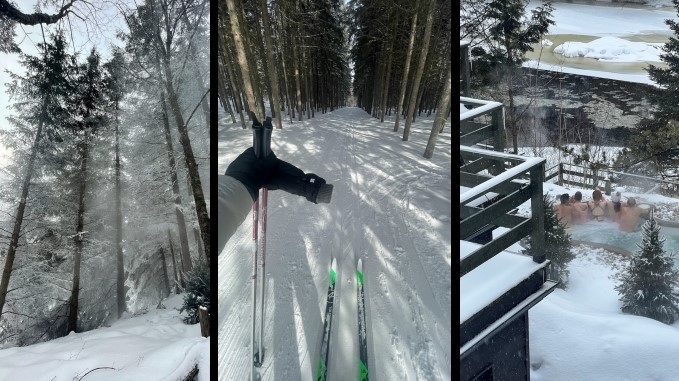 I'll have to admit, I was really nervous about the thought of spending an entire weekend with people I'd never met before.
What if we didn't get along or the vibe was just off?
Well, I booked the trip anyway.
After all, the biggest risk in life is not taking any risk, right?
In the weeks leading up to the trip, any anxieties I had about traveling with strangers fizzled out, as Kimo sent frequent updates about our upcoming getaway, including a virtual orientation session to arrange logistics and book optional add-ons (which we would have to pay for ourselves) like massages, ski rentals, etc. He even provided us with a sneak peek of our "Tryps crew", including every travelers' headshot and short bio.
THE JOURNEY
While there were many different options for transportation and getting up to Mont-Tremblant, carpooling from Toronto seemed like the easiest, most budget friendly, and most environmentally friendly option.
I met up with our Tryps leader and a couple of other Tryps solo travelers at Toronto's Union station. We greeted each other with hugs and began the 6-hour journey to the mountain.
The conversation in the car reminded me of my days traveling through Europe via Bla Bla Car, a low-cost carpooling service that encourages you to chat or "bla bla" in a car with strangers who happen to be traveling to the same destination.
On the drive up we talked about our lives so far, where we were born, what we did for work in Toronto, the usual small talk. However, I was really surprised at how quickly small talk turned into meaningful discussions about life, family – the important things.
Luckily this energy continued on for the rest of the trip, as I met more of the other "Tryppers". I was quite surprised at how comfortable we got with each other and just how quickly it happened.
ARRIVAL
When we had arrived at our destination, Auberge le Manitoga, a beautiful ski lodge close to Mont-Tremblant's ski village, the rest of the Tryps crew was waiting for us. We were eight in total, all from different walks of life, and I appreciated the fact that I met people that I wouldn't otherwise have the chance to meet.
I bunked with two awesome women in their twenties, the ones I had shared a ride with from Toronto. Being in a car with people for more than six hours has a way of making you feel comfortable with each other.
Upon arrival, we had welcome drinks at a bar nearby and went to bed relatively early because we'd be skiing the next day. My millennial self was very happy that everyone was on the same page about this aspect!
THE ACTIVITIES
Like many folks I know, I did not grow up skiing. I'm from an island in the Caribbean and I'm partial to anything that involves water, though in recent years I've been enjoying winter activities like snowshoeing and cross-country skiing.
Even though we were traveling in a group setting, I was pleased that there was also room to do the things that I wanted to do, even if it meant that I'd do them alone. While the rest of the crew opted for downhill skiing, I decided to venture out on my own and experience cross-country skiing in Québec.
Our guide dropped me off at a conservation area nearby that offered cross-country skiing rentals and arranged a pick-up time for me.
I ended up having an incredible time, even though I was alone in a forest. I wasn't expecting the trail to be as hilly as it was, but it made for a fun and exhilarating workout!
THE SOCIAL LIFE
Later that day, I met up with the rest of the Tryps crew for some Aprés-ski cocktails at the Fairmont Tremblant which has an elegant lounge overlooking the ski hill. We shared our experiences and memorable moments from the day and looked forward to dinner and dancing later that evening.
On the last day – my favourite day of the trip – we spent the entire morning and afternoon in robes at the ethereal Scandinave Spa, drinking tea, getting massages, and enjoying the restorative thermal waters. Truly living our best lives!
One of the things that stood out the most about this experience is that I had casually mentioned to Kimo the idea of having a raclette dinner, traditionally a Swiss dish – similar to cheese fondue. It was proving to be a difficult task because all the raclette places were booked up as it was high ski season.
To our surprise, Kimo secretly struck a deal with a restaurant next to our lodge. He organized a raclette dinner in one of those cool domes outside, the ones that became popular during lockdown. We watched the sunset over a frozen lake, and enjoyed a delicious meal with our newfound friends – it was the perfect way to culminate such a special long weekend.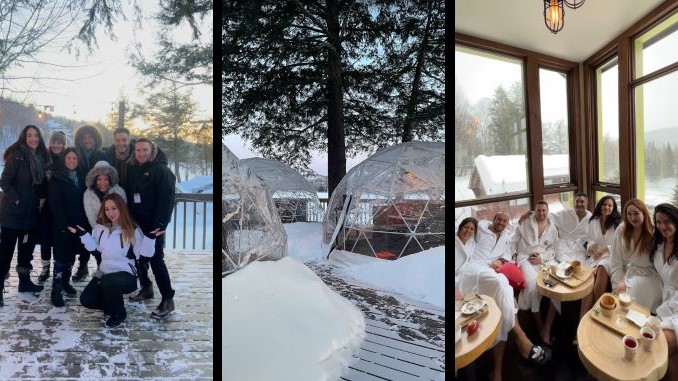 ALL GOOD THINGS
Our fourth day we gathered in the kitchen area of the ski lodge for the drive back to Toronto. Every Tryps experience ends with a group recap of the trip, and one final group huddle before everyone parts ways. Kimo surprised us all with little fridge magnets of photos from our trip!
We exchanged numbers and hugs, and made plans to meet again in the city.
Kimo founded Tryps from his deep passion for creating unique travel experiences for his family and friends. His commitment and energy is felt down to the smallest detail in the itinerary. What started as a small dream during the pandemic, has turned into a big reality spanning across three different continents.
Tryps destinations range from a portaging trip in Algonquin Park to bucket list trips like 11 days in Egypt or week-long sailing trips across the Caribbean.
I'm already looking forward to my next Tryps experience – a sailing trip across the Amalfi Coast in Italy!
Now I just have to brush up on my Italian. Grazie to Kimo and all the Tryps crew for a wonderful experience!