Now is the time to explore and discover Detroit! Here's a Motor City guide to an action packed, cocktail infused, art filled weekend getaway. The best hotels, most talked about restaurants, places to party, how to get around, plus more. Detroit is fascinating – let us share with you the best things we discovered about this highly underrated American city. 
Say Nice Things About Detroit
Some people may be surprised to find out just how nice Detroit has become. It's thriving with new hotels, restaurants, bars and galleries opening on a monthly basis. The music scene offers a steady flow of live gigs like LCD Soundsystem, The Killers, DJ Carl Craig and Bob Dylan. This new Detroit has lots of free outdoor events like Open Streets Detroit, Dally In The Alley and Murals In The Market. Downtown Detroit offers dynamic walks showcasing the city's stunning historic architecture, occasionally splashed with dramatic murals; around every corner is a fascinating new discovery!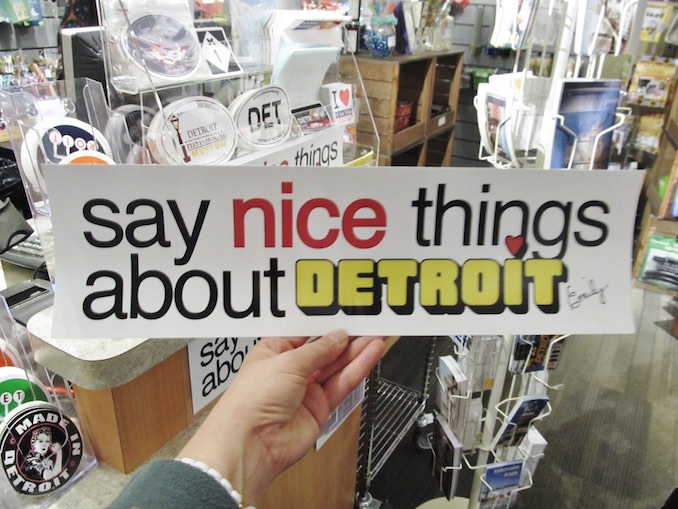 Three days in Detroit is ambitious. It's a massive city; we read it spans 360 square kilometers — large enough to fit San Francisco, Manhattan, and Boston within its borders. That said, the city centre and many of the neighbourhoods are walkable. Also worth noting is the population is only 677,000, compared to Toronto's 2.8 million. The upside of this is Detroit is not slammed with tourists; you never really have to wait in lines or deal with crowds. We think this is kinda a bonus coming from Toronto.
Most of the growth and regeneration of the city is happening in the downtown core but that isn't stopping niche communities outside the city centre from making a stand. These outlier neighbourhoods are diverse and fierce about their right to be a part of the renaissance of greater Detroit. When you're in Detroit, you can't help but think back to when Parkdale was first emerging as a new go-to hood. Or the idea that nobody would live north of Bloor. In some ways, Detroit could be Toronto in a parallel universe. Both cities can learn from each other for sure! A visit to Detroit is like taking an urban development time machine.
Let's get started on what to see and do in Detroit.
Toronto Guardian Guide To Detroit: What We Actually Did!
Day 1 > How To Get To Detroit – Take The Train!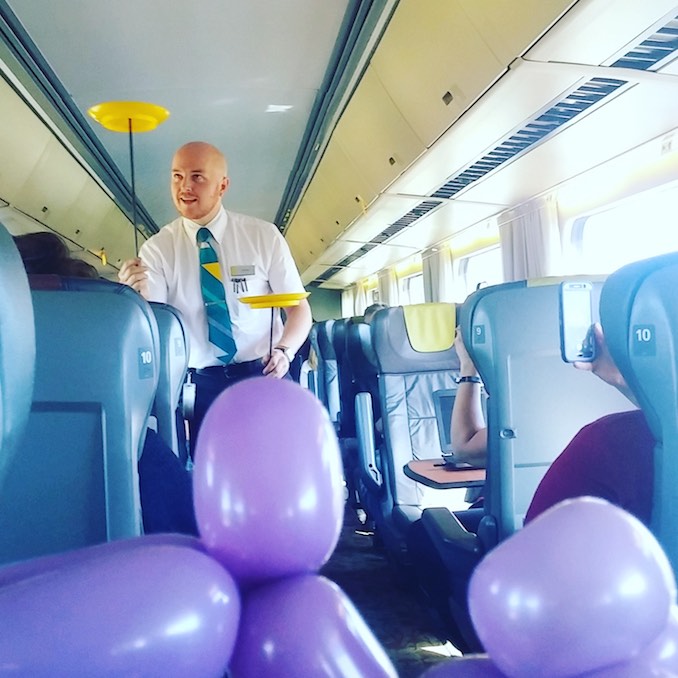 VIA Rail from Toronto to Windsor; treat yourself to business class. There are so many complimentary perks, including a selection of three-course meals accompanied by wine, plus coffee or Sloane fine tea with Theobroma dark chocolate treats. On our journey, meals included hand-rolled Montreal bagels, fettuccine Alfredo, salmon, and chicken tikka masala. Everything was delicious and the service was terrific. And to our amazement, we were entertained on-board by train magician and juggler, Zack Wells. This made for many Instagramable moments! Good to have that free train WiFi. Overall a totally relaxing border journey there and back.
Once you arrive at Windsor train station, Uber over to the bus terminal and jump on the next Tunnel Bus over the border. Round-trip tickets are $10. You can take a taxi over, but if there is a delay at customs, that meter may keep running.
You Are Now In Detroit. Over The Rainbow Welcome!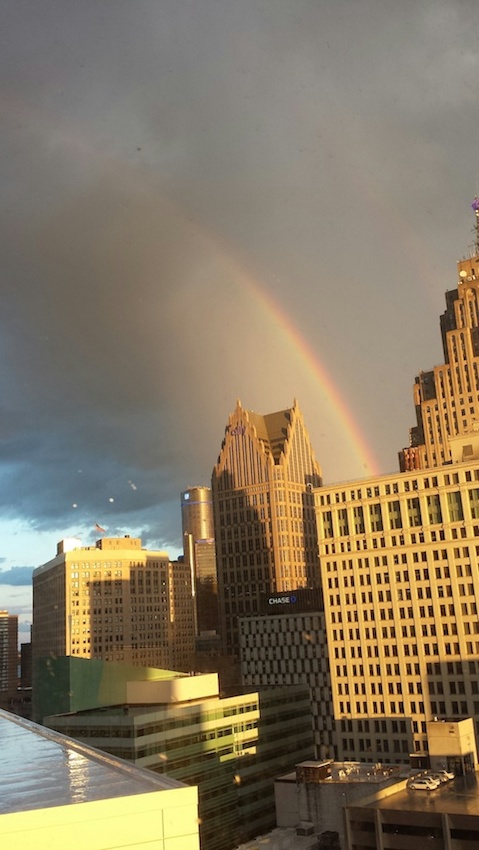 Remarkably, we were welcomed to the City of Detroit and The Westin Book Cadillac Detroit hotel by a beautiful double rainbow! The Detroit skyline is already grand but this made it even more fabulous. The Westin Book hotel room was ultra comfortable and huge (the room had two massive wide-screen flat TVs). That's one thing you notice about Detroit right way – everything is bigger. Our room's welcome basket was heaped high with goodies made in Detroit or Michigan including: bottles of Faygo Root Beer, Sanders sea salt caramel chocolates, Better Made chips and Germack nuts.
The Westin Book Cadillac Detroit features on-site restaurant ROAST; made famous by Iron Chef victor, Chef Michael Symon. This first-rate steakhouse is known for its high quality artisanal and heritage meats. Later in the weekend, when we asked around about best places to dine, ROAST always came up – locals love to eat there too.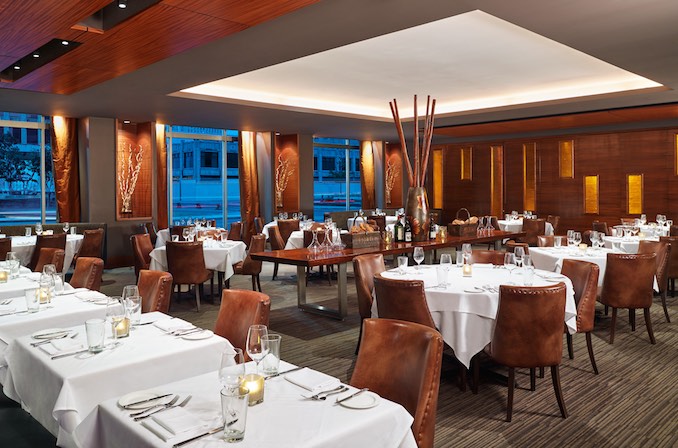 The dinner menu at ROAST is rich in meaty goodness. We started with Old 1871 Virginia oysters (a good mouthful) and the beef cheek pierogie (not a typical pierogie). For the main course, dry aged rib-eye steak and the smoked pork chop, accompanied by whipped potatoes (so American) and the most amazing side of Brussels sprouts with walnuts. Absolutely scrumptious! Not that there was much room for dessert, but we did share a generous French Toast crème brûlée with sparkling wine. Our ROAST dinner experience was an exceptional start to the evening.
For post-dinner cocktails and a chance to explore downtown Detroit by night here's what we recommend – aim for The Belt; a funky public art alleyway featuring colourful murals and cool bars that open up onto the alley. We ended up near by at Central Kitchen & Bar in the First National Building, and were happy to find the drinks menu featured local beer and spirits. We tried Two James Old Cockney Gin in a cocktail called the Cat's Meow (they love cocktails in Detroit) – the gin is made locally, so plan to pop by the Two James distillery tasting room to sample a range of handcrafted spirits. Central Bar also had Atwater beer, which is heavenly, especially the Atwater Vanilla Java Porter. We were told you can purchase bottles locally to take back to Toronto (because the LCBO only stocks kegs of the stuff). At the bar we met a TheDetroitiLove music promoter, who connected us with a party at City Club. Check out the gigs & party links below in our city recommendations!
Day 2 > Discover Detroit – Public Spaces, Outdoor Places
Rise and shine Detroit! Started with a dip in the Westin Book Cadillac Detroit hotel pool. Then enjoyed the exceptional view from the 23rd floor Club Lounge for a light buffet breakfast. Or visit the new on-site Starbucks Reserve Café for a post-party night boost.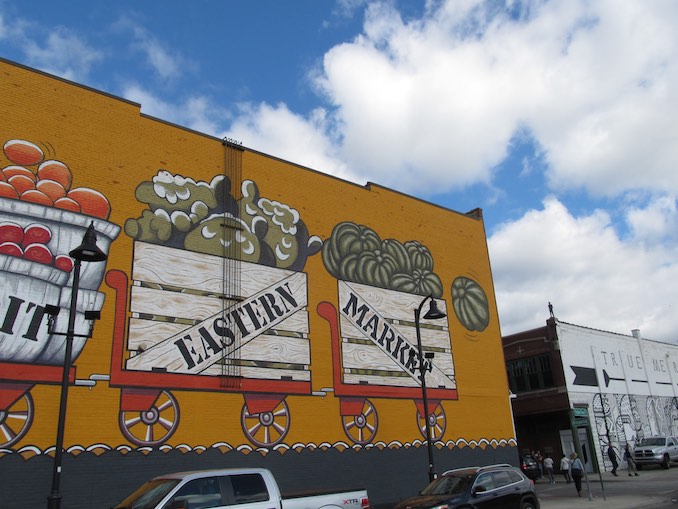 The touring day started at Eastern Market. If you love St. Lawrence Market or the Wychwood Barns you will love shopping here. We met so many friendly local vendors – check out our shop guide below for more deets!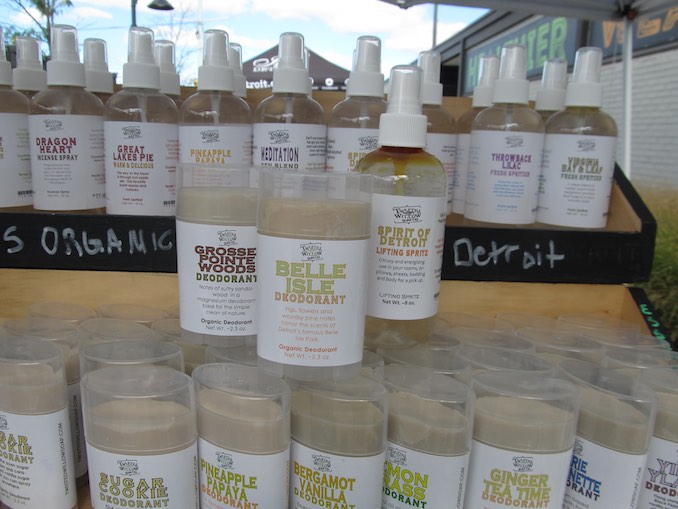 After about two hours at the market, we took an Uber ride to the DIA, Detroit Institute of Arts, to experience an awesome exhibit: D-Cyphered Hip-Hop Photo Portraits by Jenny Risher. Detroit's hip-hop music scene boldly exposed through photography – highly recommend this show, which runs until February 2018. Like most everything in Detroit, the DIA is huge. There's African American, Islamic, Native American and ancient art, plus so much more, but don't miss the contemporary collection, it's fabulous!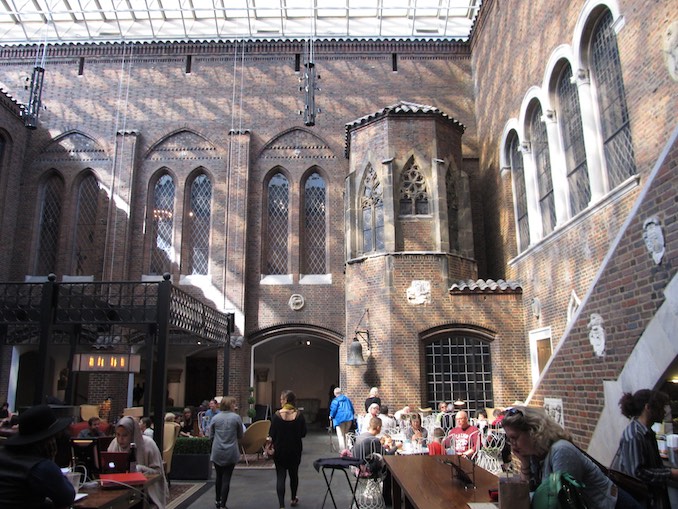 An unexpected highlight of the Detroit Institute of Arts is the Medieval Kresge Courtyard cafe; originally an outdoor space, featuring European Gothic architecture, it's now enclosed by a vaulted glass ceiling. Amazing! What's also amazing is that on a Saturday afternoon you will have the whole DIA practically to yourself. To truly enjoy this art space plan for two to three hours, including a cafe break – try the house-made potato chips with warm blue cheese.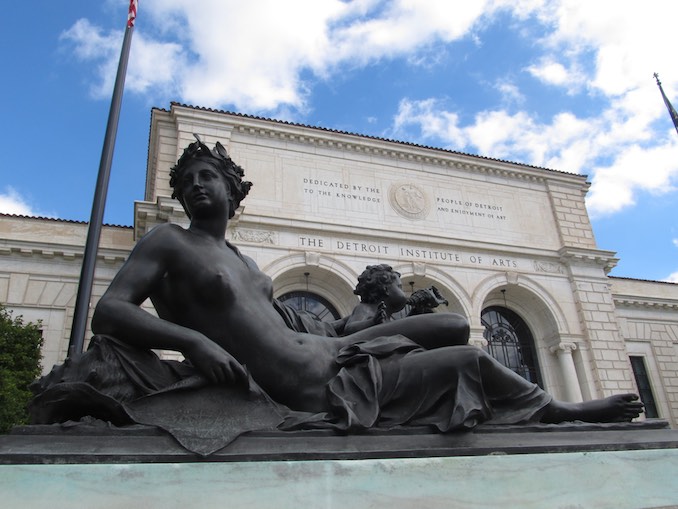 The next stop was the Detroit Historical Museum to see the Kid Rock Music Lab. To our surprise, what really captured our attention was the old timey permanent exhibit: The Streets Of Old Detroit. Basically a walkable mock-up of 19th and 20th century Detroit streets and open shops. The highlight was the 1840's Printing Shop, that actually makes prints you can purchase; vintage looking Christmas cards only $2 each. There's a printer-in-residence who can demonstrate the art of old time print making – hopefully you don't miss him.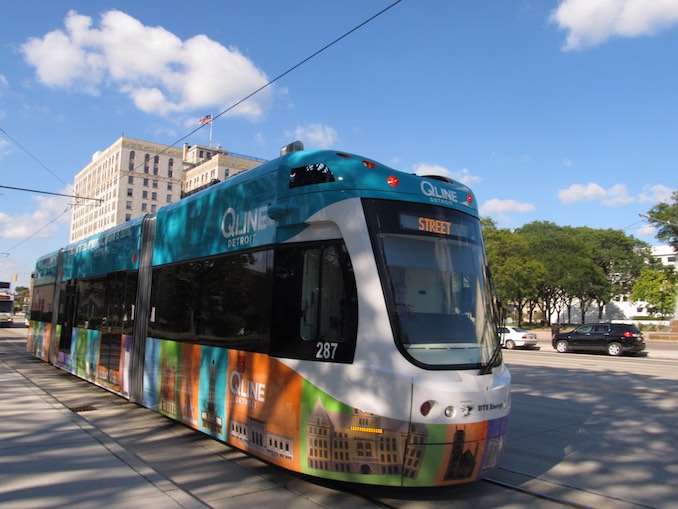 Nearing cocktail time, we took the new QLINE public transit back downtown along the Woodward Corridor. Just imagine the Spadina streetcar, but with lots of available seating, and a single fare is $1.50! Once back downtown, we took a spin on the new Detroit People Mover for just 75 cents! It's kinda like a mini carnival ride that takes you sightseeing high above downtown Detroit in a circle to thirteen stations. It doesn't take very long to get all the way around the route, it is definitely recommended to see the city core in one easy go. Look for the handy Station To Station Guide when you get to the city – it lists many food, drink and retail businesses located around each station.
Before checking into another hotel, refreshment was required. Next stop for cocktails, Wright & Company. This restaurant and bar is sharp looking, and takes drink preparation seriously. Cocktail ingredients range from black lime syrup, Byrrh, and egg white to black pepper and Krupnik honey. The mixologists were attentive and highly skilled at shaking up our thirst. Another W&C bonus is it's tucked away over a men's fashion boutique, so it feels a bit hard to reach, as well the 2nd-storey corner view is super for people watching down on the street.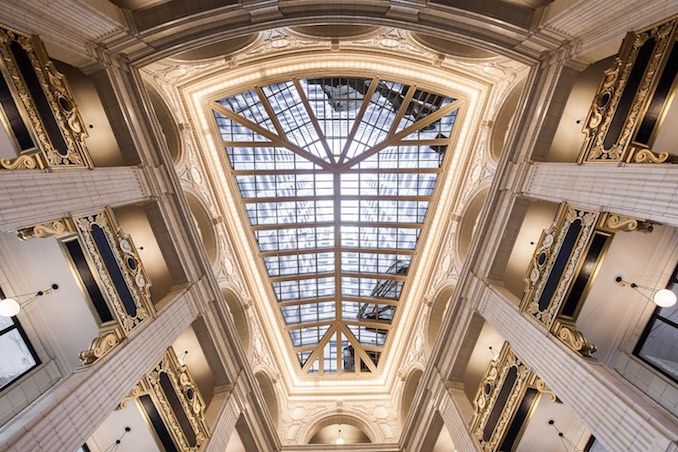 Time to get fresh at the Aloft Detroit Hotel, located at One Park Avenue. This hotel is uniquely located inside the historic David Whitney building and has the most stunning four-storey atrium with a ceiling pattern that mirrors the downtown core street design. You'll be in awe as you check-in for the night. The Aloft Detroit front desk and valet service was wonderful – felt so taken care of and welcome.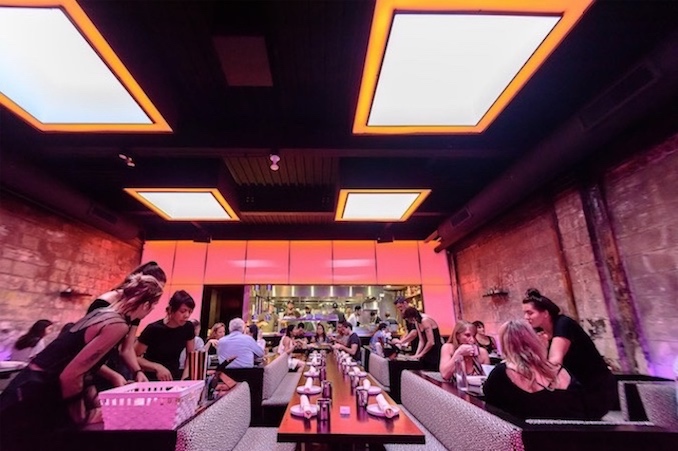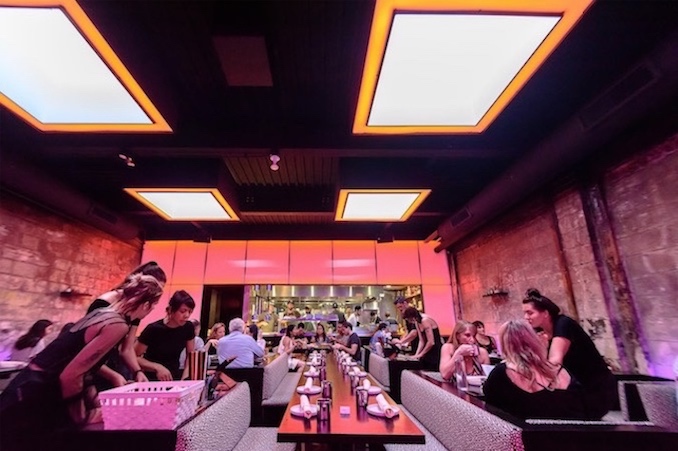 Our last Detroit night out, and we're fueled by glowing Facebook comments and recommendations from Toronto friends that we must eat at TAKOI. Dinner is a two hour "flavour profile" experience that builds on levels of spiciness; prepare to eat eight to ten plates of food. The menu is a map of Asia, fused with modern desires, for instance expect coconut, chili oil, ginger, oyster sauce, lime and Thai basil. Trust your server, and handover your taste buds, as they bring you plate by plate from the open kitchen. There is a menu to keep track of everything, so don't panic. It's meant to be a tasting adventure – so just go with it! TAKOI dinner highlights: spicy tamarind fried cauliflower, perfect sticky rice, crispy sweet spare ribs, and a whole grilled branzino. The exotic food, banging music and intense cocktails at TAKOI are all way cool. Pretty good for a business that started as a food truck.
Day 3 > Pure Detroit – Brunch, Open Streets, Biking With Locals
Last day in Detroit! A restful, quiet sleep at the Aloft Hotel had us ready for a big day outside. Gotta shout-out Aloft for the modern, double room with everything you might need including lovely bliss brand body and bath products.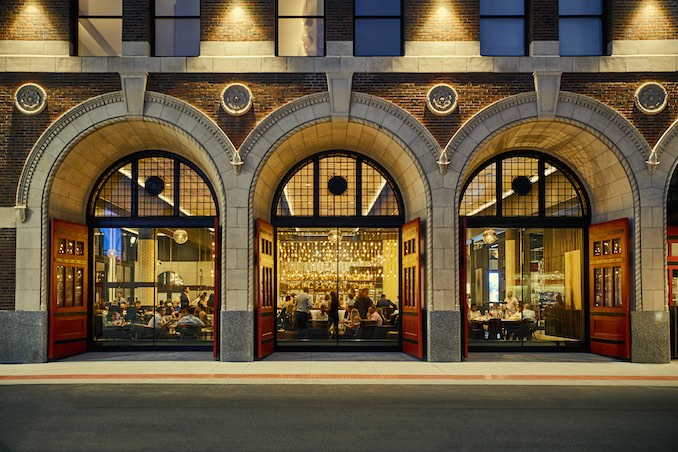 It's a beautiful morning so we walk to the Apparatus Room, located at the Foundation Hotel, for brunch. The Apparatus Room is so beautifully golden, it's a must see example of the new Detroit renaissance. The huge space was formerly the Detroit fire department headquarters – look for fire poles mixed into the hip, industrial design. The space is so large you barely notice the open kitchen, overseen by two-star Michelin Chef Thomas Lents. This is a perfect brunch spot on a sunny day, as the old firetruck exits are now huge windows. From the brunch menu we had Belgian waffles and avocado on spelt toast with an egg on top; the waffles were the most fluffy and made perfectly sweet with cherry preserve and hickory nuts. We didn't have any room for craft cocktails!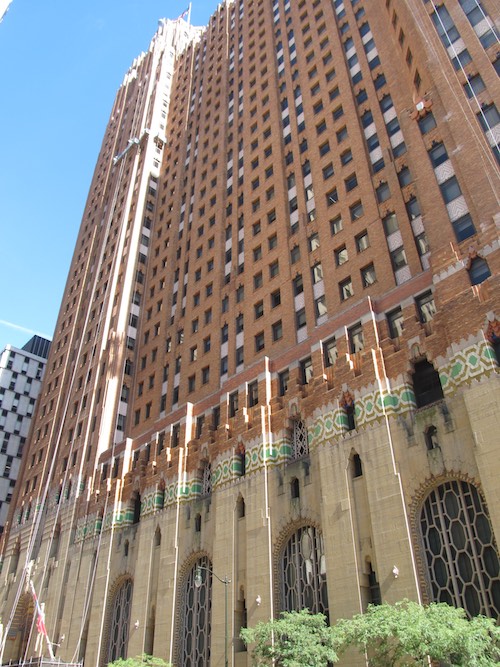 If you enjoy Toronto's Gladstone and Drake hotels, then you will greatly admire the fashionable Foundation Hotel. Jane Jacobs would have been impressed with the hotel's dedication to sustainability and re-use ethos. Almost everything in the hotel is made by local craftspeople, or salvaged from old Detroit houses, or made in Michigan. Ask for a free tour of the hotel and see for yourself. "New ideas must use old buildings" – Jane Jacobs. Hey, did you know Jacobs was born in America and lived in Toronto?
After brunch we strolled downtown to look at the amazing Art Deco design of many buildings including the Guardian and the Penobscot towers. With so many stunning historical skyscrapers to see, we recommend you sign-up for a walking tour that focuses on architecture – see our tour recs below.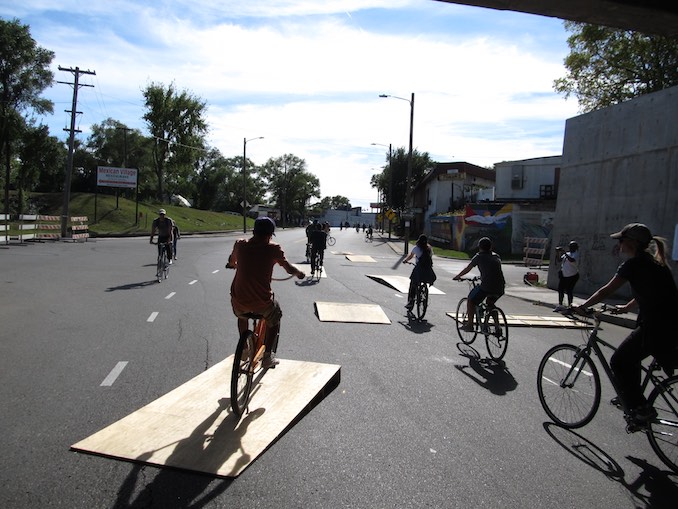 Lucky for us, our last day coincided with Open Streets Detroit! And MoGo city bike share had free bikes for the occasion. There is an annual Open Streets event and bike share in Toronto, so as mentioned, it was like a parallel universe opened up again. What was cool about Open Streets Detroit was how many locals it brought out – we saw more people at OSD than we'd seen the previous two days. Loved the relaxed vibe; you could really feel the community spirit and warm connection between folks. Biking in Detroit is pretty easy going, so the special event road closures made it even more chill.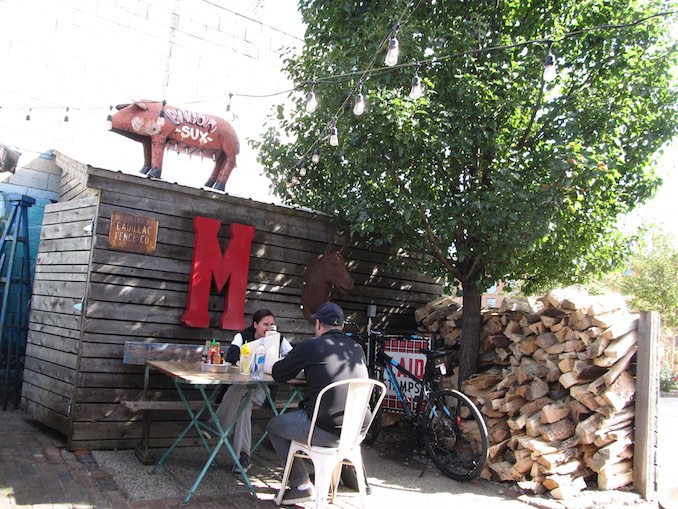 Biking along the Open Streets Detroit route made us hungry, so we stopped at Mercury Burger & Bar in Corktown for a very American style patio lunch. Hot-dogs in a bun topped with corned beef, kraut and spicy mustard, along with a side of sea salt and pepper hand-cut fries, and five-dollar milkshakes for dessert. Yummy! The Mercury bar menu also had a good selection of Michigan brewed beers, but we didn't get that far (okay, we had some samples!). Definitely try the Cheboygan blood orange honey beer. This was a super place to recharge; the staff were fun, and the food and drink were great value.
Sadly, this is the end of our Motor City adventure. We just had time to Uber back to grab our bags left with the Aloft Hotel valet. Then hopped on the US/Canada Tunnel Bus back to Windsor. OMG, loved Detroit so much! Gotta come back.
Detroit Can't Be Beat!
Back in the 1970's when people were pooh-poohing Detroit, Emily Gail, an early social entrepreneur and former Detroit shop owner, coined the slogan Say Nice Things About Detroit. Gail's little bit of guerrilla marketing soon caught on with other business owners and locals because it celebrated Detroit and showed the pride Detroiters have in their city. The slogan is still popular today. You will find it all over the city, and you can purchase it on a bumper sticker or a coffee mug if you wish.
Why go to Detroit? To get inspired! Right now Detroit is a city where artists and creative people drive and dominate urban change and community development. Similar to Toronto, Detroit is repurposing public spaces, creating distinct districts, embracing sustainability and hybrid buildings – we can learn something from each other. Visit and see what bold statements and city pride looks like in an American city coming back up. Let the new social entrepreneurs of Detroit energize you with creativity. After all, Detroiters have always been builders and makers. The city is truly a place of fascination – come be fascinated!
So when you go to Detroit. Be respectful. Embrace the positive vibe Detroiters warmly share. And be nice.
***
Detroit City Recommendations
Keep Detroit On Your Radar For 2018!
Marche du Nain Rouge – March is the time to hit the open streets for the annual Red Dwarf Of Detroit festival or the Marche du Nain Rouge. We recommend you check out photos of past festivities online.
Detroit Institute of Arts Star Wars Exhibit – major costume exhibit May 20 to Sept 30.
Detroit Design Festival – programmed by Detroit Creative Corridor Center (DC3); an economic development organization that works to strengthen Detroit's creative economy and connect people.
DLECTRICITY – outdoor art + tech festival of visual light.
Funky Ferndale Art Fair – apparently twice as funky as the average fine art fair.
Electronic music festival – kick of summer in Detroit with http://movement.us/
Dally In The Alley – the city's largest annual community festival with live music, art, food, beer + more.
Murals In The Market – live mural painting festival at the Eastern Market.
Open Streets Detroit – free, inclusive event that brings Detroiters together in the streets by providing opportunities for fitness, recreation and community building. Streets closed to car traffic.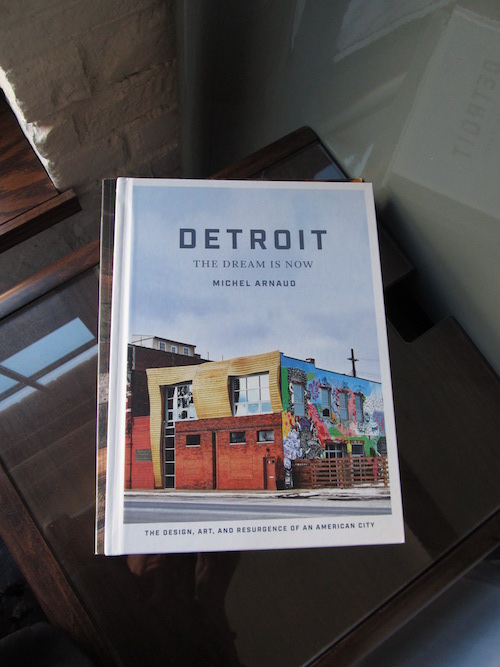 Where To Stay
Westin Book Cadillac Detroit – originally constructed in 1924, The Westin Detroit has historically been one of the city's most illustrious hotels. Having been restored to its original splendor, it is now a modern emblem of a legendary city revitalized.
Aloft Detroit at The David Whitney – Aloft melds the classic history of The David Whitney with stylish modern décor. 100+ locations worldwide.
Foundation Hotel – loved it! Watch the dreamy video tour on their website homepage.
Inn on Ferry Street – boutique hotel in midtown with B&B charm.
El Moore – sustainable rustic lodge built with lots of recycled materials.
Where To Eat In Detroit
Much like Toronto, Detroit celebrate a diverse cultural heritage on menus including Thai, Mexican, Japanese, Middle Eastern, Vietnamese, Polish, Italian, German, Latin American, Bangladeshi + more. And of course classic American. Detroit has many restaurants and eateries with unique themes and missions that support or give back to the local community.
Roast – see our review above.
TAKOI – see our review above. We recommend book in advance from the website.
Rose's Fine Food – for an ethical organic diner experience not far from Belle Isle Park.
Brix Detroit – new place that focuses on wine and charcuterie in the West Village.
Mercury Burger & Bar – loved it! Good old fashioned American fun food; hot-dogs, milkshakes and beer.
Gigs, DJs & Cocktails
Online hub for Detroit nightlife and DJ listings. Curated event list updated daily by Steven Reaume. Instagram @thedetroitilove > http://thedetroitilove.com/
Fox Theatre – live bands, musicals and ballet.
Saint Andrew's Hall – built in 1907 and still rocking. See GWAR in December if you dare.
The Fillmore Detroit – everything from comedy, St. Vincent and Chippendales 2018 tour.
Michigan Opera Theatre – not just for opera. David Sedaris show in November.
TV Lounge + other Detroit DJ events: http://movement.us/events
Wright & Company – see bar review above.
Standby Detroit – downtown cocktail lab equipped with a centrifuge and liquid nitrogen.
Two James Spirits – local distillery with a range of handcrafted spirits. Happy hour, happy shopping!
Local Shopping; Support Local
It's easy to support local craftspeople, makers and artists in Detroit. Shop for made-in-Detroit and Michigan goods and support local! Recommendations below should help get you started.
The Eastern Market is a gigantic outdoor public space featuring numerous sheds, housing everything from flowers, a farmers' market, small restaurants and cafes, print shops, clothing stalls, local vendors, street musicians + more. It's one of the oldest and largest year-round markets in the United States. Don't miss the Saturday market! We recommend you Uber to the market from downtown.
Spend an hour or two shopping in and around the Eastern Market sheds for made in Michigan clothing, jewelry, skin care, home items, local art and Detroit City souvenirs. Try Paradise Valleyon Russell Street for funky, eclectic fashions and local made jewelry.  Also near by is SMPLFD, a sporty Detroit streetwear line featuring original, altered thrift, and printed-on pre-made garments. For locally made organic body and bath products, look for Twisted Willow Soap Co., they have a fun sense of humour!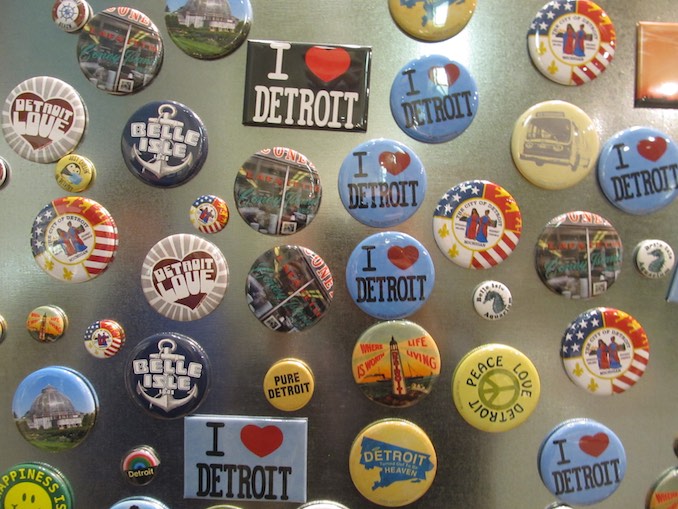 Pure Detroit offers a vast array of authentic Detroit merch – from pewabic pottery and photographic prints to Detroit City T-shirts and local neighbourhood guidebooks. Perfect store to pickup souvenirs and gifts. Currently four locations around the city.
Bon Bon Bon chocolate shop will satisfy sweet cravings while checking out the downtown cityscape. These two bite chocolates come in a variety of flavours from classic (Birthday Cake) to bizarre (Goat Honey). The Bon Bon Bon packaging is totally unique; take-home treats are boxed individually, then custom wrapped in 100% curbside recyclable cardboard. Perfect for shipping to a friend or lover. Made local!
Détroit Is the New Black boutique, near the Aloft Hotel, has a slick selection of trendy screen printed T-shirts bearing the shop's name, and a line of minimal leather handbags and backpacks + more! Discover a Detroit designer or two here.
Ponyride in Corktown features local makers, artists and designers. Check out December Holiday Makers Market dates.
Where To See ART
Detroit Institute of Art – loved it! See review above.
Detroit Historical Museum – see review above.
The Charles H. Wright Museum of African American History – mission: to open minds and change lives through the exploration and celebration of African American history and culture.
MOCAD: Museum of Contemporary Art Detroit – a non-collecting contemporary art museum.
Library Street Collective gallery – features up-and-coming area artists.
How to get around Detroit + Tours
MoGo, Detroit Bike Share, $8/day, 43 bike share stations – https://mogodetroit.org/
QLINE public transit, $1.50 a ride / day pass $3 – https://qlinedetroit.com/tickets/
Detroit People Mover public transit, 75 cents per ride – http://www.thepeoplemover.com/
Wheelhouse Detroit Bike Tours – https://wheelhousedetroit.squarespace.com/tours/
Hey, they offer a Eastern Market Saturday bike tour, 3 hours for $40
For other tour options – walking and biking – visit http://preservationdetroit.org/
FYI > We used Uber on this trip. Average ride cost about $8US in the downtown area (we didn't use Lyft or local taxi, so can't help you out with info on those).
Local Events – Find Out What's Going On Fast!
Detroit Free Press and The Detroit News – both required reading for events, parties and gigs that might not be listed online. Eater Detroit is recommended for latest food news and new openings. Visit their website.
For other local event updates try:
http://www.degc.org/living-in-detroit/arts-and-culture/
http://after5detroit.com/events/
https://thirdmanrecords.com/calendar/
Travel Tips
VIA Rail, Toronto to Windsor information.
Read this link before you board the Tunnel Bus and cross over the Windsor-Detroit border.
Fun Fact: Did you know the city is designated as the first and only UNESCO City of Design in the United States ♥