Brunch is a very important part of our weekend-warrior ritual, but it can be difficult to accommodate the needs of an omni/vegan party of two. Since a brunchless life is not an option, one afternoon we decided to create the "at home" version of Eggs Benny. It has become a household ritual so beloved that it's practically a religion.
-From The Edgy Veg's new cookbook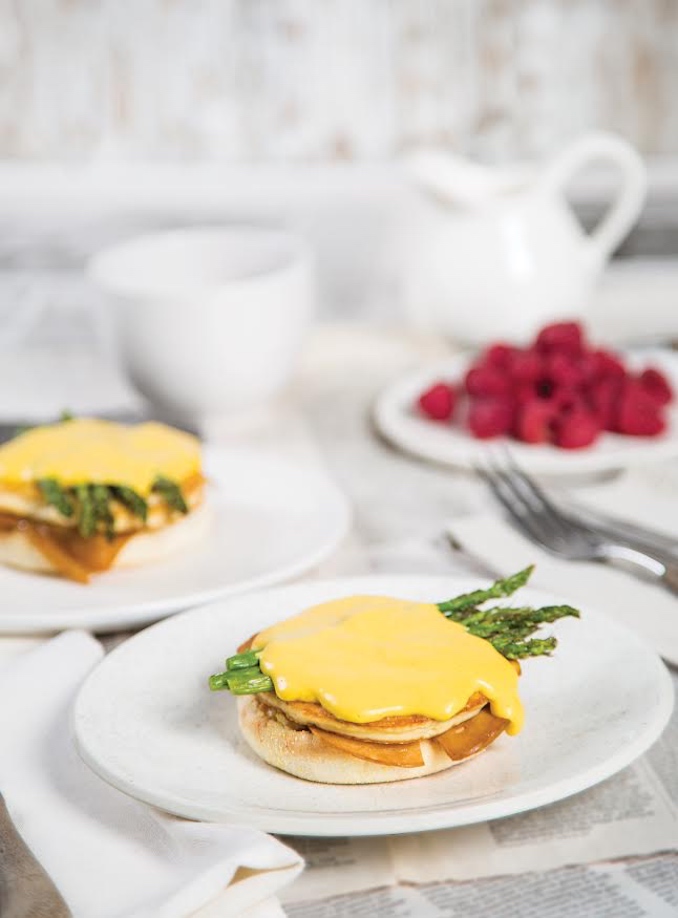 Veggs Benny Recipe
Serves 4
 Preheat oven to 400°F (200°C)
 Baking sheet lined with parchment paper
12 asparagus spears, trimmed 12
1/2 tsp olive oil 2 mL
1 tbsp coconut oil 15 mL
1 block (10 oz/300 g) medium or soft tofu, cut into 8 slices, about 1/2 inch (1 cm) thick 1
Salt and freshly ground black pepper
8 slices of your favorite vegan cold cuts (I like Tofurky), sliced into bacon-like strips 8
4 English muffins, halved 4
1 recipe Ritzy Hollandaise (see recipe, below) 1
Cayenne pepper
Chopped chives
1. In a large bowl, combine asparagus and olive oil; toss to coat. Arrange in a single layer on a prepared baking sheet, and roast in preheated oven for 10 to 15 minutes, until tender but still crisp.
2. While your asparagus is roasting, heat coconut oil in a large skillet over medium-high heat. When oil begins to shimmer, add tofu and a pinch of salt and pepper. (Don't be shy with the salt: tofu literally has no flavor, so salt with conviction!) Cook for 10 minutes on each side, flipping once, until tofu starts to brown on the edges, just like an egg would. Set aside.
3. Heat the same pan you used to prepare the tofu over medium-high heat. Lightly fry cold cuts for about 3 minutes, flipping once, until heated and slightly crispy. Congratulations, you've just made vegan bacon!
4. Place 2 English muffin pieces on each plate and top first with cold-cut bacon slices, then tofu egg, followed by asparagus spears. Drizzle with hollandaise sauce and add a sprinkle of cayenne and chopped chives. Serve immediately and say "So long" to that hangover!
Ritzy Hollandaise
Makes 1-1/2 cups (375 mL)
The epitome of brunch sophistication is a perfect hollandaise, which can be found at the Ritz in Paris. I've managed to crack the secret to this rich, creamy, lemony butter dream of a sauce so you can enjoy it at home, no passport required. I guarantee even the French would approve.
 Blender
1/2 cup unsweetened almond milk 125 mL
1/2 cup soft silken tofu 125 mL
1/2 tsp black salt or sea salt 2 mL
2 tbsp nutritional yeast 30 mL
1/4 tsp dry mustard powder 1 mL
1/4 tsp ground turmeric 1 mL
1-1/2 tbsp freshly squeezed lemon juice (approx.) 22 mL
1/4 tsp cayenne pepper 1 mL
1/4 tsp freshly ground black pepper 1 mL
1/3 cup vegan butter, melted 75 mL
1. In a blender, combine almond milk, tofu, black salt, nutritional yeast, mustard powder and turmeric. Blend on High until smooth. Add lemon juice and blend until smooth. Add cayenne and pepper; pulse until well combined.
2. Remove the plug in the lid. While the blender is running, slowly add vegan butter through the hole in the lid and blend until smooth. Check the taste and consistency of hollandaise and adjust salt, pepper and lemon juice, if necessary.
Hack It!
To ensure that the butter does not separate from the rest of the sauce, you want to make sure that you are adding melted vegan butter at a comically slow pace. If you think you're pouring slowly, go even slower.
Hollandaise is a very versatile sauce; as well as Veggs Benny, it tastes fabulous on top of our Better Than Eggs: Tofu Scramble, in The All-Day Breakfast Sandwich, drizzled over veggies or even as a dip for Potatoes Served in the French Manner.
The hollandaise sauce will keep for 5 days in the fridge and for 1 month in the freezer. It can easily be reheated on days that you're feeling extra lazy. To reheat, whisk in a small saucepan over low heat for about 5 minutes, until heated through.
Check out the cookbook by Candice Hutchings here.