So you're inspired to take a trip that is all about you, a loved one, the love of art, or just to incite some inspiration upon your soul. Italy is the place to go. The entire country oozes romance and sophistication, but in this article I will be visiting two major cities that you are required to visit to induce these aforementioned feelings. This is a Torontonian's guide to a five star experience that is sure to change your life.
Start with Rome
Whether you enjoy history, art, gelato, fresh pasta, or all of the above. Rome, the eternal city, cannot be missed on your trip to Italy. You can sense, breathe, the magic of Rome in every piazza, every large monument as history and culture reveal themselves in the forms of majestic architecture, fountains, cobblestones, piazzas, restaurants, language, and especially people.
Do
Visit the tourist sights if only in Rome for the day. Vatican City: climb to the top of the stairs at the Saint Peter's Basilica and see the splendour of City of the seven hills, as Romans named it, from heights you never thought you'd see or feel.

Throw a coin into La Fontana di Trevi (insert Dolce Vita scene here) and make a wish. Why not take a crazy chance?

Visit the "Queen West" of Rome, the exciting Trastevere full of cool, buzzing underground bars, nightlife, shops and restaurants: Bar recommendation: Freni e Frizioni

Take a stroll and go window shopping from Piazza del Populo on Via della Croce, via del Babuino and see shops of all famous Italian designers: Armani, Dolce and Gabbana, Fendi, Valentino

Try the underground rail system to get around, but watch your pockets.

Try a

free walking tour
Don't
Get tricked by tourist trap restaurants because you'll eat the most disappointing plate of pasta you've ever had in your life.

Keep your personal documents, money, and valuables in an outside pocke.t

Stop for people with petitions.

Take pictures with Roman Centurions or borrow their helmet.
Where to stay
The best hotel in the city, hands down, is the Palazzo Manfredi, Via Labicana, 125, 00184 Roma. This five star boutique hotel offers it all, excellent location, a Michelin star restaurant, views on views, and most importantly the most comfortable sleep you'll have. It's truly a place that reminds you why you went on vacation in the first place. The hotel is owned by the Manfredi family and is part of the Relais & Chateaux group.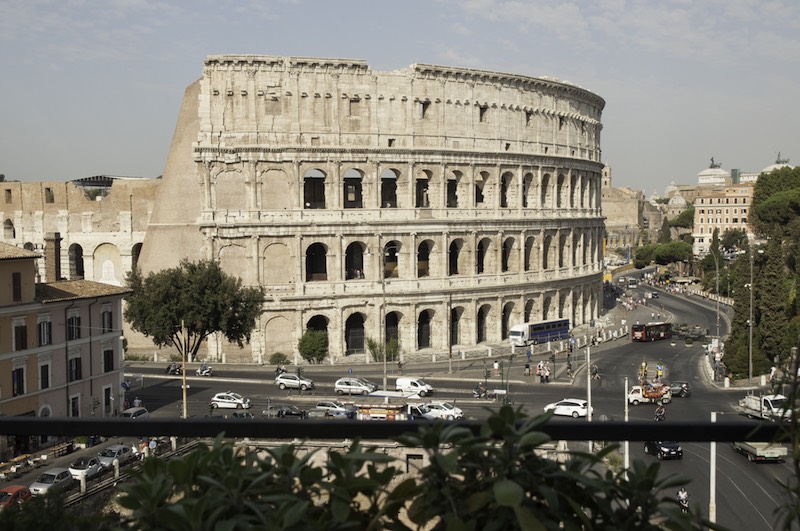 The details and design of this hotel offer that 5 star, lux feel. From the Bose sound system in the hotel room to the plush slippers, faux fur blanket, Aqua di Parma toiletries, HDTV (yes, with English channels), down pillows, gigantic bathroom, LEDs in shower, Roman wallpaper.
Each room in the boutique hotel is different – think Gladstone hotel vibes. You never know what you'll get but it will always be spectacular and well thought out. It feels like you're staying in your benevolent yet wealthy Uncle's home. The staff is friendly and caters to your every need with a smile.
With every step you take in the beautiful hallways, the suspended chandeliers gracefully sing a soft song of welcome. Not to mention it's got a view of the most iconic landmark in the city, the Colosseum. This is the perfect hotel for any special occasion (I got engaged here and I would highly recommend it to celebrate any romantic occasion).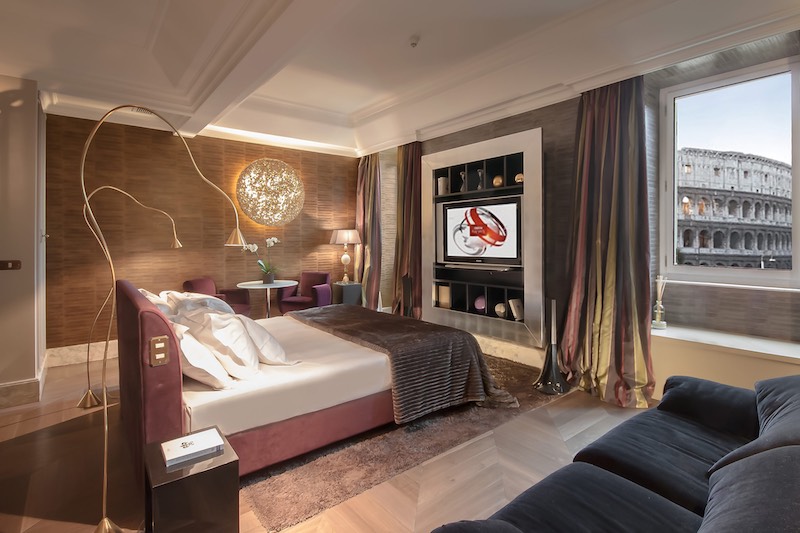 Views and Eats
If you're staying at the Palazzo Manfredi, it is imperative that you do the Palazzo Manfredi Ristorante Aroma tasting menu. The restaurant is located on the rooftop of this epic building at the corner of a street with ancient ruins and, of course, is overlooking the Colosseum (as most rooms do).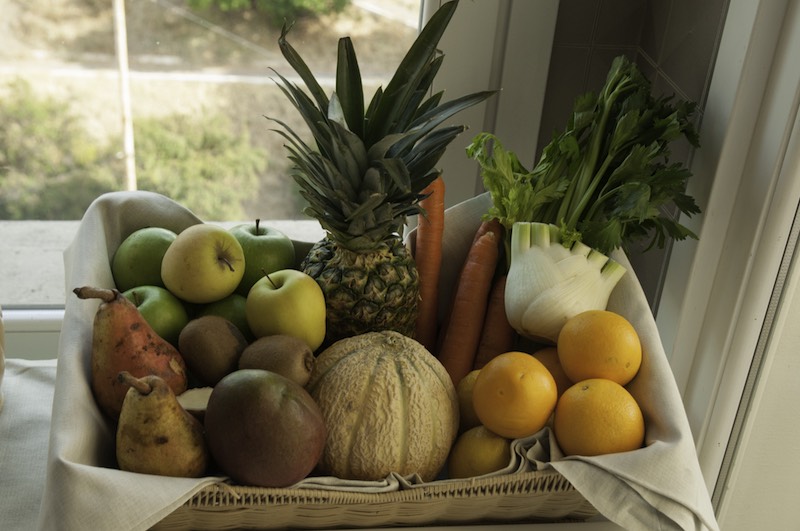 Book directly through the Palazzo Manfredi website in order to get the best rates. Be sure to check out their social media @palazzomanfredi for updates and promos.
Next Stop Venice
It won't be around forever. The art capital of the world has known to see a flood or two and the city may be sinking. When that will happen is a mystery to science and researchers worldwide, but I highly recommend getting over there as soon as possible to marvel in the ancient Venetian beauty and fall in love over and over again.
The city, though commonly misrepresented as a tourist trap, has so much to offer. Art buffs will get a kick out of the Venetian and Byzantine architecture, museums, galleries, and shops. A former city-state, Republica di Venezia, today, Venice is still preserving its own identity, thriving with a culture that lives separately from the rest of Italy.
Featured in many movies (The Talented Mr. Ripley, Casino Royale, The Italian Job and many more) the beauty of Venice is seen across the globe and remains a city of romance par excellence. Film buffs strive to reach the Venice International Film Festival every year, as it is likely the most beautiful location for a film festival in the world.
Not many people know the story of Il Ponte dei Sospiri, the Bridge of Sighs. The naming of bridge came from Lord Byron in the nineteenth century, inspired by local folklore. The view from the Bridge of Sighs was the last view of Venice that convicts saw before their imprisonment. As the story goes, the prisoners would sigh at the beautiful view that they will never see again.
Do
Use public transportation (which is in the form of a large boat) Get day pass to hop around the city

Use Tripadvisor to find local gems. There are many tourist-trap style restaurants that will prove to be quite disappointing. Tip: look at the photos

Take the public gondola across the canal (be sure to tip), the drivers may laugh at you so try to stay quiet

Visit Mercatinis on Saturdays and Sundays for the local markets including clothes, food, and knickknacks
Don't
Take water taxis; they will gouge you with rates ranged from 60 to 200 euros for short trips across the canal

Book flights to / from Treviso airport, try the closer airport Marco Polo instead for reduced costs and faster commute

Try to walk from the train station to your hotel with your bags. You will regret it. Venice is full of stairs and bridges so it's never a smooth, direct walk as the map may tell you.

Get caught in the rain without an umbrella, when it rains, it pours. Check the weather forecast and be prepared by grabbing an umbrella or two from your hotel.
Walk the streets like a true Venetian and head to Piazza San Marco, the largest and main piazza in Venice, otherwise known as St. Mark's Square. This main square will give you a glimpse of mesmerizing Venetian design and architecture. Use Google Maps but don't trust it 100% and do keep your eyes open and use your judgment because the laneways can be tricky.
Where to Stay
Venice's best kept secret is yet another romantic Hotel Palazzo Barbarigo. With six rooms overlooking the Grand Canal, this boutique hotel will give you the most accurate Venetian experience without gouging your wallet or patience. Located minutes from Campo San Polo in a very unique location, walking to the hotel is like escaping Venice itself only to re-enter and be welcomed with open arms.
The building itself is from year 1500. A ton of time and money was put into restoring the building to the five star establishment it is today. Hotel Palazzo Barbarigo is the first hotel in Venice to feature contemporary colours like black, gold, and red yet remaining classically Venetian in its design. It is very rare to find restoration that blends so seamlessly with the classic antique designs. Art restoration is very specific to this city and in the hotel library you can find one of only three original vaulted ceilings which is a site to see. The Venetian design reads beautifully without being literal.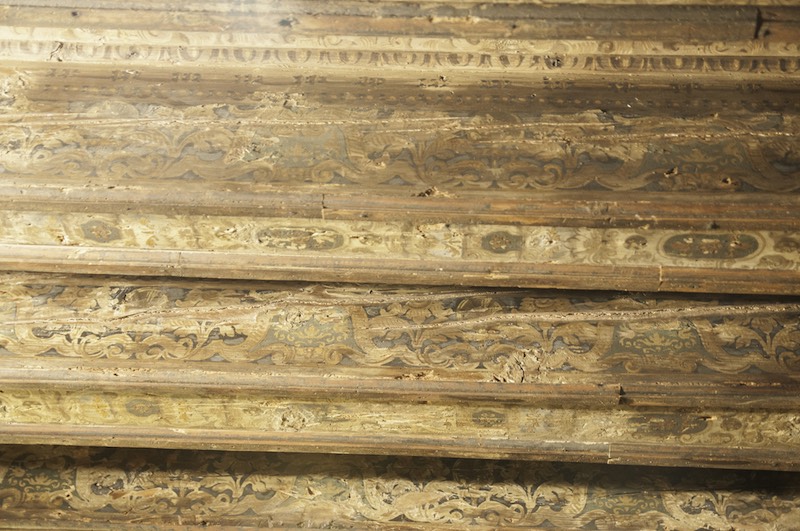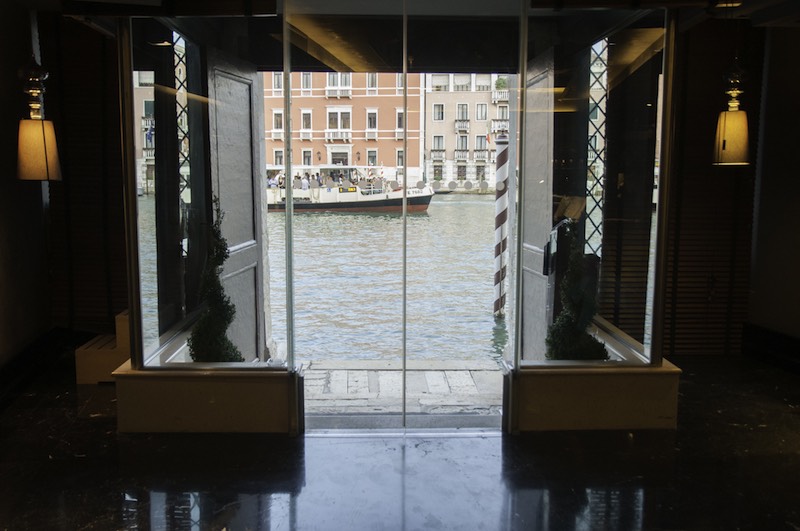 With only 18 rooms and a family-like team, Hotel Palazzo Barbarigo comes from Barbarigo's House of Doge and has a luxurious yet very relaxed environment. For instance, breakfast is offered from 7am to whenever… literally they will serve you whatever you want at any time you get up because they understand people want to sleep in on vacation.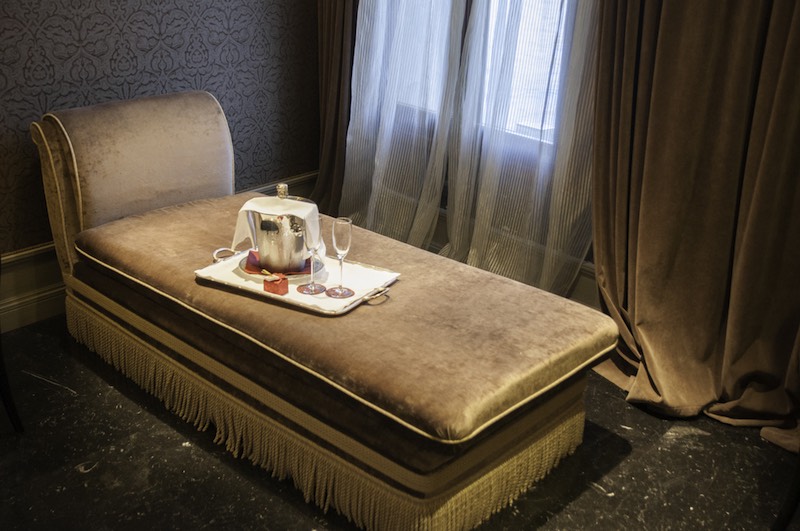 At Palazzo Barbarigo all you have to do is open your window to feel immersed in the timeless energy on the Grand Canal. Sit on your windowsill and bask in the everlasting glory of art, history, and culture splashing up on your hand. Write a poem, paint a picture, and become an artist in a hotel that inspires in every single detail.
Again, I highly recommend you book directly from the website to save. For further savings try promo code CLUB01 for a secret discount off your first visit!  Follow @hotelpalazzobarbarigo for updates.
Restaurant recommendation: Trattoria Pizzeria Da Gioia – ask for Mimo.