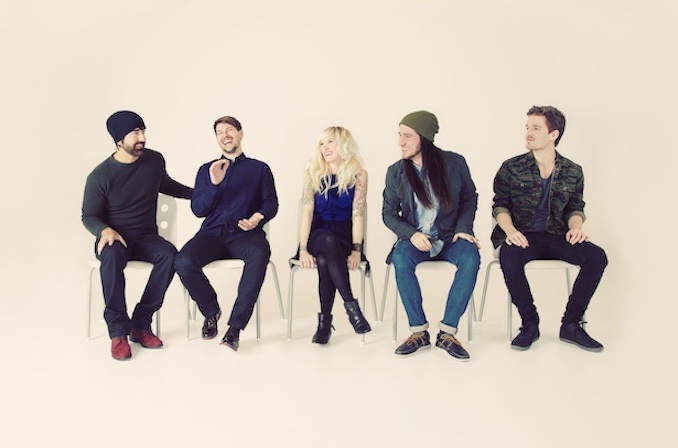 Walk Off The Earth has used social media, specifically Youtube videos, to build a solid fan base. It was their Youtube cover video of Gotye's "Somebody That I Used To Know" in early 2012 which went viral. The video had about 120 million views within only four months and the concept was creative as well: all five band members were playing on one guitar.
Walk Off The Earth (WOTE) had been a band for about eight years and finally decided to focus on their youtube videos, including cover songs, instead of performing only live shows. They 've hit the mark and look at where they're at now; they've signed a deal with Columbia Records and they're touring the world.
In a time where Independent musicians have used the freedom of the Internet, WOTE has joined a major label to conquer a broader fan base. The band is continuing to make innovative videos, including covers and originals, and have recently teamed up with Patreon, a crowd funding platform so fans can contribute towards the making of more music videos.
I had a chance to chat with Ryan Marshall from the band about all the things Walk Off The Earth enjoys about Toronto.
Are you guys into camping?
I've done a fair bit of camping in my time.
Do you have a summer jam you've been listening to?
If I'm at the cottage I listen to The Tragically Hip, the entire time.
A sad song is usually easier to write than a happy one. What comes easier to you?
The easiest song to write is when you don't have to worry what its about, the hardest for me is when it HAS to be about something.
Do you consider your music falling within a specific genre or do you want to keep that open?
We don't make music with a genre in mind, if people want to put it in one I think that's cool, if not it's even cooler.
If you had to collaborate with one Toronto band, who would it be and why?
Tegan and Sarah may not be a Toronto band, but they are Canadian and I've been a huge fan of everything they've done for almost 10 years.
Does the band all live together in one house?
HAH!! NO!
Where was your first Toronto gig?
Our first toronto show was at The Horseshoe Tavern on bookie's new music night back in 2007
Here's the video that started it all:
Top 3 artists that have inspired you in your life?
Bob Dylan and both of my Grampas
What do you think of physical vs digital album sales? Do you have a preference? Any thoughts for the future?
I think its great that Vinyl is popular again, its a great way to listen to music, at the same time i enjoy having all my songs on my iphone
Random Rapid fire:
Sneaky Dees Nachos, Hey Meatball Spaghetti or a Superfood Salad from Fresh? Sneaky dee's
Favourite place to eat in Toronto? Ceili Cottage
Favourite thing about the city? Ceili Cottage ?
Favourite hang out in TO? Ceili Cottage!
Queen or College St? Queen
Trinity Bellwoods or Highpark? I wouldn't know LOL
Early bird or night owl? Both
Road or studio? Both
What's next for Walk Off The Earth?
Up next will be our second album with Columbia records, as many youtube videos as we can squeeze out of our brains and traveling the world playing for the best fans on the planet…wotelings.
Walk off the Earth will play the 1st Annual Muskoka Sound Music Festival tomorrow night – Friday, September 12 at 9:30pm. The full festival takes place between Sept 12-14. Other performances include  Skydiggers, Wordburglar, The Trews, Mother Mother, Shad, Serena Ryder, Monster Truck, Buck 65, Yukon Blonde, Grand Analog, Paper Lions, Hawksley, Workman, The Strumbellas, The Beaches, Dear Rouge, Sam Cash & The Romantic Dogs, and HIGHS.
Tickets: Limited Three-Day Festival Pass only $99 // Friday-only Pass $50 / Saturday-only Pass $60 / Sunday-only Pass $40