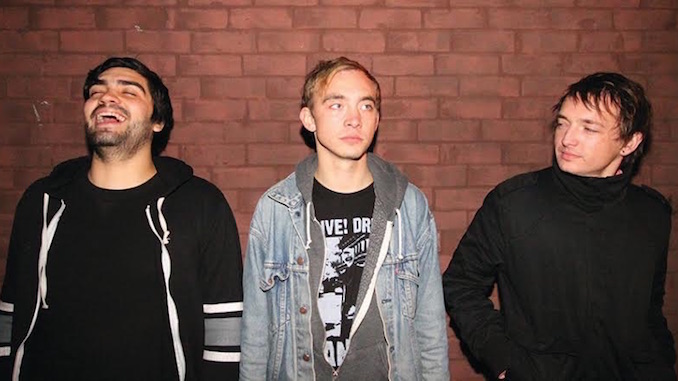 What do you get when you have two brothers and a good friend who love to play music together? With one part passion for playing music and and one part touring until the wheels fall off, you are bound to get something special. It is a simple makeup for local punk band Life in Vacuum, and they make it work.
The band recently came off an American tour, performed some hometown shows and have got some real momentum going. Bands come and go but these boys have the heart to stay in it for the long haul.
Formed in 2006, brothers Sasha and Ross Chornyy moved to Canada from Ukraine and found Dylan Bravener to form the last piece of the puzzle.  The band has recently released their LP "5" via New Damage Records, and plan to release a new single soon as well. I spoke to drummer Ross Chornyy about the band's new album, tour life and all the things they love about Toronto.
Congrats on the new album. Tell us about the recording process.
We drove down to Athens GA and recorded for 2 weeks with our pal Mike Albanese of Cinemechanica who was an influence for a long while.
Were the songs on the new album a collection you've written over the past few years or were they created specifically for this album?
We always write songs , when it comes to a new release we sort of pick  the ones that go together .
How long have you been playing music? What keeps the fire going?
Been playing since early teens. 15 years later I don't really know what else to do with my self.
Watch the video for "1984" below, inspired by George Orwell. Art and video by  Life in Vacuum's Sasha Pomelo.
What first inspired you to play music?
When i first saw my brothers band i knew i wanted to play drums.
Sasha plays guitar through a bass amp…nice. Why?
Why not ? ?
Do you incorporate any covers in your current live set?
Nope
If you had to collaborate with one Toronto band, who would it be and why?
Metz. Been fans of the band for years. Used to play our bud's house in Kitchener. Energy bud!
What's your favourite song you've ever written?
They all are our babies.
What do you do when you're not doing anything musical?
Hang out with my cats, read obscure physics books.
Top 3 artists that have inspired you?
Drive Like Jehu
At The Drive In
Refused
Favourite place to eat in Toronto?
Grasshopper
What do you think of physical vs digital album sales? Do you have a preference? Are CD's done?
Vinyl
Rapid fire:
Sneaky Dees nachos, Hey Meatball spaghetti or a superfood salad from Fresh?
Salad
Queen or College St?
College
Trinity Bellwoods or Highpark?
I like both for different ocasions.
EP or LP?
LP
Early bird or night owl?
Night
Road or studio?
Road
What's next for Life in Vacuum?
Venturing outside of Canada and USA
You can catch them  live in Toronto on May 16th at SoyBomb in Toronto with special guests Pile, Animal Faces and Worst Gift. You won't regret it.