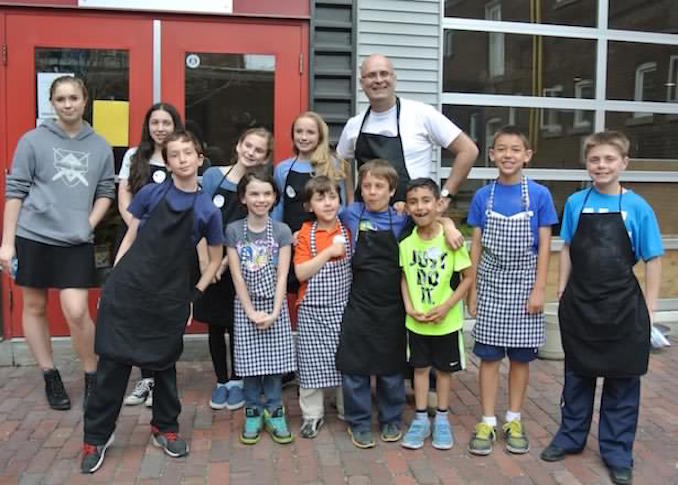 I was introduced to the not-for-profit organization Kids Cook To Care about a year ago. A friend of mine who is a food writer mentioned it to me in passing. "I think your son would be interested in this," she said to me knowing how much he loves food and cooking. At the time, it was recommended for personal interest and not as a pitch to write a story.  I had asked my son if he would be interested in checking it out and he definitely wanted to be involved. This was something he could do that combines his love for cooking and helping others.
So, when I did a little research, I had discovered that the organization has been bringing together chefs and kids to cook "community meals" for those in need since 2009. Co-founders Jill Lewis and Julie Levin wanted to create opportunities for kids to 'give back' and expand their world through the knowledge of food. The charitable organization focuses on kids ages 6 to 16 showing them that through food they can make a difference in the world.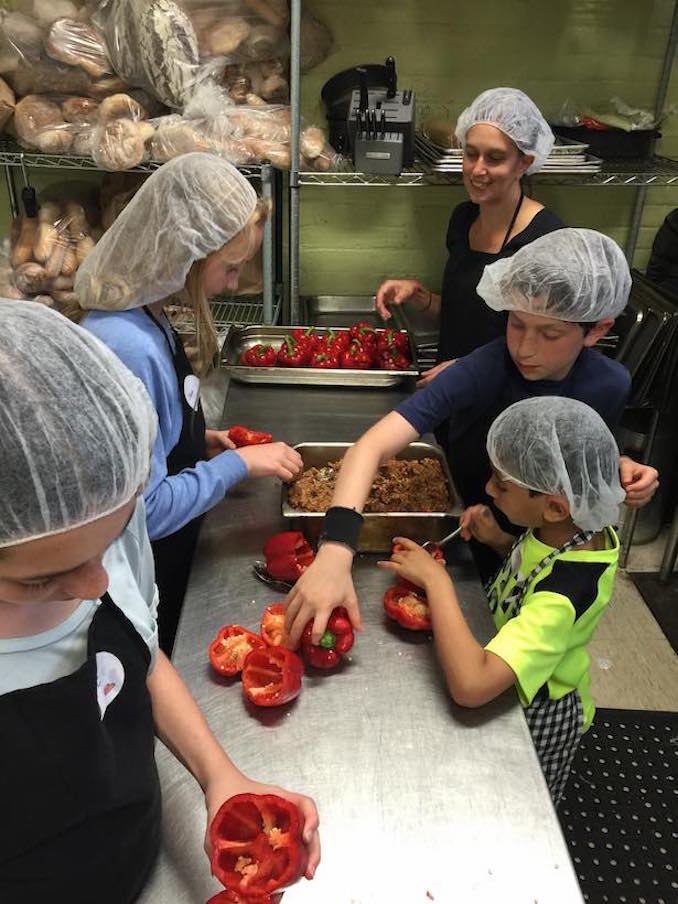 This organization is unique in somehow snagging some of the city's most well-respected chefs including David Lee (Nota Bene), Carl Henrich (Richmond Station), Rory White (RCYC), Rocco Agostino (Pizza Libretto), Trish Magwood, Jerry Meneses (Cumbrae's) and then throwing them into a unfamiliar kitchen with a dozen or so kids. Having met a few of these chefs I know that this experience has been one that is rewarding in so many ways.
At at a recent event with KCTC, I asked Chef Peter Minaki (chef, caterer and author of The Big Book of Mediterranean Recipes and The Everything Mediterranean Cookbook) why he decided to be involved. I mentioned, it can't be easy to be in this situation and would take a lot of planning. "We are cooking for people and we all have to remember that we could all be in their in their situations,"said Chef Minaki. "Kids will be kids and they are fun to be around. I'm happy to teach them a little bit about greek cuisine in the kitchen and this is a great opportunity for them to see that eating healthy is important for everyone, no matter what."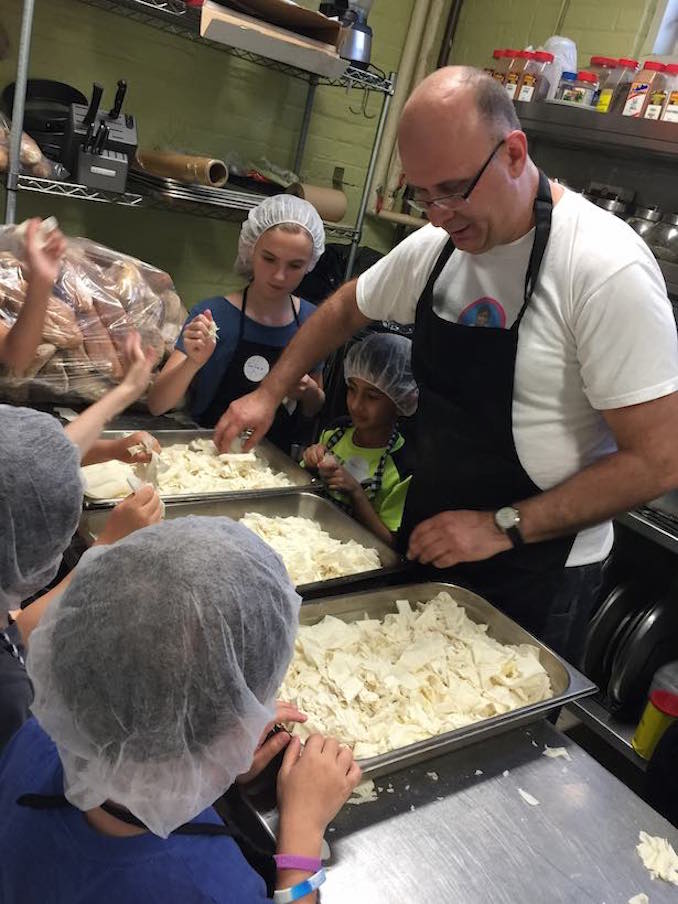 That's the sense I get from the chefs I had spoken with in the past who've been involved with KCTC by the way…the chefs volunteer their time to create a menu, shop, prep, and lead the kitchen. Chef Minaki prepared a wonderful greek meal including Stuffed Red Peppers, Greek Salad and an easy but delicious Portokalopita — orange pie made with filo pastry and recipe is from his cookbook!
Parents  register their child online and once a space opens up for volunteering the parents are asked to make a donation to help cover some of the costs of ingredients. The community meals are held once a month during the school year at pre-approved locations including community centres and shelters. Kids help in the meal preparation and serving to the guests with supervision by the chef and parents. At the end of the evening, kids get to sit down together often with the chef to also enjoy the dinner.
At the recent event, the kids were given an eye-opening tour of the shelter's living spaces that support temporary and transitional needs of the community. A room that holds 30+ beds was the starting point. The amount of beds in a room seemed to surprise some of the kids.
Community cooking events are not just the only way kids can get involved. During the holiday season, there is a beautiful cookie program that has been inspiring kids to take their baking efforts into their own communities. This coming fall, a special kid ambassador program will also expand the innovative programming. Stay tuned!
I've fallen deeply in love with Kids Cook To Care because it balances the understanding that we have a responsibility to help our communities —  to not only talk about respect and helping others, but we need to show our kids how to take those steps.
For more information, visit their website and follow them on Facebook.