Skylark is a Toronto-based charity dedicated to serving children, young people and their families who are struggling with complex mental health and developmental needs.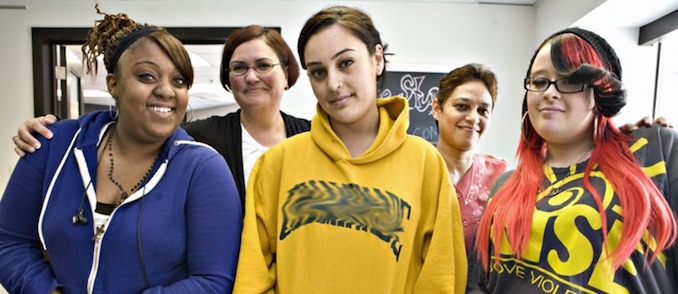 Describe your charity/non-profit in a few sentences.
Skylark is a Toronto-based charity dedicated to serving children, young people and their families who are struggling with complex mental health and developmental needs. We offer a variety of services to suit different needs to enhance young people's wellbeing, increase their capabilities, and build resilience. Free individual and family counselling addresses a range of mental health issues including anxiety, depression, family conflict, social isolation and bullying. Young people or their families can just come into one of our two Walk-In Clinics – YouthCan and 'what's up' Walk-In; no health card or appointment is required. 
What problem does our agency aim to solve?
During teen years, many different challenges emerge and if not dealt with, they can get worse.  The types of challenges and the severity of the challenges vary.  For some youth it is dealing with the normal developmental, cognitive and social changes going on in their lives.  For others mental health issues like anxiety or depression begin to emerge or intensify.  These changes can lead to more conflict between teens and their parents.
Skylark's goal is to provide the right service, in the right amount at the right time.  Youth and/or their families should be able to talk to someone quickly when they need to.  Sometimes just one session is all that's needed.  And if more is required it should be provided. 
How did Skylark come to be? 
Skylark was born from the merging of Delisle Youth Services and Oolagen Youth Mental Health in 2016.  Today, Skylark is a community of services with more strength and depth to help more children, young people and families get the help they need, when they need it and realize their full potential. 
What was Skylark like in the past and has it changed since?
In the past, we were much smaller as an organization with fewer programs. "Today we offer a range of programs from a drop-in Studio to counselling to in-school day treatment. And we have programs that ensure access to services for children and youth needing residential treatment or who have complex special needs that the community had difficulty providing.  Youth are involved in designing programs, hiring staff and helping to make sure that what we do works for them.  
We are a merged organization offering more programs and many ways for young people and their families to get what they need." – Enid Grant, Senior Director, Children's Mental Health
What made you want to get involved?
Every staff member and volunteer at Skylark is dedicated to help serve children, young people and their families struggling with complex mental health and developmental needs. 
From the words of Enid Grant, Senior Director of Children's Mental Health, "I have been at Skylark (Delisle before the merger) for 10 years.  I came to this organization because of the great staff and the innovative approaches to solving problems.  People were passionate about the work to be done and were grounded in the belief that the youth and their families that we work with are strong resilient people." 
What more needs to be done?
"There are not enough services to meet people's needs.  At the community level, we need more walk-in clinics which can provide integrated services like mental health, substance use, employment, education and housing because so many times these things are connected." – Enid Grant, Senior Director, Children's Mental Health
The biggest challenge is for youth and families to access the right care at the right time in the right place that is seamless. That is what we strive to offer at Skylark as we bring together children, youth, families and community partners to create positive change. The Scotiabank Charity Challenge is an opportunity to bring awareness to Skylark within the Toronto community. 
How can our readers help?
Stay up-to-date with our website and social media platforms to learn more about what we do through our programs and what we have to come in the future. Our website will also have updates on any upcoming events to be involved in as a volunteer, as well as the ability to gift a tax deductible donation towards our programs and services. 
Do you have any events coming up?
Skylark took part in the Scotiabank Charity Challenge at this year's Scotiabank Toronto Waterfront Marathon on October 21st. All funds by those representing Skylark will go towards our free and accessible counselling programs. This year, our goal is to raise $40,000, which is equivalent to 400 hours of free and accessible counselling for young people and their families. 
Check out our website for more information on our events for 2019 and if you're interested in collaborating with Skylark on a special project, please email our Senior Director of Fund Development and Marketing, Deb Greenfield at fundraising@SkylarkYouth.org.
Where can we follow you?
You can follow us on our Facebook at Skylark Children, Youth & Families, as well as our Twitter @SkylarkYouth.  We also have a YouTube channel with some videos about our programs and services, as well as some client stories.