There's a small but mighty restaurant that is hidden in plain sight. Not difficult to find given the name of the restaurant is also the address, 20 Victoria. The historical building itself was build in 1910 and was formerly the Imperial Life Building and solid to the core. But now, it's catching the attention of serious food lovers near and far.
I had circled in there several times with friends and for a date night hubby — it's a GREAT date night spot, by the way! Each experience grounded in a way that makes you appreciate the art of fine dining — minus the stuffiness and attitude. Charmed is an understatement.  It's intimate in such a way that you feel connected to the food and the people. They want you to savour every morsel and every moment. If mindfulness was a term used for dining,  20 Victoria definitely tops the list. Everything from where ingredients come from to the music to the space itself and the staffing is thoughtfully brought together. And speaking of lists, this restaurant has quickly earned its way to several "Best Of" categories both locally and nationally.
The coveted Canada's 100 Best Restaurants recently awarded 20 Victoria eleventh place on the 2023 list and it also made the Michelin Guide recommendations for Toronto.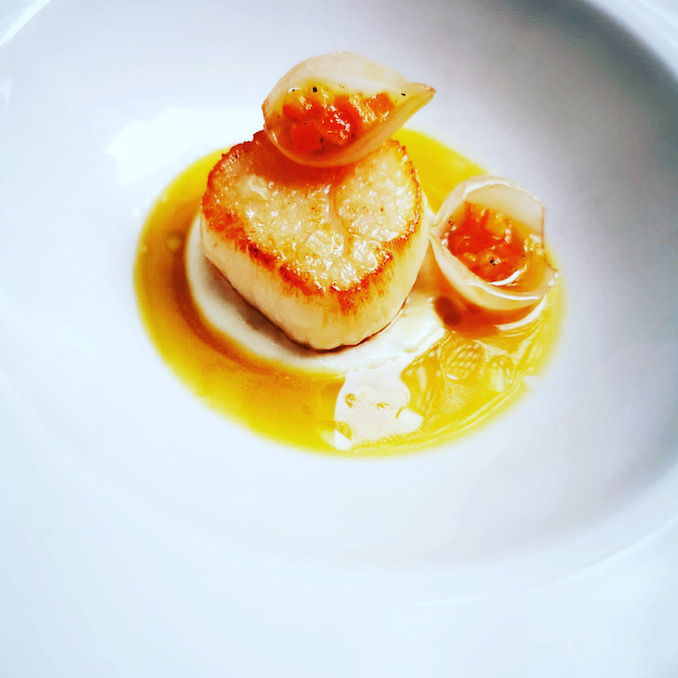 Julie Hyde leads the kitchen (formerly Brothers Food & Wine). She's also has worked in Michelin-starred establishments including Alain Ducasse's The Dorchester in London. While she lead the kitchen it's very clear that this is a team effort and what a team it is. What's that saying? Team work makes the dream work. And this dream has lead to 20 Victoria consistently earning accolades and high praise from industry and patrons alike.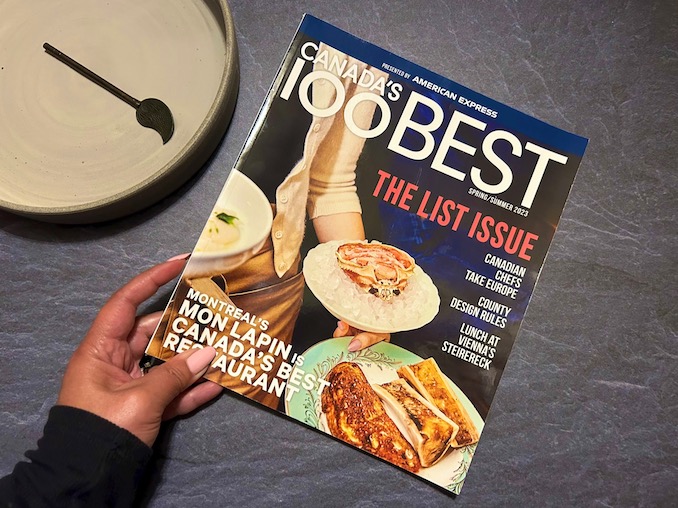 We had the opportunity to check in with owner Chris White recently to learn more…
Being recognized amongst the best in the country is an honour but as a small restaurant, what does this sort of accolade mean for you?
Chris: It means the world to us, hopefully it is encouraging to the next generation of hospitality professionals.
20 Victoria seats 24 people in the dining room nightly — are you ever tempted to expand? 
Chris: Our intention is and was specifically to host people in an intimate environment, the size and spacing of our dining room & bar are purely romantic. 20 Victoria will remain the size it is.
There is a genuinely welcoming vibe to 20 Victoria. What other feedback have you experienced from your clientele?
Chris: We are blessed with engaged & active dinners who appreciate our relaxed pacing and feel. There are certain standards within traditional "fine dining" we embrace & lots we leave in the past; we collectively believe in the ceremony of dining, but we work hard to remain our authentic selves.
Many restaurants tout supporting local but we know it's more than just a line here. So, tell us what does that mean to you?
Chris: We are certainly not as militant as some of our peers (lemon and olive oil will remain essentials in Julie's cooking), but so many of our peers are now growing top-shelf produce and it is very exciting to be in a position to be looking ahead with them, planning upcoming seasons, searching for new varietals, it's really a huge joy for us. We work closely with a few farms and remain proud 100km partners, but we have a particular affection for WhiteLilly Farms in Uxbridge. Ben & Ashley operate a perfect diner in Leslieville and started a small farm just before the pandemic, we have all worked together in the past and it has been amazing to see what they have accomplished over these last few years. As well as being a top-notch chef, Ben is growing some of the nicest vegetables in the province.
The restaurant continues to evolve and bring something refreshing to the clientele. Can you tell us about the direction 20 Victoria is going?
Chris: It's funny we have been working on this restaurant since 2018 but I feel we are still in our infancy, still finding our place. It has been amazing to watch Julie run her first kitchen and step up to the plate in such a big way, her cooking continues to progress. As we move past the new restaurant phase it will be exciting to dedicate more space and time entirely to the offering, what we define as our best work and how we can progress while remaining a relatively relaxed environment.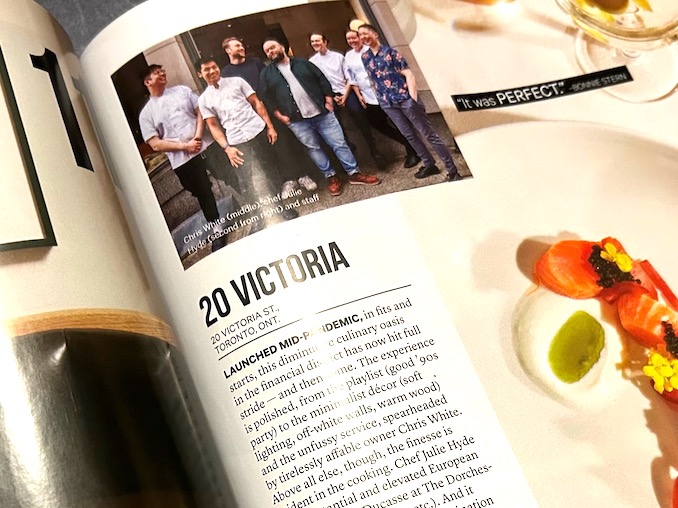 What encouraging advice would you give to other small restaurants to  keep pushing forward?
Chris: Remind yourself of your initial intentions as much as possible while remaining open to change.  Also drink water.
If you could have given yourself advice 5 years ago about the hospitality industry what would you say?
Chris: A worldwide pandemic will happen in the spring of 2020.
It takes a village to create the dream team and we appreciate every person at 20 Victoria. Tell us about the staff?
We are quite the group,
Julie – Boss
Danna – The Oracle
Richard – Delightful
Oscar – Tall glass of water
Luke – A manifestation of Julie's immediate needs
Theo – A manifestation of Julie's immediate needs
Ted – Real New
Toni – Liquid asset
Chris – Maniac
To read more about 20 Victoria's well deserved spot on Canada's 100 Best Restaurant list and to discover who else made it, visit the site here.