Swedish sisters Johanna and Klara Söderberg have been performing as First Aid Kit since 2007 – the name, the story goes, lifted from an English dictionary at their home in Stockholm.
They've teamed up with the likes of Pink (2023's "Kids In Love") and Bright Eyes (2011's "We're Going to Be Friends"), and have been featured on the soundtracks of the Jean-Marc Vallée-directed Wild (2014) and in various TV series and video games, including Canada's own The Long Dark. In 2017, following the death of Leonard Cohen, they convened a tribute concert in Stockholm, later released as the live album "Who By Fire". They've won a plethora of Swedish "Grammis" and Brit Awards, but have shockingly been overlooked by the Grammys. You probably know their music: "My Silver Lining" was something of a sensation when it released in 2014. (Here's a jaw-dropping video of some dude paragliding to the tune.)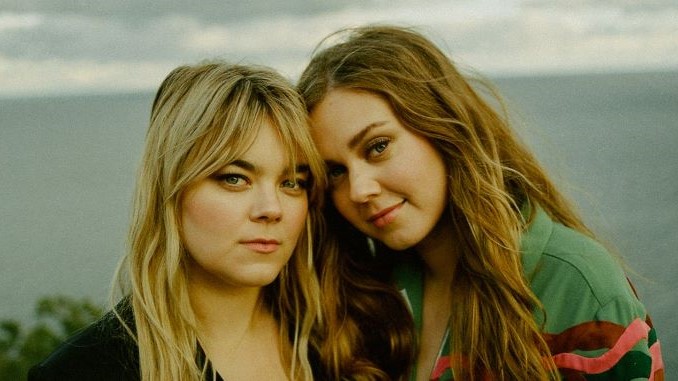 FAK's return to Toronto after five long years featured the band at the top of their game. From the opening numbers off new album Palomino, through a few rarities – the fantastic "It's A Shame", from their 2018 album Ruins, which only entered their live rotation just last week – and even a world premiere, "Child of Summer" off of Palomino Deluxe (2023), the concert was a start-to-finish showcase for their particular brand of folk/country fusion.
The sold-out crowd clearly agreed, with rapturous applause greeting the start and finish of every song, and more than a few diehards singing along to every song, even the largely forgotten (but excellent) "Ghost Town" from their debut album, 2010's The Big Black and the Blue.
The real showstoppers were, of course, the ones that have already worked their way into the near-mainstream (see: all those movies and video games and TV commercials FAK's songs have shown up in). And so: "Emmylou" (this writer's favourite) saw the sisters step back from the mic for an audience singalong, while fellow tracks "The Lion's Roar" and "King of the World" from The Lion's Roar (2012) were just as crowd-pleasing as the last time I saw them performed, in 2018.
The highlights of the evening came from two, relatively unexpected, areas.
The first highlight was a mini-acoustic set, Johanna and Klara at the mic with only a guitar, performing three songs at about the halfway point of the concert. That mini-set included the aforementioned early single Ghost Town, a deeply heartfelt rumination on ageing and lost love – all written, it should be noted, by a pair of teenagers back when they were still hanging around their parents' house in Stockholm.
The second, delightful, surprise was the band's willingness to perform covers of other artists. Anyone who knows me knows I am a huge fan of cross-cultural pollination, so I was genuinely moved by First Aid Kit's performances of Fleetwood Mac's "Songbird" – in tribute to the late Christine McVie – and then, towards the finale, a rambunctious version of Willie Nelson's "On the Road Again". Disappointingly, however, despite being in Canada – and despite recording a whole album of Leonard Cohen covers last year – the set list included no Cohen. (I did, however, pick up on a handful of Cohen references in their lyrics that I hadn't noticed before, including a "Blue Raincoat" and that "Whole Mountainside" which Cohenites are familiar with. Credit goes to the venue, History, for its fantastic acoustics that allowed the songs to come through with such clarity.)
The concert ended, as it must, on "My Silver Lining", with a genuinely crowd-pleasing performance to usher the crowd on our merry way. (Oh, and as the lights came up, some Abba piped in over the speakers. Because what's one Swedish concert without a hat-tip to those other Swedes?)
***
Check out the latest concerts at Toronto's History venue, here.
For all things First Aid Kit, including their latest 2023 release Palomino Deluxe, click here.