Toronto's Naomi Snieckus has been busy. On top of her miniseries The Blaze Sessions with cohost Amanda Brugel (Handmaid's Tale, Kim's Convenience), she is on a BBC show called Popularity Papers, voices several cartoon characters and has a play coming up in the fall. We got to speak to her to find out more about her.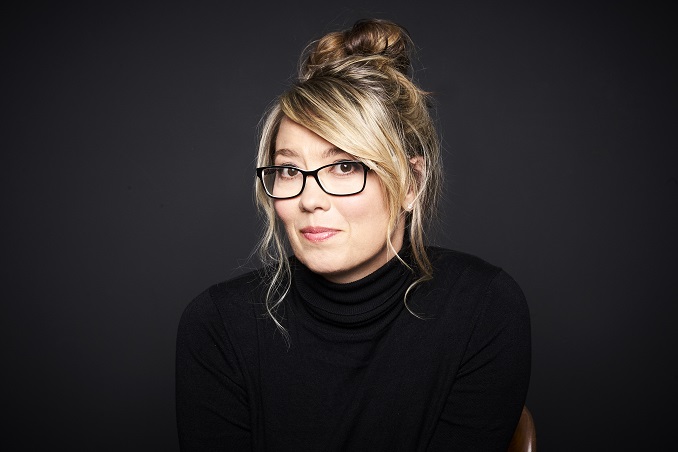 How would you describe your comedy style?
Comfortably awkward.
Who are some of your influences?
I have, and always will love, Catherine O'Hara, and Andrea Martin, Steve Carell, Jennifer Coolidge is delightful, I love the subtleties of Phoebe Waller-Bridge, and of course, my greatest influence will always be Matt Baram.
Who was your favourite comedian growing up?
As a family, we watched SCTV and so all of those comedians really set a foundation for my comedy.
What is your pre-show ritual?
Depending on the show, I like to play music, dance, connect with my fellow improvisers, and make sure my fly is up and I don't have lipstick on my teeth.
What is your favourite place you have performed? Why?
I've been lucky enough to perform on stages internationally. In Berlin at the Ratibor, in Oslo at Det Andre Teatret, and most recently at the Moment Festival in Vienna, which I will go back to this October. Not only are their stages so conducive to exploring physical improv, but their audiences are some of the best and most responsive to the art form. It's truly a pleasure. I would also say that my favourite stages are the ones where I get to connect with improvisers so, really any space! ❤️
What is your favourite bit you have written and why were you proud of it?
There were many sketches from my time at Second City that I am so proud of. All the sketches I did with my husband, Matt Baram, are incredibly special to me. The chemistry we have on stage is like nothing else, it's no wonder I married him! There is also a sketch called MSN (super retro, right?) in a show that was directed by Chris Earle. I performed it with Jim Annan and Lauren Ash. It was so grounded in reality and there was such play, so many surprises, twists and turns in that sketch that it was a pleasure to perform every night at Second City.
What is your favourite medium for listening or finding new comics/comedians?
There's nothing better than seeing live comedy. Whenever I travel, I try to go and see comedy in the new city I am in. Sharing a laugh with a room full of strangers is like nothing else!
Do you have anything to promote right now?
The Blaze Sessions is a miniseries presented by my company the Firecracker Department. I and my cohost Amanda Brugel speak to eight incredible women from our industry. They are like mini master classes.
I am on a show right now on BBC and White TV called Popularity Papers. produced by the fantastic folks at Aircraft.
Upcoming we will be doing a run of improvise plays by my company, The National, Theatre of the World-cofounded with Matt Baram and Ron Peterson. That will be in late September at the ArtsSpace on Shaw in Toronto.
I am the voice on a couple cartoons Disney Zombies, Building Brothers and in an upcoming series on Netflix called Madness. The NDA is pretty strict, all I can tell you is I get to bowl – if I told you any more, I'd have to kill you.
Where can we follow you?
Firecracker Department: Website | Instagram | TikTok | Twitter | Youtube
PAY IT FORWARD: Who is another local comic/comedian we should know about?
Nour Hadid – FABULOUS stand-up!
Allana Harkin – from Full Frontal and now directing.