Dani Pagliarello has written, directed, produced, starred in, and is the showrunner of three comedy series: Food n' Money, Shitty Roommate, and The Drop (a finalist in the Just for Laughs pitch competition). Since graduating with a BFA from York University's Acting Conservatory, she has performed in a number of television series and feature films including The Handmaid's Tale (Hulu), and Luckiest Girl Alive (Netflix). An alum of Women in the Director's Chair, she is developing her politically charged comedy O-Town, and is a 2023 recipient of the Independent Production Fund's development and packaging program for Trauma Bonding, a comedy about a psychiatrist who, after losing her practice, continues to treat patients… from her car. Dani's show running is reflective of the work she loves to see on screen – women directing high-quality comedy. She lives in Toronto.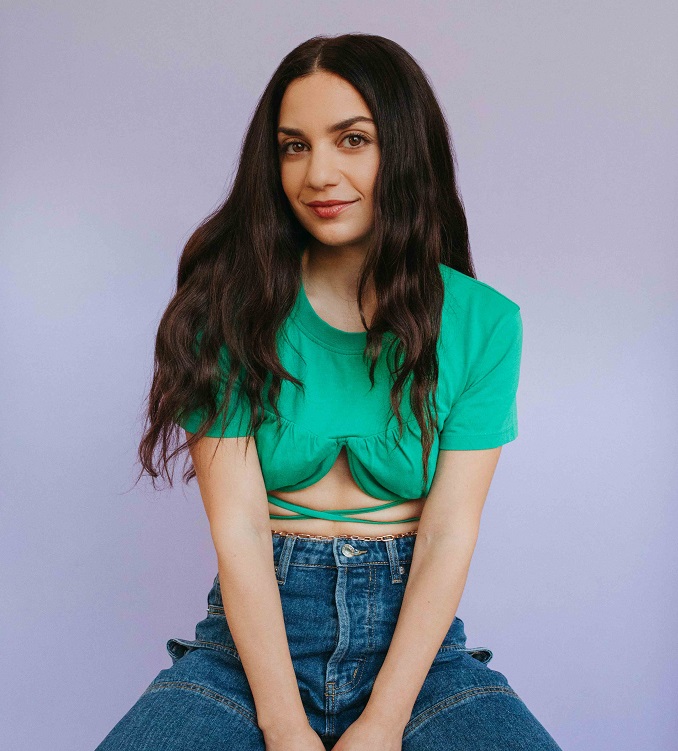 How would you describe your comedy style?
I've been told my comedy is provocative, edgy, and explicit. But I think I'm pretty damn classy.
Who are some of your influences?
My family watched mostly comedies growing up. Seinfeld and Fresh Prince were always just on. We still quote Austin Powers, The Wedding Singer, Billy Madison, and random SNL episodes (the 'Soaking Corks' sketch, anybody?) to this day. It made a mark.
Who was your favourite comedian growing up?
Julia Louis-Dreyfus and Adam Sandler
Who is your favourite comedian now?
Michelle Wolf, John Early, Patti Harrison, Tiffany Haddish, Steph Tolev… to name a few. They're all so outrageous and distinct in their comedic style.
What is your pre-show ritual?
I try to get as many high kicks out of the way as possible.
What is your favourite place you have performed? Why?
Comedy Bar. Felt kind of holy.
What is your favourite bit you have written and why were you proud of it?
A sketch called '40+ Year Age Gap and IN LOVE' on my YouTube channel. I enjoy playing women of a "vintage era" because if I'm lucky I'll make it to 90 (and be in a relationship with a much younger man) like in that sketch.
What is your favourite medium for listening or finding new comics/comedians?
I love an Instagram or TikTok clip – a visual is great because physical comedy makes me cackle.
Tell us a joke about your city.
Toronto is a lot like an unstaffed escape room – no one's here to help, the fun is long over, and I can't get out. Bonus Joke: "We keep on waitin', waitin', waitin' on the Mayor to changeeeee"
Do you have anything to promote right now?
THE DROP – a new comedy series dropping on Narcity's YouTube Channel. I co-created the show with my pal Aisha Evelyna. We play two professional line waiters living in Toronto who are hired by the city's ELITE to wait in line for luxury streetwear and other wild product drops. Every episode is a new line, and every line is a new adventure!
Where can we follow you?
PAY IT FORWARD: Who is another local comic/comedian we should know about?
Stand-up comedian and writer Allie Pearse. I stan her! And Canadian comedic duo Amy Goodmurphy and Ryan Jason Steele. I die laughing when I watch their sketches. Just die.