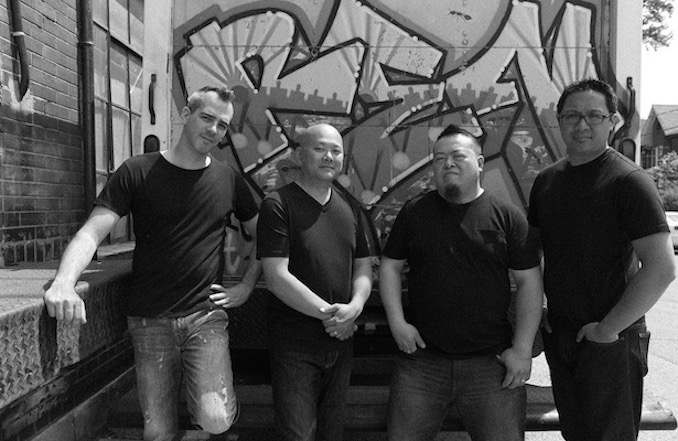 Sourcing out passion in people is like a hobby of mine. When I had heard about this local a cappella group, After Hours, it was obvious that this group of guys just wanted to sing their hearts out. One member I had met was pretty quiet so I was pretty taken back at first. Music can bring out a whole other side to us and I know it takes a lot of courage to be singing beyond the shower and out in a crowd.
How did this group get together? "The short answer to this complicated question is the gentlemen that started this group back in 1996 met in Riverdale Collegiate high school," says Aaron Milic, director of After Hours.  "Since then there have been more than ten different changes to the line-up of singers."
I had chance to check in with them to find out more…
You performed recently during the Canada Day celebrations at Mel Lastman Square, how did that happen?
Aaron: Back in the early and mid 2000's we used to "busk" in the Toronto beaches, inside the Leuty Life Station at the bottom of Lee Avenue and we used to draw a pretty big crowd of beach goers as they'd pass by. One of those that stopped to listen worked for the city of Toronto and when they were looking for entertainers to help celebrate the 205th anniversary of St. Lawrence Market back in 2009, she reached out to us. That opportunity also led to our participation in the "Scotiabank Buskerfest" which we did for three years in a row. This year, the same people reached out and asked us to perform at Mel Lastman Square as part of the Canada Day celebration, which is nice as we chose not to sign up for Buskerfest this year due to scheduling issues. Feels good to still be invited and involved in a pretty large scale Toronto event.
Where else have you performed and what's coming up?
Aaron: Well, as mentioned we've performed in the Scotiabank Buskerfest several times. We've been part of the entertainment in a few Toronto marathons. We've been part of the a cappella "SING" festival down in Harbourfront. We've sung in the Rogers Tennis Cup, Perry Sound Ribfest and also as part of a fund raiser at the Great Hall downtown (that one a being a personal favourite). We've taken part in a few fund raisers for Epilepsy and Cancer. We've made a few appearances at our old high school, Riverdale and most recently at Westcreek school. We've sung at Jane Mallet theatre along side the Megacity Men's chorus. We've done several concerts at the Winchester Street Theatre as well as Grace Church On-The Hill and we've sung in the beaches for thousands of people. We usually try and get out to the Toronto Island once a year and sing for the people on the ferry… so not all of our performances are planned events! We've sung on many rooftops, street corners… pretty much everywhere… oh and we do weddings and birthdays too. That's the nice thing about our style of music, we can pretty much do it anywhere at anytime.
On July 12th, we celebrated the 15th Anniversary of being called After Hours (really it's the 19th anniversary of the group… told you it gets complicated!) with a self-produced reunion concert at the Winchester theatre which featured some of our previous members coming back and singing with us once again.
So, who are the members of this group? 
Aaron: Jon Pong is our bass and he's the artistic director of the group; he designed our website and all of our marketing materials, including all the artwork for our upcoming show. Outside of After Hours, he owns a shop downtown in Chinatown called Dim Sum City, where he sells Dim Sum themed apparel and plushie toys. It's a really unique thing he does and very cool.
Yee Kuang Wong is the assistant director of the group and also the main tenor of After Hours. Outside of After Hours he helps out at a family owned daycare.
Anthony Trinidad is the newest member of After Hours and our baritone. Anthony plays a mean piano and teaches band amoung other things at Westcreek school. He's very musical but was always looking for an outlet to sing. He saw After Hours singing at Scotiabank Buskerfest and a few emails and phone calls later, he found himself as one of the members.
Aaron Milic is the lead of After Hours and is the musical director and manager of the group. Outside of singing he DJ's and MC's weddings. He writes most of the arrangements for After Hours, along with Anthony and Jon.
Are there any other a cappella groups that have inspired you guys? 
Aaron: I guess that depends on who you ask. Jon and Anthony were both big fans of Boyz II Men and I would say they are the reason why After Hours exists since Jon and his friends in high school were basically trying to re-create what Boyz II Men were doing, particularly the a cappella stuff. Aaron's a cappella inspiration were the Nylons, who were a very well known and successful local Toronto group in the mid to late 80's. Aaron has drawn on many sources of inspirations for their show though. Everything from Johnny Carson to WWE, Naturally 7 to U2 and more.
Way to go guys! Looking forward to hearing you more out there! Check out their Facebook page for updates.