We're off to an early start to patio season in the city (yippee!) and as the weeks continue to hopefully heat up we want to take full advantage of being outdoors. Dining under the open skies is what we love best so here are a few family-friendly restaurant patios in the city where you can not just have fun with friends but you can also take your kids too. Slap on your shades and sunscreen and let's go!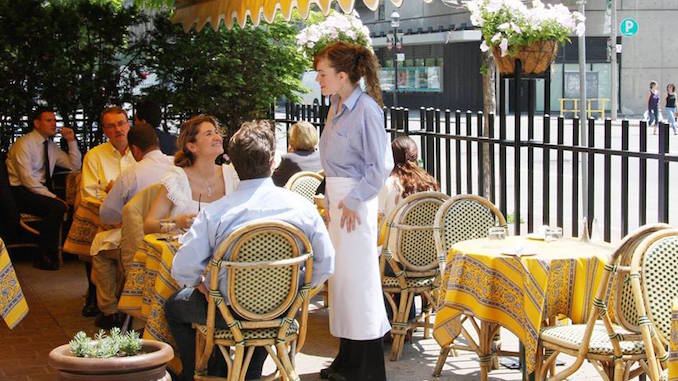 EL CATRIN (Distillery District)
Lots of great dishes my kids love to inhale here at this mexican favourite spot. Starting with the Guacamole and Frijoles Gratinados and work your way down the mini burritos and carnitas. There's a special menu for young amigos – save room for the churros.
BIFF'S BISTRO 4 Front Street East
This Financial District patio seats up to 70, with plenty of room for the whole family. The restaurant's warm, casual dining creates a charming atmosphere while the robust menu offers market fresh options, giving the kids an education in classic bistro specialties. Biff's is right across from the Sony Centre and Bluma Appel Theatre, making it a great choice for pre-theatre dining. Free Corkage Sundays are also the perfect excuse for a baby sitter: bring your own bottle and take advantage of the Parisian charm of the sizeable street-side terrace.
O&B CAFE GRILL (Yonge & Front)
The wrap-around patio facing both Front and Yonge streets is a hot spot for urban dwellers wanting to take in the city around them while dining on fresh seafood, wood stone oven pizza and refreshing cocktails. Weekend brunch is the perfect way to start a family outing day. Yonge & Front's brunch menu has something for everyone with 'Get Your Greens' smoothie bowls, stuffed brioche French toast and mac & cheese all up for grabs.
O&B CANTEEN (33o King Street West, TIFF Bell Lightbox)
This casual O&B eatery has an amazing patio steps from the Financial District. The all-day menu features vegan, vegetarian, dairy-free, nut-free and gluten-free options, for healthy choices before heading upstairs to the TIFF Bell Lightbox theatre for a movie.
THR & CO. (97 Harbord Street)
THR & Co.'s leafy terrace is a great spot for a long lunch, casual dinner or Sunday brunch. The sidewalk patio is a must for family meals, making dining al fresco all the more enjoyable. This Annex favourite also offers a weekly Sunday Gravy special (three course $30 prix fixe), honouring the tradition of family style sit-downs, an excellent way to bring everyone together at the end of a busy week.
BINDIA (16 Market Street)
Conveniently located across from St. Lawrence market just south of front street, relaxing atmosphere in a bistro setting. Indian dishes include Coconut Calamari and Tandoori Jumbo Prawns and all time favourites like Butter Chicken. Lots of vegetarian options. Naans are made fresh to order. Always. Weekend brunches now available.
MARKET STREET CATCH (14 Market Street)
Casual dining and patio is perfect even for lunch. This offshoot from Buster's Sea Cove owner Tom Antonarakis runs along side St. Lawrence Market makes you feel like you're away on this 14 seat patio. Fresh catch is displayed on ice and orders taken at the counter. Lobster Poutine? Fish Tacos? are just a few crowd pleasers. Grab a key lime pie in a jar too!
EVOLUTION FOOD CO. (12 Market Street)
If you're noticing a theme here along the Market Street restaurant row, you're right! Evolution Food & Co. is another great stroller friendly spot for a healthy fresh option. This smoothie and juice bar also serves up a great salads! Delicious grain boxes and the salads are flavourful and satisfying. Cabo Cobb salad is a signature dish that has summery weather written all over it!
CRESTA (118 The Esplanade)
Italian dishes on your mind? Kids always love a good pasta dish. Cresta serves us classic italian fare  and everyone raves about the 'bomba' traditional italian flatbread here. Pizzas are always a hit and the salads are satisfying.
BURGER CELLAR (3391 Yonge Street)
This popular burger spot knows how to take care of families. Located uptown, the patio gives way to strollers with enough shade and space for those who need it. Burgers selection has several grades of beef and toppings are endless. Go all out and get gourmet with your burger or not. Kids menu offers slider sized burgers perfect for little hands. Milkshakes are dreamy. Earlier dining hours are best for kids here.
THE COMBINE EATERY (162 Danforth Avenue)
Casual SoCal with a hint of southern comfort 'good for your soul' food and great for all generations. Patio is hidden in the back away from the busy street. A little tight so strollers are not ideal. Try the grilled fish tacos. Kids will devour the double smoked bacon and three cheese mac n' cheese. Great brunch selection.
Got any more to add to this list? Tell us about your Family-Friendly Restaurant patios.