This past week, I had the great pleasure to have been able to read Fifteen Dogs, the new novel by André Alexis.
I really must thank my fearless editor for this assignment, because this probably isn't a book that I would have given a first thought to on my own, but it turned out to be a delightful adaptation of the classical style of the Greek epic that examines the nature of free will, speech, and thought, while at the same time being a book that is deeply committed to the geography and character of Toronto.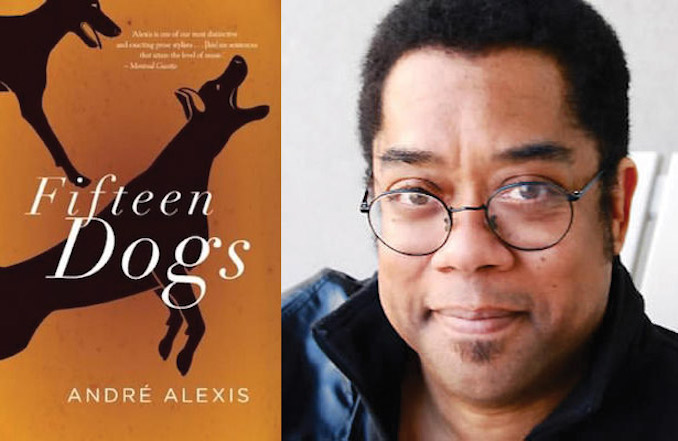 I alluded to this already, but I'm not really dog people. However, as soon as I read the opening paragraph of Fifteen Dogs, Alexis' easy style, straightforward prose, and sense of drama drew me in immediately to the narrative:
One evening in Toronto, the gods Apollo and Hermes were at the Wheat Sheaf Tavern. Apollo had allowed his beard to grow until it reached his clavicle. Hermes, more fastidious, was clean-shaven, but his clothes were distinctly terrestrial: black jeans, a black leather jacket, a blue shirt.
Alexis opens this novel about dogs with an image of classical gods slumming it in Toronto among the hipsters, and their bet, the result of an argument that humans are miserable because of their intelligence, frames the entire narrative. The gods bestow human intelligence to fifteen dogs currently penned up at a veterinary clinic, and then sit back to observe the results.
What follows is a strangely compelling evolution of a canine society. The dogs, now no longer able to appreciate the condescension of their human masters or the company of their fellow dogs, develop their own society, language, poetry and even religion in their new home in High Park, as Alexis sits back to record the consequences, which are in turn violent, surprising, and touching.
The nature of the bet between Apollo and Hermes is that Hermes will win if even one of the fifteen dogs dies happy. Over the course of the novel, we see how all these dogs live *and* die, as the Gods and Fates scramble to intervene however they are able, whether to help the dogs be happy or to prevent further misery.
Just as interesting, however, are the long chapters in which some of the dogs strike out on their own and interact with humans. Some even learn to speak English and develop close rapport with their masters, while others begin to believe that they are the masters of the humans who keep them. Just as fraught are the slightly alien interactions between the dogs, in the sense that their fundamentally  canine worldview deeply colours our responses to their human intelligence and capacity for speech. Alexis' insight into the nature of both humans and canines is staggeringly impressive, especially in the light of his choice of a withdrawn third-person narrator, whose approach to the facts of life puts much of the emotional and interpretive burden on the reader. In doing so, Alexis aptly invites us to read the lives we observe in Fifteen Dogs as we might read Sophocles or Homer.
Fifteen Dogs is an impressive and well-grounded novel, and one well worth taking a chance on. Fans of classical literature will certainly be pleased that Alexis' focus on characters consistency runs right up to Olympus, while readers looking for a book to discuss with their friends will quickly find themselves introduced to a series of poignant yet compelling, sketches that invite discussion of the nature of life and thought.