Toronto's Lake Ontario has been thought of for years as a swim-at-your-own-risk aquatic endeavour, giving our city's swimming beaches a bad name for years.
Since 1989 Canadian government has invested hundreds of millions of dollars in an effort to restore and protect the great lakes' water quality and ecosystem. Support was given to over 800 partnered projects to clean up contaminated sediment, restore fish and wildlife habitat, and improve municipal wastewater treatment systems has been crucial in the cleanup.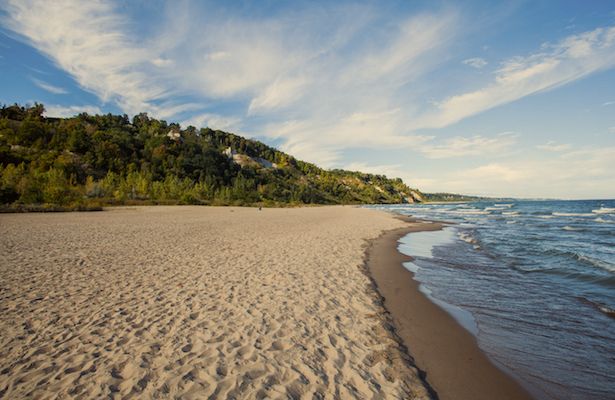 In 2005, the first Blue Flag certification was given to a Canadian beach in Toronto. Now 8 of Toronto's 11 beaches have been given the internationally recognized thumbs-up. 26 beaches and seven marinas in Canada now have The Blue Flag program.
The Blue Flag program works towards sustainable development of beaches and marinas through strict guidelines dealing with water quality, environmental education and information, environmental management, and safety and other services.
Environmental Education and Information.
-Information about the Blue Flag Programme must be displayed.
-Environmental education activities must be offered and promoted to beach users.
-Information about bathing water quality must be displayed.
-Information relating to local eco-systems and environmental phenomena must be displayed.
-A map of the beach indicating different facilities must be displayed.
-A code of conduct that reflects appropriate laws governing the use of the beach and surrounding areas must be displayed.
Water Quality
-The beach must fully comply with the water quality sampling and frequency requirements of the Blue Flag programme.
-The beach must fully comply with the standards and requirements for water quality analysis.
-No industrial, waste-water or sewage-related discharges should affect the beach area.
-The beach must comply with the Blue Flag requirements for the microbiological parameter faecal coli bacteria (E.coli) and intestinal enterococci/streptococci.
-The beach must comply with the Blue Flag requirements for physical and chemical parameters.
Environmental Management
-The local authority/beach operator should establish a beach management committee.
-The local authority/beach operator must comply with all regulations affecting the location and operation of the beach.
-The beach must be clean.
-Algae vegetation or natural debris should be left on the beach.
-Waste disposal bins/containers must be available at the beach in adequate numbers and they must be regularly maintained.
-Facilities for the separation of recyclable waste materials should be available at the beach.
-An adequate number of toilets must be provided.
-The toilet must be kept clean.
-The toilet must have controlled sewage disposal.
-There should be no unauthorised camping, driving or dumping of waste on the beach.
-Access to the beach by dogs and other domestic animals must be strictly controlled.
-All buildings and beach equipment must be properly maintained.
-Coral reefs in the vicinity of the beach must be monitored.
-A sustainable means of transportation should be promoted in the beach area.
Safety and Services
-An adequate number of lifeguards and/or lifesaving equipment must be available at the beach. In -Ireland it is imperative that Blue Flag beaches are lifeguarded on weekends in June, daily in July and August and weekends in September unless an Irish Water Safety Risk Assessment states otherwise.
-First aid equipment must be available on the beach.
-Emergency plans to cope with pollution risks must be in place.
-There must be management of beach users and events to prevent conflicts and accidents.
-There must be safety measures in place to protect beach users.
-A supply of drinking water should be available at the beach.
-Wheelchair access and accessibility features must be in place for at least one Blue Flag beach in each municipality.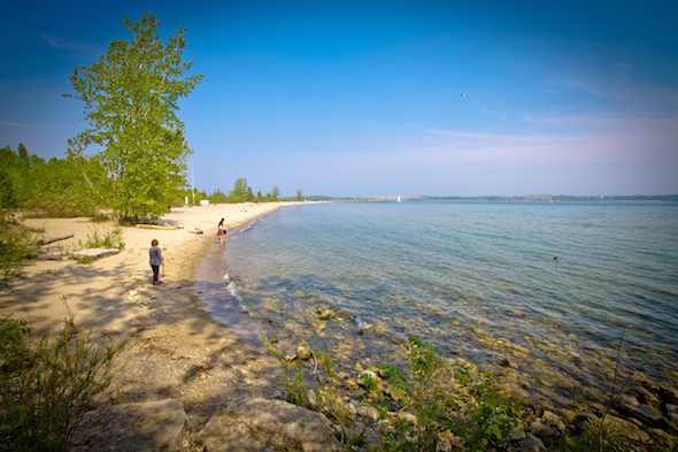 The Blue Flag Program is owned and run by the non-government, non-profit organization the Foundation for Environmental Education (FEE).
Although they are still certified, beaches still test positive for things like E.Coli and measurements are taken several times a season to make sure the water is clean enough to swim in. It is always good to stay up to date with the most recent tests with this City of Toronto page.
Blue Flag Certified Swimming Beaches in Toronto
Bluffer's Beach
Centre Island Beach
Cherry Beach
Gibraltar Point Beach
Hanlan's Point Beach
Kew-Balmy Beach
Ward's Island Beach
Woodbine Beaches
Non-Certified Beaches
Sunnyside
Rouge Beach
Marie Curtis Park East Beach
Check out the Blue Flag website for more info on swimming beaches near you.