Toronto-based singer and songwriter Susie Fayth has always found ways to express herself through music. Having grown up in a house where gospel was always playing, it's understandable how she was able to connect deeply and emotionally to music. She began playing the piano and writing her own songs and credits artists Steve Wonder, Whitney Houston, Diana Krall, Jann Arden, and Norah Jones amongst those who've inspired her.
Her song "Sing Your Song" was nominated at the Toronto Independent Music Awards where she was also nominated as "Best Jazz Artist".  Now, Fayth is unveiling her latest music video this month for her song "She's Unstoppable" — a girl-powered pop tune that's about living your truth, not playing it safe and stepping out regardless of your fears. The video release party is set for March 9, 2019 in recognition of International Women's Day this weekend. Fayth's hope is that this song will be more than just a catchy song but will also be a movement for women and girls to embrace their power and relentless spirit.
BTW… she's invited everyone to join her at the music video's launch party in Toronto. The FREE all ages event is on Sat. March 9 from 1-4pm! More info and to RSVP: https://bit.ly/2DC0TJ8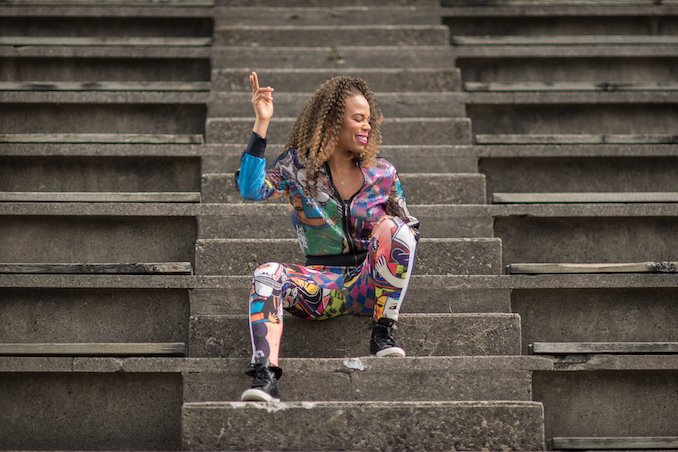 We had a chance to check in with Susie to find out more…
Over the past few years, people/women are becoming more vocal. What has shocked you the most?
Susie: What's shocked me the most is hearing about the countless stories of women in the industry who have secretly gone through harassment and sexual abuse and are now speaking out. I've also noticed more women working in traditionally male-dominated professions which is so incredible for the next generation to see and be inspired by. Women are feeling more and more liberated and it's a beautiful thing.
She's Unstoppable is partly about living the truth. That can mean so many things to so many people. On a personal level, what does that mean?
Susie: For me, that means living a life of true authenticity and knowing that your story and voice matter. We all want to be liked and sometimes it's so easy to disregard our true self to make others feel comfortable. Living your truth means not shying away from your convictions, even if someone else doesn't agree. It means valuing and knowing your worth and not asking for permission to be great or to shine. I believe very strongly that living your truth is heavily tied in with self-love. Knowing this truth is when you truly start to live.
What have you learned about yourself on working on this song and video?
Susie: Well, interestingly enough I learned that I'm more than just an artist but a producer. I have a vision for what I want and I have the drive to accomplish it. I actually had no idea until the director said "Susie, the work you did on this music video is actually what a producer does". It's so cool finding out more about who you are. That's the awesome thing about the journey of life. There are some gifts that you carry within you that you never knew were there. Sometimes it's only when you are working on a demanding project that they emerge.
We all have to persevere through hard times. What advice do you have for us on how to push through?
Susie: I would say the most important thing is to find ways to encourage yourself. Yes, there will be times you have people cheering for you but there will also be times of silence. Some of the things I do to push through hard times are: listening to inspirational podcasts, reading books and watching motivational youtube videos. It's so amazing hearing other success stories of people who were once in the very place you are standing. It gives you the fuel you need to keep going and helps you to realize that you're not alone.
What does female empowerment mean to you?
Susie: For me, it means seeing more women in leadership positions. I also believe female empowerment is hugely about supporting other women. When you see a gift or a talent in another woman it should be celebrated and encouraged. As women, we need other women who support and push us higher. It means fixing each others crowns & helping each other in times of need and cheering each other on.
I believe that the more we as women empower each other we will be unstoppable.
You've worked with an all-female production team on this music video. Can you tell us about how you got this talented crew together?
Susie: First off, I feel like the luckiest girl to have worked with such incredible women. It started off with a visit from a good friend of mine who works in the film. I asked her to have a listen to my new single and she fell in love with it. I then told her I wanted to put together a music video and would love for her to direct it. She agreed and we started to discuss the idea of hiring an all-female crew. She took the reins and it all started to come together. Mariah Owen came on board as the Producer and Nina Djacic as the Cinematographer. Working on this project has been one of the BEST experiences of my life. So thankful to Sherien Barsoum for saying yes:)
Who are some of your role models?
Susie: My three top role models are Oprah Winfrey, Candace Cameron Bure, and Taraji P Henson. All three of these women are unapologetically themselves and I am so insured by that. They are so successful but walk in such grace, kindness and humility. Their stories are truly inspiring and resonate with me on a very deep level.