Home to the largest reference collection in Canada, the Toronto Reference Library, formerly the Metropolitan Reference Library, is one of the biggest libraries in the city with its 5 storey interior located at Yonge and Bloor. It was established in 1966 by the Metropolitan Toronto Library Board in an amendment to the Municipality of Metropolitan Toronto Act in order "to provide reference services to the metro area, promote interlibrary lending, and provide co-ordinating services to local library systems." (Penman, A Century of Service, 70).
Not until 1998 did the seven library boards in Metropolitan Toronto unite into one library called the Toronto Public Library. Within the newly merged library system, the Toronto Reference Library assumed its role as a Research and Reference Library. With over millions of resources and research materials in the library catalogue, this 38,691 m² (416,035 sq. ft.) double brick building built in 1974 by architect Raymond Moriyama, has since had many significant additions since its official opening in 1977.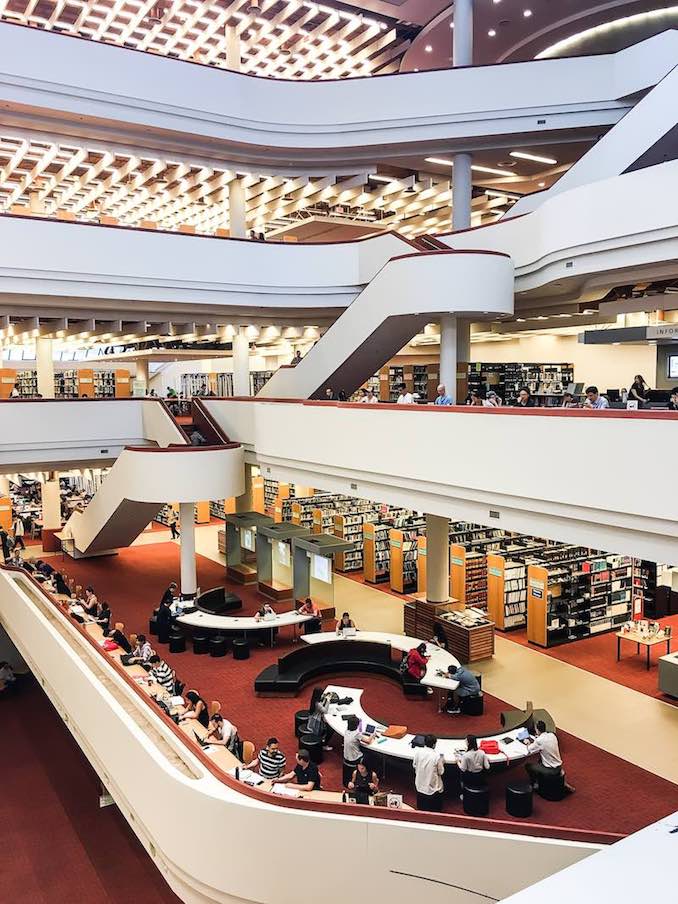 The Toronto Reference Library creates the perfect harmonic blend of architecture and literature. A curving atrium in the middle of the large library creates site lines across floors and  introduces natural light thanks to the placement of the library's intricate skylights.The design of the library was influenced by the hanging garden of Babylon and therefore plants were located around the edge of each floor facing the atrium. Due to financial constraints, however, the plants were later removed.
Although offering mostly non-circulatory items, behind every floor is extra storage space for materials making only  30% of the library's collection  of what visitors see. Completion of its revitalization project in 2012, introduced development of the Balzar Café, situated at the entrance of the first floor, and the basement space sponsored by the Toronto Star containing a collection of recent editions of various newspapers from across Canada and around the world.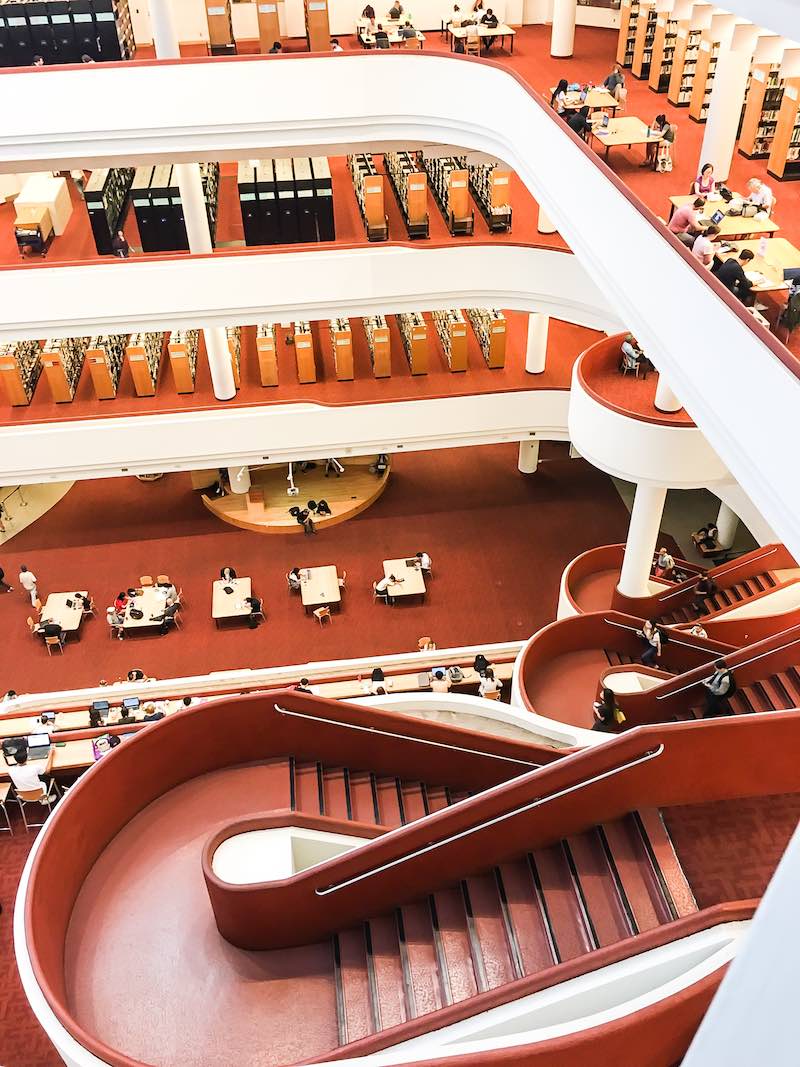 Split into what are called 5 "special collections", the library exhibits the Arthur Doyle Collection, devoted to the life and works of the creator of Sherlock Holmes, housed in a room built to look like Holmes's study at 221B Baker St (on the 5th floor). The library's extensive collection includes rare sheet music and programs, manuscripts, photographs, posters, prints and engravings and stage designs that are available in the Marilyn & Charles Baillie Special Collections Centre (5th floor). Some of the materials in these collections and others are also available online. If you are in hopes of having your own book displayed on shelves, the Asquith Printing service is available during opening hours and offers high quality book printing for self-publishing  authors.
The Toronto Reference library is a site worth visiting in Toronto. One of the most intriguing buildings that currently exist in the city to date. Even if books aren't your thing its definitely worth the visit to admire the history built into the magnificent architecture.