Free Days with George by Colin Campbell is a beautifully written memoir that captures the unbreakable bond between a dog and his owner.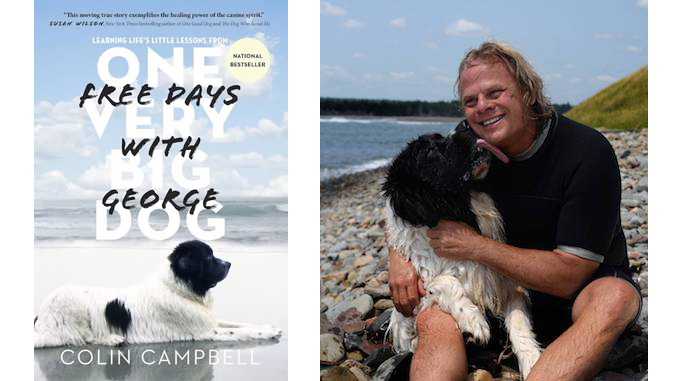 A free day, as written by Campbell, is a term his grandfather coined when Campbell was a child. Campbell wrote, "a free day is when you spend a whole day doing things you love to do-like building sand castles, flying kites or going swimming. And when you do those things with people you love who love you, you don't grow old that day. It's a free day."
Colin Campbell thought he had lost everything when his wife unexpectedly left him. He was diagnosed with depression and became extremely lonely. His friend suggested that he get a dog, and sent Colin a link to a website. This one small gesture is what sent Campbell's life back on track.
It was through this site that he found George, a Landseer Newfoundland, a type of breed known for their gentle nature and impressive swimming abilities. However, George also feared loud noises and was nervous around men. These facts did not deter Campbell, and he gave George the love and attention that he needed. It seemed like fate when Campbell moved the two of them to California for work. It was here where George was able to discover his love of surfing while Colin was able to rediscover his.
Throughout the book, it became clear that Campbell rescuing George was a two-way street, a fact that was not lost on Colin as he wrote, "When I was completely alone, this dog had become my good friend. He got me up in the morning. He made me laugh, forced me to take walks and meet new people. He even brought me to the beach, where we discovered by accident the one thing we both so loved to do: surf. It suddenly hit me with a profound force: I had rescued George, but really, it was he who was rescuing me."
Campbell reiterates his story with beautiful insight, logic and a fair amount of wit. It is the perfect book for any Marley and Me lover, minus the heartbreaking end (although you'll still want to keep your tissues present for the heartwarming moments).
Colin Campbell is a marketing executive and has worked in both Canada and the United States.
Campbell creates and manages brand content for companies such as Nike and Kraft among others. He tries to escape to the beaches of California or Nova Scotia so he and George can both get their surfing fix whenever he can. Free Days with George is Colin Campbell's first book, and hopefully not his last.