"On the whole, you find wealth much more in use than in ownership." – Aristotle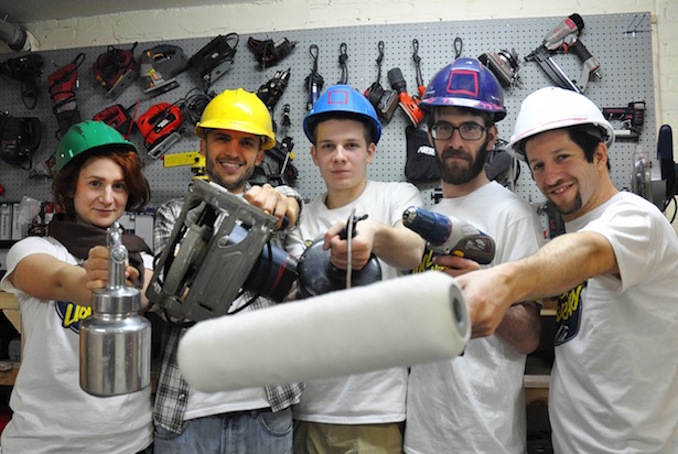 Often, the first thing people think of when it comes to a library is books. The sharing economy is changing all that and the Toronto Tool Library is a fantastic new addition to the expanding library network in our city. Fact is, sharing is not new. We are all used to sharing amongst those we now – recipes, food, clothes, housing etc. Now it is time to push your boundary of trust to those you don't know YET. You may be surprised how great it feels!
The Toronto Tool Library, the first project of Toronto's Institute for a Resource Based Economy (IRBE), wants to help you experience the beauty of sharing. Did you know that the average power drill costs upwards of $80 and is used an average of 6 to 13 minutes in its lifetime? As Lawrence Alvarez, President of the IRBE, points out, "You don't usually need a drill. What you need is a hole in your wall." With a Tool Library membership, you can get access to a whole variety of tools – from air compressors to wrenches. They come in all shapes and sizes, ideal for those who either dreamed of having their very own fully loaded tool shed or those who are looking to explore their inner handyman or build something.
The Tool Library creates a space that extends the life of a tool, minimizes cost and eliminates storage for the end user, and, ultimately, helps foster community through its membership and the variety of programs they offer to all ages. It is also tapping into the talent of the community, creating a space for people to share their ideas, knowledge, and craft.
Where are these spaces?
The Parkdale Tool Library is located in the Parkdale Activity and Recreation Centre. The TO Library team signed the lease January 2013, fundraised 5K to renovate, and were pleasantly surprised when 60 volunteers came out over the course of 60 days to help build the space. If you are on the west side check it out!
The publicity around the Parkdale location brought forth an offer from a landlord on Danforth East with a 1900 square foot space and the TO Tool Library team couldn't say no. And they have done wonders with the space. They have the Tool Library, the Kitchen Library, 3D printers, a very well equipped workshop, a Lasersaur (open source laser cutter they built) and more.
We can look forward to seeing more libraries around the city down the road too. As Lawrence highlights, "We know from our membership and the scarcity of time to travel, people are not commuting far distances to access the library. There are people across the city who need us. We want to take this proven, open source model and build on it."
The IRBE's broader mandate to challenge and highlight how people access their resources. Their motto is access over ownership. "This [the collaborative economy] is what we see as a more realistic future, where people aren't consuming the way they did before and they are sharing things in the community – the wealth of the community and the planet;" explains Ryan Dyment, Executive Director of the IRBE.
Just consider all the unused items you have lying around or in storage and the likelihood of someone else being able to use one or many of them.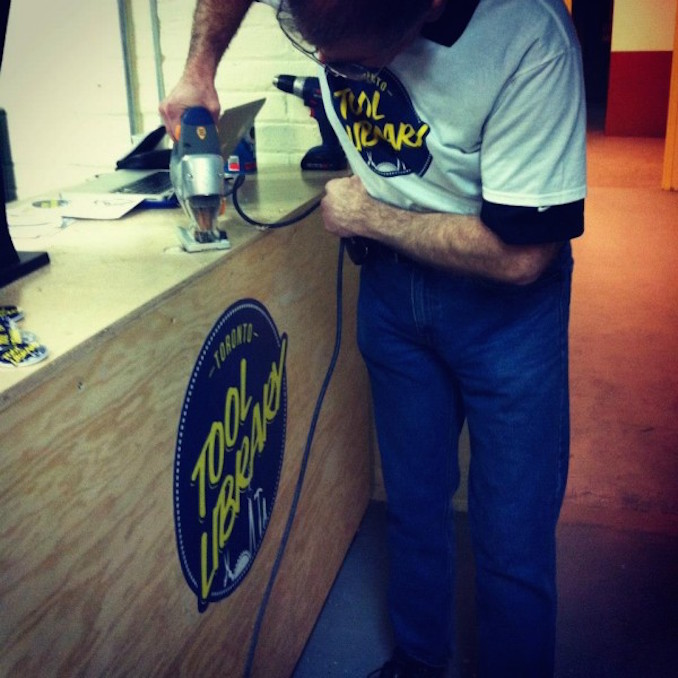 It is staggering how much we hold onto things. What's worse is that we are often paying to do so! In Canada, there are over 3,000 self storage facilities. According to the Self Storage Association (SSA), "The industry has been the fastest growing segment of the commercial real estate industry over the last 40 years." In the US, the industry raked in $24 billion dollars last year and claims that 1 out of every 10 homes currently rents a storage unit. That's a lot of stuff sitting idle!!!
Why not use items as you need them instead of spending more money and using more space to own them? As Lawrence highlights, "It is wasteful, inefficient, expensive and burdensome to own. Why not share?"
Want to join the ranks and support Toronto's sharing economy?
– Check out the Toronto Tool Library ONLINE to learn more about their programs and locations
Don't see a tool you need? Add it to the wish list. The TO Tool Library wants to equip itself with the items you need.
Get a Toronto Tool Library membership or find out about their opportunities to get access without pay by giving your time as a volunteer.
– Want to learn more about the sharing economy and what's happening? Download the FREE Sharing Guide produced by Shareable
– Did you read the previous posts on the topic of Toronto as a Shareable City and Collaborative Consumption?
The Toronto Tool Library and the IRBE are redefining Toronto by creating new opportunities for people to share and utilize resources in a more economical and sustainable way.