27 June, Toronto – Air abuzz with excitement, over 150 authors, publishers, and literary professionals came to the Gardiner Bistro to attend the awards ceremony for the 3rd Annual Rakuten Kobo Emerging Writer Prize, a celebration of debut and early-career authors and meritorious work in three categories: Literary Fiction, Non-Fiction, and Genre Fiction.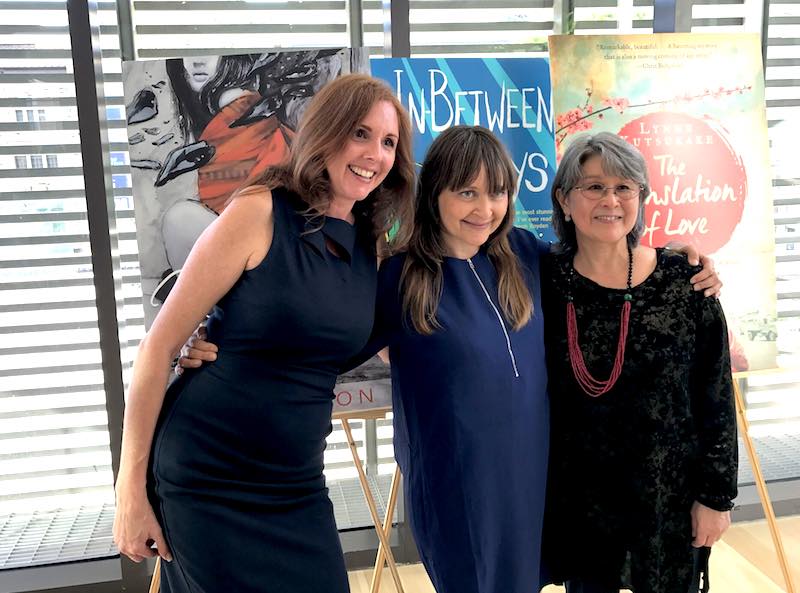 With Canada's sesquicentennial celebration approaching quickly, it becomes increasingly clear that one of the most important ways we define ourselves as Canadians is by the stories we tell, or by striving to be something great.
For Rakuten Kobo, the Emerging Writer Prize supports early-career writers by providing them the freedom to define, and redefine, their worlds and experiences. In addition to a $10,000 cash award, all winners will receive merchandising, marketing and worldwide promotional support from Kobo for the remainder of 2017.
And now, for the winners.
Winner – Literary Fiction
The Translation of Love by Lynne Kutsukake – Knopf Canada
Published in 2016, this first novel by former University of Toronto Japanese materials librarian Lynne Kutsukake follows the post-war life and decisions of 13-year-old Aya Shimamura.
After spending the war years in a Canadian internment camp, Shimamura and her father are faced with a gut-wrenching choice: move east of the Rocky Mountains or go "back" to Japan. Barred from returning home to the West Coast and bitterly grieving the loss of Aya's mother during internment, Aya's father signs a form that enables the government to deport them, but war-devastated Tokyo is not much better.

Winner – Non-Fiction
In-Between Days by Teva Harrison – House of Anansi Press
Born in rural Oregon, Teva Harrison is an artist, writer, and cartoonist living in Toronto, Teva's writing and/or comics have appeared in The Walrus, Quill & Quire, Huffington Post, Carte Blanche, The Humber Literary Review, and The Globe and Mail, and more.
Harrison diagnosed with stage 4 breast cancer at age 37. In this brilliant and inspiring graphic memoir, she documents through comic illustration and short personal essays what it means to live with the disease. She confronts with heartbreaking honesty the crises of identity that cancer brings and struggles to reconcile her long-term goals with an uncertain future, balancing the innate sadness of cancer with everyday acts of hope and wonder.

Winner – Genre Fiction
A Keeper's Truth by Dee Willson – Driven Press
A native of St.Catharines, Ontario, Dee Willson returned to her passion for writing after a 20-year-long career in marketing and advertising. A Keeper's Truth is her first novel.
Tess thinks she's going crazy when only she sees the naked man in the crowded café, comatose woman in his arms. The nightmares, the visions: something's not right. But Tess is entitled to moments of insanity. She's the daughter of mental illness, suicide, and her husband was just killed in a car accident, leaving her an inept single mom at twenty-six. Then Tess meets Bryce. This is a story that will have you questioning everything you know about the history of mankind, and wondering if somewhere, deep inside, you knew the truth all along.

***
Perhaps the most important aspect of the Emerging Writer Prize is the sense of confidence and community it provides nominees. "It's nice to be acknowledged as an emerging writer, at any age," said prize-winner Lynne Kutsukake, with renewed confidence in her process, which relies on taking inspiration from the style and characters she discovers reading other writers.
For non-fiction winner Teva Harrison, the award couldn't have come as more of a surprise. "It was amazing. My heart is floating in every direction," Harrison said, already thinking about her upcoming projects. Some of Harrison's art from In-Between Days will soon be showcased at her first art show, to be held at the Winnipeg Art Gallery this winter, and she is currently working on a virtual reality experience with playwright Jordan Tannahill.
Likewise, genre fiction winner Dee Wilson has already begun to build her own community of peers by reaching out to and befriending her fellow nominees before the event. "The award gives me the confidence as a writer to spend time locked in a room producing a story you believe in," Wilson said, buoyed by this recognition that "the community feels as confident in your work as you do."
***
Learn more about the Kobo Emerging Writer Prize from their website.