Ever wanted to take a fast car out on the track? An hour out of the city is the Canadian Tire Motorsport Park where you can take Porsche cars on the track and get lessons from experienced racers and instructors.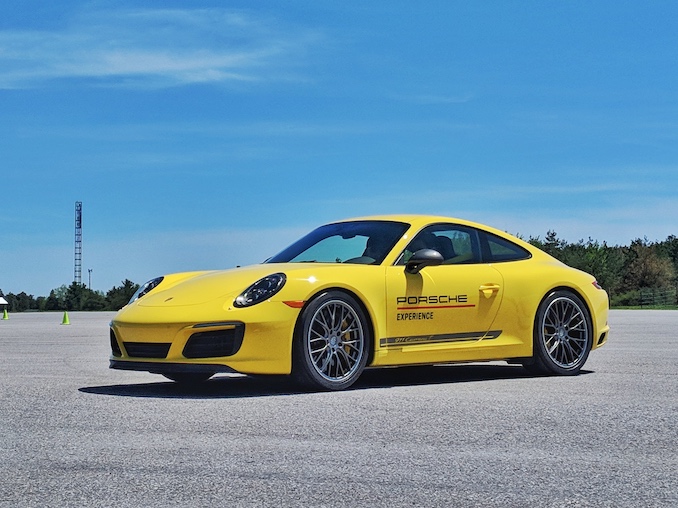 We recently took a visit to the Porsche Track Experience to see what it was all about.
The day began with an instructional class-setting where we learned about the cars, traction and racing terminology. Instructors shared videos to help us grasp certain ideas like weight distribution in turning to help us better understand best driving practices.
After the class, we grabbed helmets and headed out to our vehicles.
There were several stations set-up on the main track and in parking lot areas. One section had cars with plastic tires that made it very easy to spin out. We learned about over steering and under steering and the best ways to recover a vehicle that has lost control.
On the main track, there were a couple sections. One section had a quick braking and turn left or right obstacle, the other was learning best turning practices while following a leader. We learned about best turning lines to maximize speed through the turn while being smooth through the transition.
During the second part of the day, the full course opened up and we ran 4 cars behind a leader, all communicating via handsfree walkie-talkies. This is where you can test your endurance, as after some time you really start to get fatigued. You are moving very fast through a course with many turns so you are constantly braking hard, turning hard and then accelerating quickly. This could be a lot for those with a weaker stomach.
In the parking lot, a pylon course was set up with a series of tight turns and a braking area. Participants were timed and lost 1 second per pylon knocked over and 10 seconds of penalty if the driver does not stop in the box at the end. This was a lot of fun and had drivers pushing their limits to claim top spot.
The courses run all summer long and the following dates are still available.
August 30-31
September 1-2
September 27-28
If you are interested in racing Porsche cars, please visit their website.