Oxygen facials are more popular than ever in the summer due to dehydration and questionable air quality. I recently was treated to The O2 Blitz Facial and I was impressed with the immediate results. After just one hour of treatment my skin was plump, glowing and fine lines were reduced.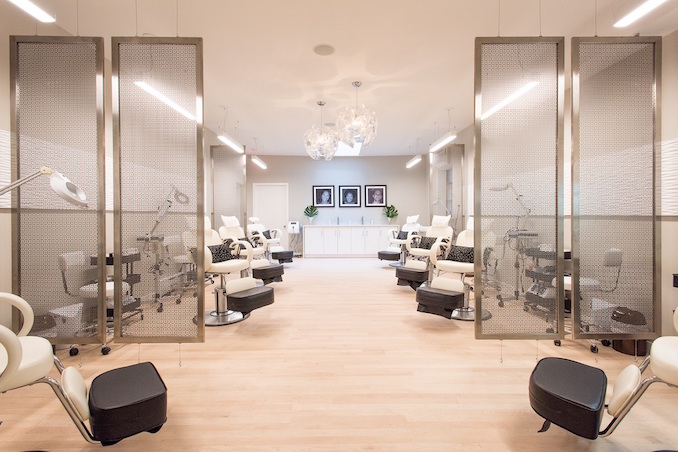 Radiant Skin In A Snap!  
With a marketplace saturated by anti-aging beauty products it's easy to be skeptical, but I was happily shocked by the noticeable results of The O2 Blitz Facial. Most oxygen facials use a little wand to blow O2 over your skin – this is so basic. Blitz Facial Bar's O2 treatment is way more advance and long lasting.
The exclusively-designed Blitz oxygen facial combines both therapeutic-grade Oxygel and a sheet mask, clinically proven to reduce fine lines and wrinkles. When the sheet mask is placed over a thick layer of oxygenated gel, CO2 is generated. This creates a sensation of tiny bubbles fizzing and snapping over the skin. Ingredients include licorice extract, eucalyptus, ivy, glycerin, sodium bicarbonate and caffeine. This O2 facial delivers oxygen direct to your skin; a natural way to hydrate, tone and brighten.
Here's What To Expect
The O2 Blitz Facial is relaxing from the beginning, as you are fully reclined in a comfy chair for one hour. The facial starts with make-up removal, then a gentle cleanse to prepare the skin for treatment, including exfoliation. Next, the Oxygel goes on refreshingly cold, followed by the sheet mask which is gently pressed into the gel. This action generates heat, and the sensation of fizzing bubbles on the face. The mask stays on for about 30 minutes, and in that time you get to enjoy either a head or hand massage. Once the mask comes off, the face is massaged with argan oil, followed by a skin renewal serum, a soothing balm and then a moisturizer – all Blitz Facial Bar products. Of all the skin care products I loved the retexturizing pumpkin scrub the best.
Blitz Facial Bar has its own exclusive line of eco-friendly products which contain pure essential oils with ingredients derived from natural sources; they are free of parabens, sodium lauryl sulfate and artificial colours.
The next time at Blitz Facial Bar I would like to try the Laser Spot Treatment which diminishes and clears acne spots while controlling bacteria and oil secretion. Sounds like an ideal treatment to deal with the affects of Toronto humidity and sweaty summer days.
The O2 Blitz Facial is the perfect pre-vacation treatment as it provides immediate results that last for over a week! I absolutely recommend this oxygen facial.
***
Blitz Facial Bar has four locations in Toronto: Leslieville, Roncesvalles, Trinity-Bellwoods and the downtown PATH. To book an appointment please visit: https://blitzfacialbar.com/
The full Blitz Skin Care line is also available online with shipping across Canada.
About Blitz Facial Bar
Founded in 2015 by sister-entrepreneurs, Laura and Rena Polley, Blitz Facial Bar is an extension of BodyBlitz Spa. Continuing the practice of beauty through health, Blitz Facial Bar is committed to servicing convenient and affordable facials, with a mission for everyday people to incorporate skin treatments into their regular beauty routine. To ensure the highest-quality skin care, registered estheticians will use exclusive skincare products and Blitz Facial Bar's in-house product line.