There is a growing interest in performance cars by the female population and we're finally getting some attention. I began noticing a couple years ago when auto brands began to take serious note of what women are interested in — yes, beyond the vanity mirrors and cute accessories. We're having more say in the decision making when it comes to purchasing cars. Auto dealerships like PFAFF AUTO (Vaughan) are paying attention and recently hosted an event created for women by women.
When Hans J. Pfaff opened his first dealership in 1964, he had a vision of offering customers a level of service, convenience and experience they couldn't find anywhere else. He believed a test drive or ride shouldn't just take you around the block. It's always been about the experience and how technology and performance serves your needs.
We've been to many car industry events (consumer and trade) that are more often geared towards the male population. The pretty ladies in heels at the shows, the sports celebrity appearances, the big bbq cookouts and loud parties. So, how do you make an auto industry event more appealing for women?
PFAFF recently launched an internal women's marketing group to help build relationships with their female customers. We'll look forward to seeing how they shape their experiences here.
At the launch event, PFAFF's "For the love of you" day invited a group of inspiring women to the Porsche dealership for an indulgent day of wellness to celebrate the mind, body and soul. Guest list included TV media personalities, actresses, social media leaders. Of course we had a chance to test drive or ride in the latest additions to the PFAFF fleet as well.
The event began with a Joga session in the massive Porsche dealership with Jana Webb. If her name sounds familiar, you'd recognize her as one of the Real Housewives of Toronto. She's also known as a trainer to a-list athletes in North America. It wasn't our first Joga session. We've tried her classes before and if you're looking for strength training combined with yoga, this is a great option worth exploring.
Once we zen'd and rejuvenated we were invited to test drive and ride in several vehicles in the PFAFF fleet including the latest models from Porsche, BMW, Audi, Volkswagen and more. Yes, we all swooned over the luxury cars and talked about taking them on the track sometime – hello Pfaff Track Day! But we didn't let that Mini Countryman get overlooked either.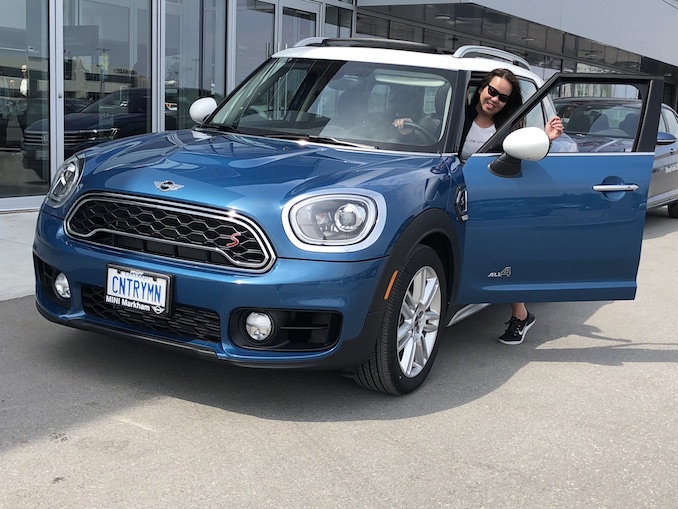 The event included healthy and delicious lunch options by Andrew Muto, Health and Wellness chef (createhealthyfood.com). He's known as a "Food Philanthropist" who's passionate about creating healthy and tasty menus. He also is a wellness chef to professional athletes.
A few other indulgent surprises rounded up the day that we truly were grateful for. Honestly, it's been a while since we had a day of pampering.