Our suburban friends have something to cheer about! Union Chicken, who has a highly anticipated opening coming this fall to Union Station's new large food market, has already opened their first location out at CF Sherway Gardens (25 The West Mall) and we're super jealous…and yes, we're willing to make the trek.
Union Chicken is created by the dream team of Yannick Bigourdan (restauranteur Splendido, Nota Bene, The Carbon Bar), Adam Teolis (GM at The Carbon Bar, Four Seasons, Nota Bene), Michael Angeloni (former Executive Chef at Grand Electric, trained at The Black Hoof, head chef at L'unita Enoteca, and noted among Toronto's Top 30 under 30 chefs)and Dan Kennedy (operations expert behind several national restaurant chains).  made a leap to the  very fashionable mall in Etobicoke with a choice location just mere steps to where the new Nordstrom is set to open.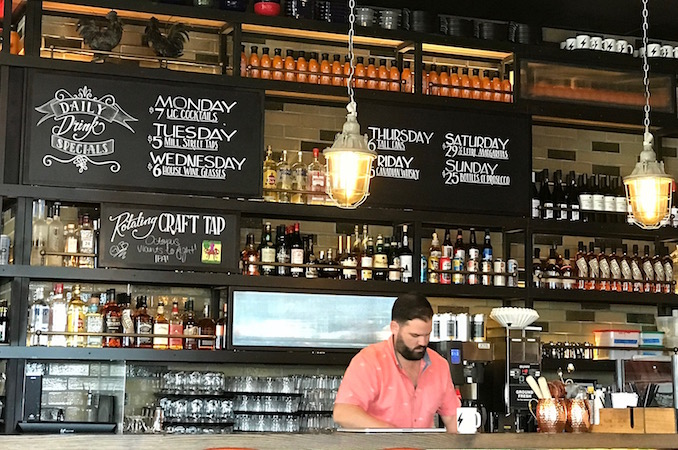 "We've always had this idea of bringing the downtown concept out to the suburbs. We discovered since we come out here all the time there's just a lot of big box places that are very corporate," says Adam  Teolis, General Manager Union Chicken. "Sherway presented itself with an opportunity that caught our attention. They're doing a lot to the mall and investing a lot but being outside of the mall, and having an outside entrance, allows us to keep our own hours. Sherway is bringing a lot of cool concepts to the community and we're happy to be part of it."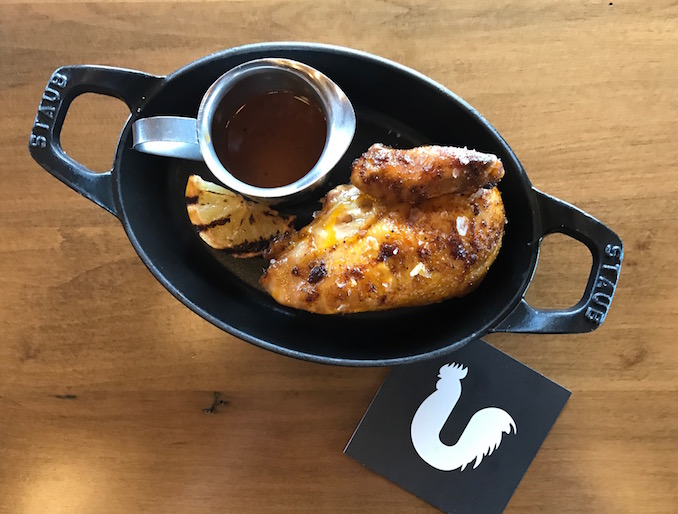 So far the concept is being well received. The casual dining spot already has customer favourites secured on their menu. Their signature Rotisserie Chicken that is marinated for two days is prepared in an open kitchen where you can saddle up to the counter and watch the spit turn and turn if you need a break from staring at your phone. The mouth-watering juicy rotisserie chicken is lovingly seasoned just right with a slight crispy skin is the ultimate comfort food. It's served with their house made Piri Piri,  UC dipping sauce and a grilled lemon.  Order it up with their white cheddar biscuits and chili lime butter in a cast-iron dish that can be ordered up as a whole, half or quarter.  Other fan favourites are Buttermilk Fried Chicken and of course, Fried Chicken & Waffles for brunch. Now that they've had a few months under their aprons, the team is excited to push tastebuds by adding a few more dishes to the menu. "We've received customer feedback and it's been positive so far and we're ready to introduce some other dishes," said Teolis.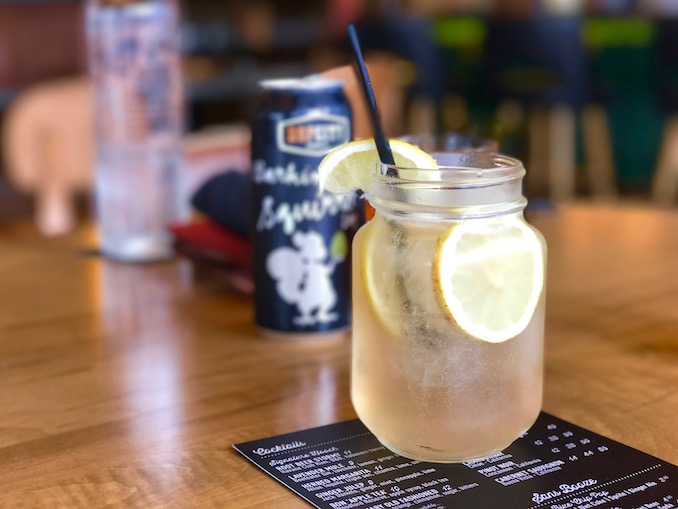 New menu items are being added and are rolling out this week with a few asian inspired dishes.
UC Viet Banh sandwich balances morsels of pulled chicken topped with cucumber, carrot, cilantro and spicy mayo, served nestled in a soft pillowy milk bun — it's a nod to the popular Vietnamese sandwich. By the way, all their bread products comes from one of the city's favourite patisseries,  The Tempered Room.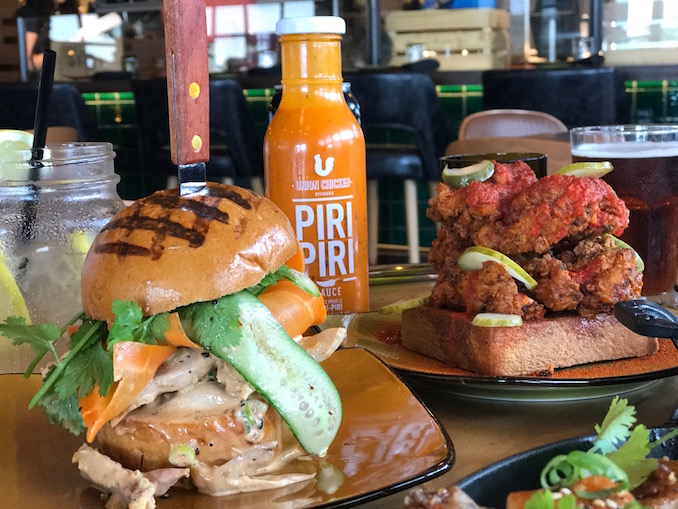 Uncle Ray's Lightning Fried Chicken sends our hearts racing with it's kick-ass flavours. The buttermilk fried chicken is fired up with cayenne and habanero spices  but it wasn't the kind of over the top spices that numb your senses but rather gives your mouth a flavour charge. Served over a thick slice of fresh white bread.
Ray's Seoul Brother Korean Fried Chicken (aka KFC) is inspired by the popular South Korean  bar snack. But don't mistake it for American KFC. The chicken pieces here are steamed and then fried with their Korean sauce and topped with cilantro.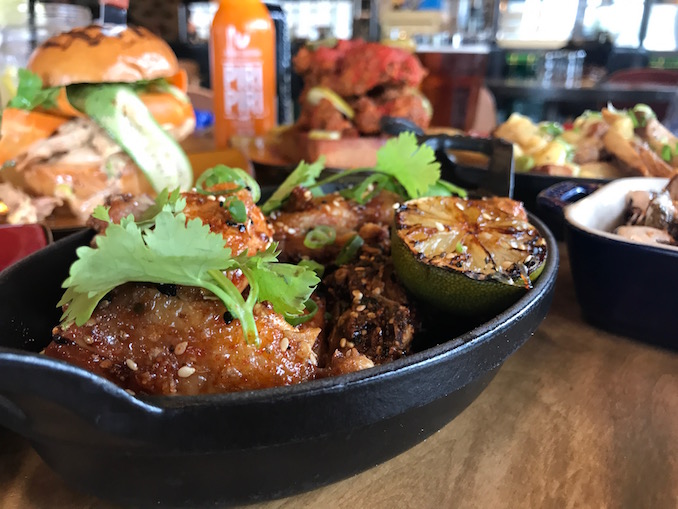 For Poutine lovers, (we know who you are) Union Chicken makes it with chicken gravy – surprise! No, but seriously, it's a good side as are the Crispy Brussels Sprouts. Yes! There are veggies on the menu including BBQ must-have sides (coleslaw, baked beans, sweet potatoes) and three healthy salads.  Most dishes are sharable and highly recommended to dine family-style to get a nice sampling of the dishes.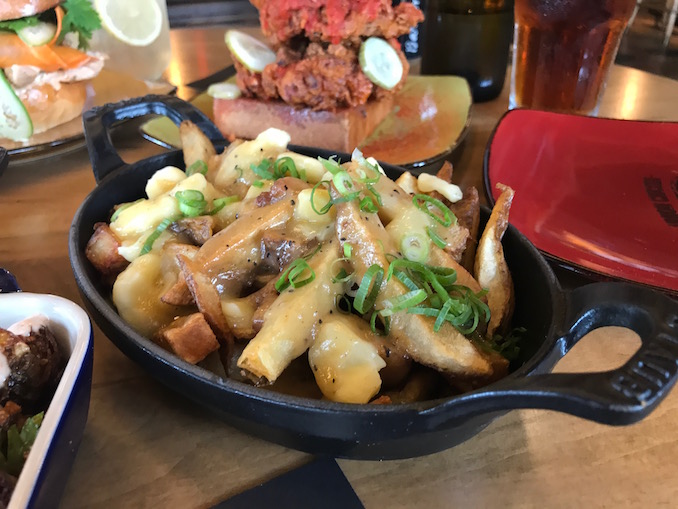 But save room for dessert! You'll want to try the two new additions to the menu — their Triple Chocolate Brownie comes with swiss chocolate ice cream and dark chocolate sauce…totally shareable, or not. The Bourbon Vanilla Milkshake is a boozy treat if you're not going back to work and don't need a nap.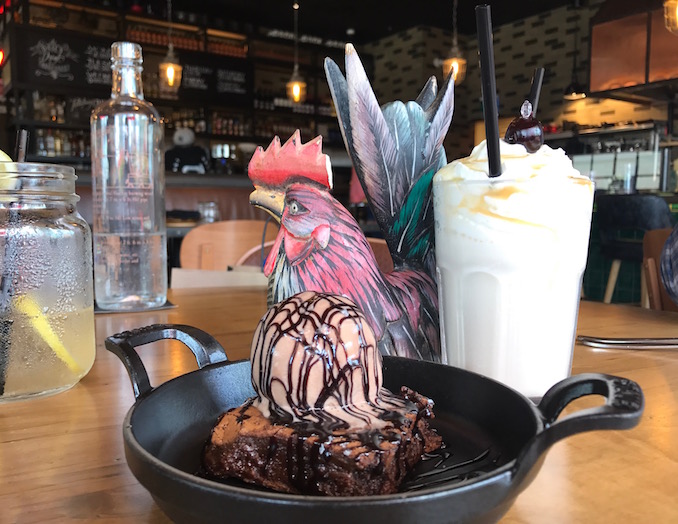 Union Chicken is located at 25 The West Mall at CF Sherway Gardens (located at entrance 7). They're open 7 days a week for lunch and dinner from 11:00 am to 11:00 pm. Brunch on weekends from 10:00 am to 2:00 pm. Patio seating available in the good weather. You can find out more about their menu and their what else is on the menu here.