Neon Bloom formed in early 2017; rehearsing in a backyard garage located in Toronto's Annex neighbourhood. Members include vocalist Jen Simpson, Simon Chow on guitar/synth, Fred Yurichuk on bass, and Chris Romano on drums. Influences include modern electronica to 70s punk, 80s New Wave, 90s grunge and 50s Doo Wop and their sound has been compared to combinations of the Yeah Yeah Yeahs, Arcade Fire, Blondie, and Radiohead.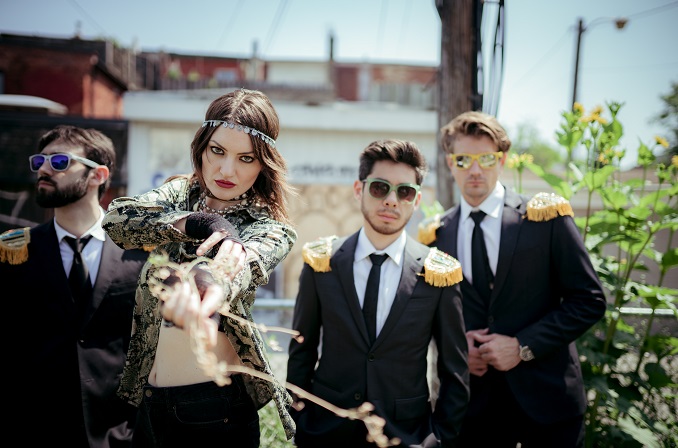 Name:
Neon Bloom
Genre:
Rock/Garage synth
Landscape photo:
Please see attached.
Founded:
2017
Last Single:
A Bullet in Tomorrow
Last Video:
Favourite musician growing up:
The Rolling Stones, especially Mick Jagger. Hands down, my all-time favourite.
Favourite musician now:
Still The Rolling Stones (my adoration is quite steadfast), though there are so many amazing musicians it's hard to choose.
Guilty pleasure song:
'Rasputin' by Boney M
Live show ritual:
Beforehand, we like to grab food at a local spot and chat about the show. I handwrite a new setlist each time, adjusting it according to the venue and approach for each show.
Favourite local musician:
Our friends in Queens & Kings and Maylee Todd.
EP or LP?
Though we've put out EPs and singles so far, I'm still a fan of the LP–liner notes and all.
Early bird or night owl?
Absolute night owl.
Road or studio?
Hmm. That's a hard one. The road can be great fun. Our tours in Taiwan and Czech Republic were a blast. Getting to hang out together, sight-see, play shows, and meet new people is pretty hard to beat.
Where can we follow you?
Website | Facebook | Instagram
***
Rapid Fire Toronto Qs
Favourite local restaurant:
Banjara on Bloor St. West or Josos for special occasions.
Favourite street in Toronto:
Palmerston Blvd. is my favourite street in Toronto. I love the lamps and maple trees that line it. There are also some beautiful homes along that strip between College and Bloor.
Favourite park in Toronto:
High Park. It has the best walking trails, a zoo, and a huge off-leash area for dogs. We filmed our music video 'From the Start' on Grenadier Pond in High Park.
Favourite music venue in Toronto:
As a band, we really love The Horseshoe Tavern. Also, we just played the newly-renovated El Mocambo and it's pretty fantastic. The Silver Dollar Room was great, but unfortunately closed down. We're interested to see how that reopening goes.
Favourite music store in Toronto:
I always tend to go to Long & McQuade, though the guys really like Paul's Boutique as well.