Our review of NHL '94, developed by EA Sports/EA Vancouver. Released on October 30, 2020 for PS4 (reviewed), Xbox One, Sega Genesis, and SNES.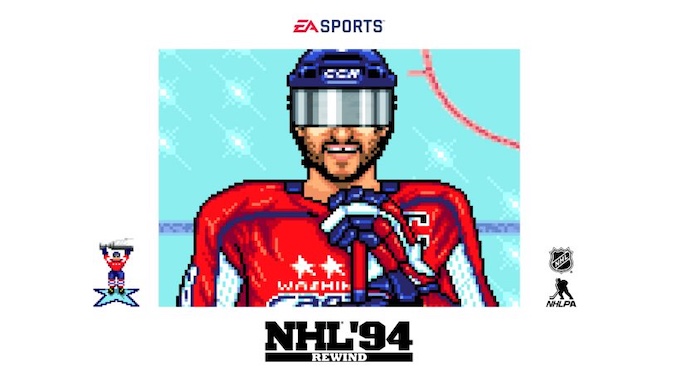 WHAT IS IT?
An excellent update to the NHL series with incredible 16-bit graphics.
IS IT GOOD?
It's the best NHL video game ever made.
WHO SHOULD PLAY IT?
Sports fans, Vince Vaughn.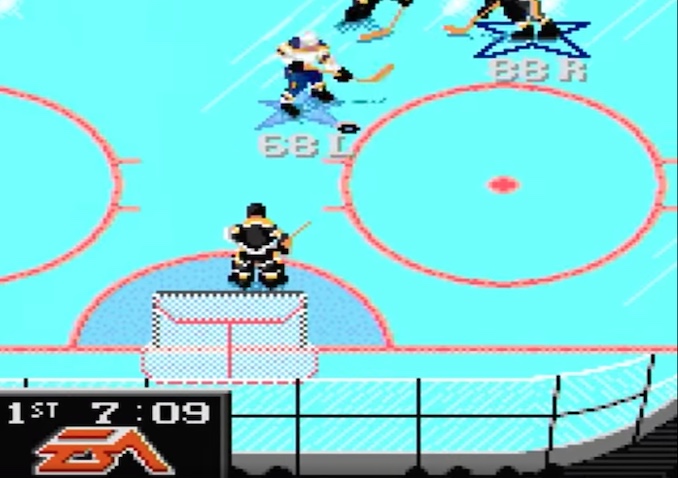 EA
Three entries in, the NHL series of video games has peaked with NHL '94. It's a game that showcases all the 16-bit glory our current console generation can muster, with the added bonus of updated rosters and teams.
As fans may recall, previous series entries suffered from incomplete licensing agreements. NHL Hockey had NHL teams but no agreement with players, meaning you could play as the LA Kings, but not as Gretzky. Conversely, NHLPA '93 brought us player names and likenesses, but no NHL: you could now play as Gretzky – and make his head bleed – but he represented a generic "Team LA", which just happened to have the same jersey colours as the real-world LA Kings.
Happily, NHL '94 remedies past mistakes, bringing both licences home to roost. However, this does mean NHLPA '93's much-vaunted fighting system (and aforementioned bleeding heads) have been excised. If only the real-world NHL could do the same.
But it's not just about rosters and licences: NHL '94 has gotten a major quality-of-life overhaul, with improved sound, crisper graphics, and several major gameplay enhancements. I can't get enough of NHL '94, and I predict I'll be playing it for years if not decades to come.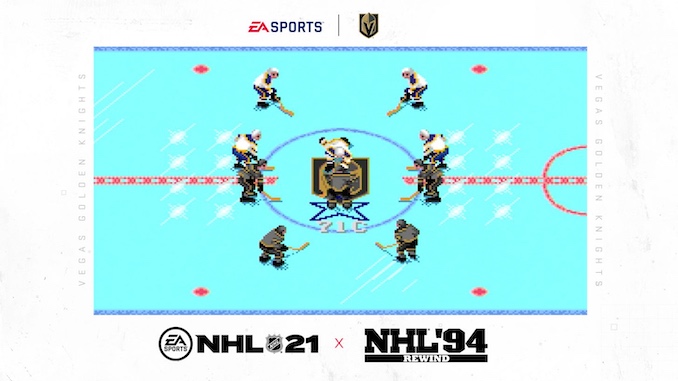 SPORTS
An odd thing happens when I boot up my PS4 copy of NHL '94. For whatever reason, the game is labelled NHL 21, and the only way to actually get to the main game is to wander the menus of the PSN store until I find something labelled NHL '94 Rewind. It's not a problem I've encountered on my Genesis copy, so I'll chalk it up to the Sony online distribution system.
Regardless of which system you play it on, NHL '94 is easily the best NHL game I've ever played. It's easy to get a handle on, but only reveals its many subtleties after hours upon hours of play. The sound effects are realistic, and I love the way the in-arena pipe organ blasts out chiptunes between whistles.
As for what '94 brings new to the table, let's start with those updated rosters. There's no Gretzky to be found, but fans will be happy to take control of contemporary favourites like Connor McDavid (power rating 99) and Alex Ovechkin (95). The teams are up to date, too: the Colorado Avalanche and Vegas Golden Knights are in; the Quebec Nordiques and Hartford Whalers are out. (Pour one out for the Nordiques.)
In terms of gameplay, here's a short list of features present in NHL '94 (aka NHL '94 Rewind) that were absent from NHLPA '93: 
You can break the glass with a well-placed slapshot.
A dynamically animated crowd, including this one kid who presses his face up against the window every couple minutes or so.
The ability to control the goalie.
The ability to save and preserve User Records. And, in an impressive technological feat, this even includes the ability to save your playoff progress and return to it days or months later. Amazing.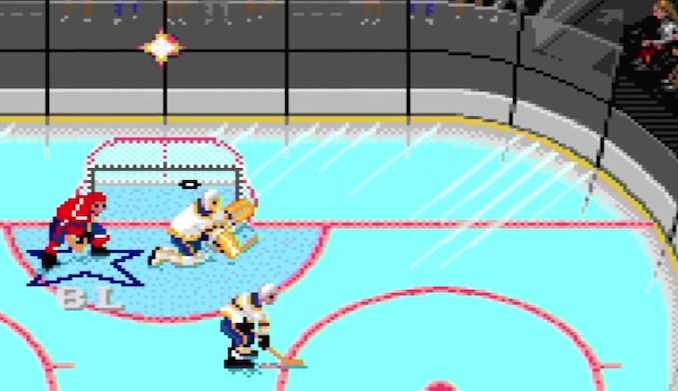 IT'S IN THE GAME
I also want to single out two of the best elements of this revitalized game: context-sensitive checking, and one-timers.
Let's start with the latter, which is a real game-changer. Now, with a quick two-tap of the pass then shoot buttons, you can fire a pass over to a teammate who will instantly shoot it at the net. It's especially helpful during 2-on-1s, but can be deployed at any time. I'm confident in stating that one-timers will become a beloved addition that will change how NHL video games are played, in a way that no one could ever possibly complain about. Ever.
The checking updates are also quite impressive: through some mysterious feat of programming alchemy, the game can now detect where on the ice a player is skating when they get hit. This means you can squish a player up against the boards, or flip them over into the bench – something that's especially entertaining when it's the opposing team's bench.
If I have any complaints, they're minor ones. The computer AI isn't quite up to snuff, and there are certain repeatable patterns you can exploit for easy goals. (No spoilers here, gamers will have to figure them out themselves!) That said, I'm happy to see '94 has a handle on goaltender interference: unlike in its predecessor, you can't just run the goalie every play and have the puck drift in after you.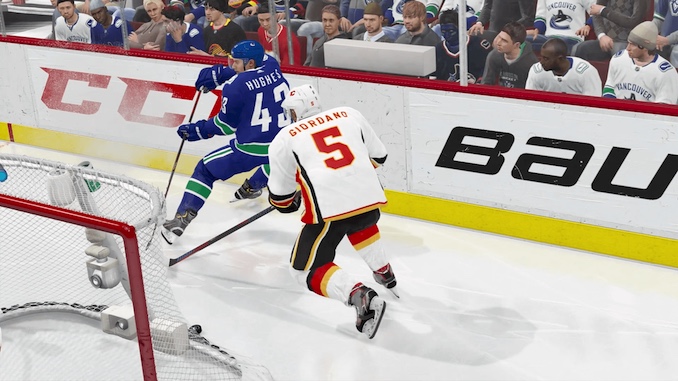 NHL 2(for)1
As a final note, it's worth briefly touching on that other menu item I mentioned earlier. Over on the PS4 or Xbox One versions of NHL '94, you'll find a whole other game – NHL 21 – that abandons the lovely 16-bit graphics of the core experience in favour of fancy graphical gimmickry and so-called "modernized" controls. For what it is, it works well: the animation is smooth, the HD graphics look great, and there are robust quickplay, season, and career modes to keep you occupied. And where '94 is exclusively local multiplayer, '21 lets you hop online with friends.
One advantage '21 does have over '94 is its extensive roster of classic players. There's nothing quite like lacing up as Team Maple Leafs Alumni vs. Team Red Wings Alumni, and watching Mats Sundin, Darryl Sittler, Steve Yzerman, and Gordie Howe all take the ice at the same time.
I still prefer the pixelated glories of the instant-classic NHL '94, but I can see how some people might find themselves drawn to the NHL 21 add-on instead.
It's not quite as good as 16-bit Ovechkin vs. 16-bit Crosby, but it comes close.
***
Final score: 10/10.
Visit the official page for NHL '94 Rewind here.