Not all juices are created equally. There are different processing techniques, different packaging methods and obviously different quality of ingredients. In a sea of rainbow coloured bottles, it's hard to know if you're getting the best bang for your buck. And that buck is more like 15! That's why I love Village Juicery; they are very transparent about their practices, not to mention their juices are insanely tasty!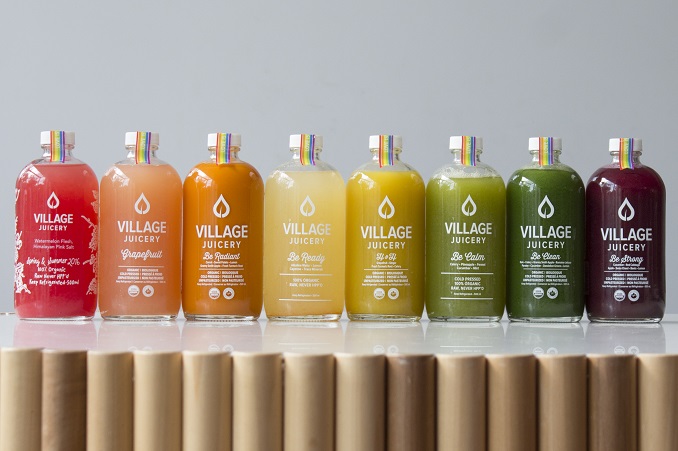 I met with Gabby Ouimet, Certified Holistic Nutritionist (CNP) and vegetable expert at Village Juicery, where she designs recipes and works with the community to provide nutrition advice. Her favourite part about working for Village Juicery is the community. From their entire team at Village Juicery to the wonderful customers, it's very rewarding for Gabby to be part of such a supportive and inspiring group of people.
We sampled juices, I asked her a million questions about any- and everything that one would ask a nutritionist and we set up my Reset Program. That following Monday I was walking out of Village Juicery with three days' worth of juice, breakfast jars and salads. Boom! It was that easy. My personalized schedule was complete with intentions (Day 1: Be Present, Day 2: Embrace Lightness, Day 3: Welcome Change), suggested times for meals and juices, and tips like "Don't forget to drybrush your body" on the elimination day. I honestly did not need to think about food for three days and you have no idea how uplifting that was.
Day 1 was called Prepare and I eased into the cleanse with a mix of juices, booster shots, and salads. For breakfast I had the Probiotic jar: house-made coconut yogurt, chia seeds, hand-made sunflower seed milk, blueberries, strawberries, pumpkin seeds, hemp hearts and vanilla. Village Juicery set the bar high for their Reset Program and I was not disappointed. Everything was so pure and surprisingly filling that I didn't even need the emergency snacks I had packed. My least favourite part of the day was the e3Live Shot, which is blue green algae that's rich in vitamins and minerals. It's incredible for brain function, focus and stress. The flavour didn't quite do it for me but it was tiny so I literally sucked it up and went on with my day.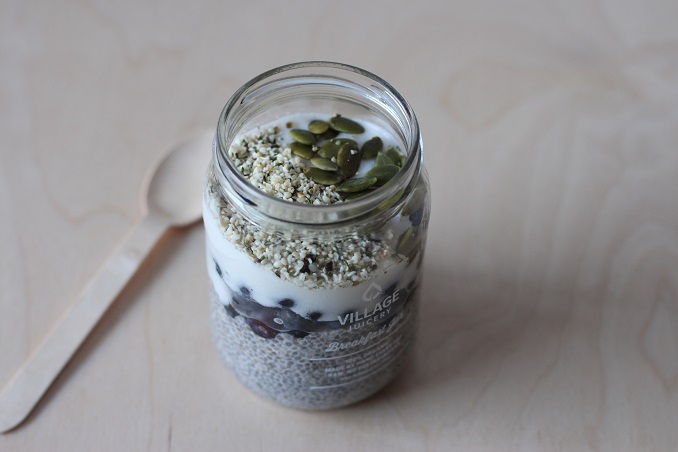 Day 2 was Eliminate and consisted of five juices, one Turmeric Booster Shot and one Strawberry Hazelnut Protein Milk. Again, I was surprised by how full I was and didn't even finish my last juice of the day! I loved how uncluttered my mind felt from not thinking about food all day. Be Green was my favourite juice of the day. Made with bok choy, spinach, kale, cucumber, aloe vera, parsley and lemon, it tasted so refreshing. I found the cucumber, parsley and lemon to have a good pop. I felt lighter and had more clarity despite the presumption that my mind would be foggy without solid food.
Day 3, the Reset day, was very similar in structure to Day 1. I was re-introducing foods mindfully back into my diet. On the one hand, I was sad that my carefree days were coming to an end but I also felt really great. Save the fact my skin was starting to release toxins and I was getting some pimples, all in all, I had more energy and much more presence while I ate each meal. The afternoon juice of Hydrate & Heal was slightly bitter but in a good way. It negated my caffeine craving and because it has turmeric and ginger, it worked as a natural anti-inflammatory.
Having never experiencing a juice cleanse before, I must say Village Juicery made it so easy that I would definitely do it again. Gabby was super helpful with all my questions and created a wonderful program that didn't leave me unsatisfied and hangry. I would 100% recommend this to all of my friends, family and readers!
For more info on Village Juicery, click here. Read on for my Q&A with Gabby.
Why is Village Juicery different from all the other juice companies in Toronto?
Village Juicery creates raw, cold-pressed, nutritionist-designed and certified organic juices every day at our own facility here in Toronto. Our mission is to make an impact on the health of our community through plant-based nutrition – we're also the first certified organic juicery in Toronto and work with over 50 retailers across the GTA to make plant-based nutrition more accessible! What I think sets us apart is that throughout our three locations, we currently have 15 holistic nutritionists on staff who design and approve every recipe and work with the community at no charge to provide nutritional advice and 100% customized Reset Programs. We also are mindful by working with unique ingredients to maximize intake of critical vitamins, minerals, phytochemicals and living enzymes, even when they are hard to use! Some examples include red cabbage, bok choy, fresh turmeric root and dandelion greens.
You offer so much more than juices, tell us about the jars, bowls, kombucha, cold brew coffee, etc. you have in store.
We do! Absolutely everything in our stores are 100% organic, fresh, delicious and made from scratch daily with nothing but whole, organic, plant-based ingredients. We have a selection of organic breakfast and salad jars that are high in fibre and protein (perfect for on-the-go) plus salad bowls that are made in-house and packed with unique ingredients like the curried cauliflower in our Plant Protein salad bowl. At Village Juicery we also make our own coconut yogurt. We crack open coconuts ourselves, scrape out the fresh coconut meat and combine it with a vegan probiotic and voila! You can really taste the time, energy and love that goes into it.
We love working with other companies around the GTA who align with our values too! We're one of the first stores in Toronto to have kombucha on tap and source our fermented goodness from Live and we get our cold brew coffee from Station Cold Brew Coffee Co. Village Juicery has also partnered with , who share our values of sustainability and actually take our juice pulp and create nutrient-dense raw crackers!
What are some tips for someone trying a juice cleanse for the first time?
Going from your normal life to a cleanse can be shocking to your system, so it's very important to prepare in advance. First, before your cleanse gradually shift to a cleaner, plant-based diet free of caffeine and refined sugar. Second, I recommend going slow, listening to your body and making adjustments as needed. Third, if you've never cleansed before, try a shorter cleanse or one that includes food (like our Reset Program!). Remember that while cleansing can be challenging, it's a great opportunity to give your body a break and reset healthy habits. Your body will thank you!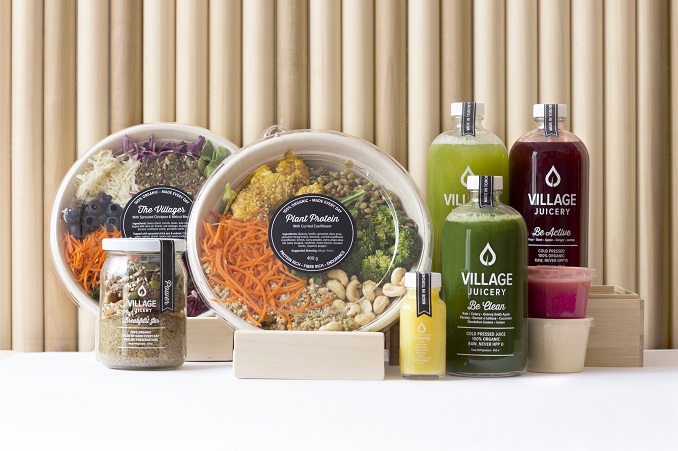 There seems to be a war between smoothies and juices and which is better for you. What is your take on it?
I think each has their place in a healthy diet. Juicing removes a lot of the fibre from whole produce to allow your body the ability to absorb vitamins and minerals easily – think of juice as a way to round out your diet! Smoothies, on the other hand, use the whole fruit and vegetable and thus keep fibre in. Fibre is crucial for your diet, from hormone balance to digestion, so it's important to ensure you incorporate fibre in to every meal. Both are excellent for your health, for different reasons.
Visit the Village Juicery website today.